On Nov. 2, 2012, we wrote "Institutions Are Buying These 9 Rallying Stocks Offering Sweet Dividends," a stock list that included Hot Topic (NASDAQ:HOTT). Hot Topic is trading around $9 vs. its 52-week range of $6.44-$10.73, up 30% in the past one year.
The stock trades at a P/E multiple of 22 times and a forward P/E of 18 times. More importantly, the stock yields 3.5%. One of the company's peers, Abercrombie & Fitch (NYSE:ANF), trades at a P/E multiple of 13 times and a forward P/E of 11 times. Abercrombie & Fitch stock yields 2%. As of June 29, 2012, the major institutional holders of Hot Topic are Becker Drapkin Management (8.3%), The Vanguard Group (6%), T. Rowe Price (6%), Dimensional Fund Advisors (5.75%), and Carlson Capital (5.47%).
Fundamentals That Support an Ongoing Dividend Payout
The company has a conservative balance sheet, with $64 million in cash and short-term investments and zero public debt. Although minimal, the company generated $2 million in free cash flow in the six months ended July 28, 2012.
The company has continued to return cash to shareholders in the form of dividends. On July 5, 2012, the board authorized a regular quarterly cash dividend of $0.08 per share, which was paid to shareholders of record on July 16, 2012.
On June 6, 2012, the company's board approved the repurchase of up to $15 million of outstanding common stock during the period ending Feb. 2, 2013. This is once again a prudent use of liquidity. Also, this will provide a floor for the stock.
The company has completed its cost reduction plan, which was announced in 2011. This resulted in the closing of 48 underperforming stores. The implementation of the cost reduction plan is expected to improve annual income of approximately $13 million, the benefits of which are still to be seen in the stock. Also, this cost reduction plan gives investors additional comfort in the payment of a quarterly dividend.
The chart below compares share performance over the past year. "E"s mark earning reports, and "D"s mark dividends paid.
Click to enlarge image.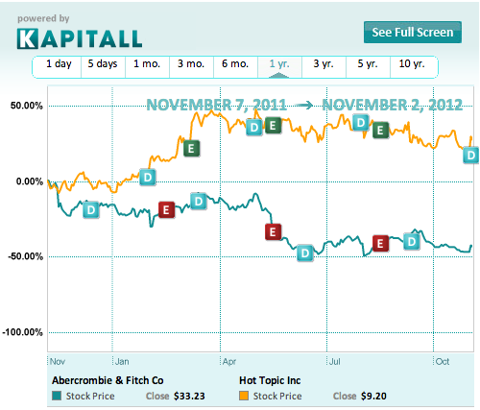 Source: Kapitall.
Conclusion
Hot Topic is a small company with tremendous potential for growth. Company management has restructured the business and its balance sheet efficiently to be successful in a tough consumer-spending environment. Additionally, it has returned cash to the shareholders in the form of dividends. The changes in the business strategy and costs give investors an incentive to consider this dividend paying stock for their portfolio.
Disclosure: I have no positions in any stocks mentioned, and no plans to initiate any positions within the next 72 hours.
Business relationship disclosure: Business relationship disclosure: Kapitall is a team of analysts. This article was written by Sabina Bhatia, one of our writers. We did not receive compensation for this article (other than from Seeking Alpha), and we have no business relationship with any company whose stock is mentioned in this article.