Value investors like to look for opportunity in the form of good companies going through rough patches. Lately, this seems to describe Valero Energy (NYSE:VLO) quite well. The refiner and gasoline retailer has been having some real problems, including a 44% drop in profit attributed to expenses related to an effort to transform an oil refinery in Aruba into a storage facility. But, is Valero a value buy?
Valero was trying to reduce its expenses by turning the old facility into a terminal for fuel shipment, which will be cheaper to operate. Costs on the project have apparently gotten out of control and caused a loss of $341 million, or $0.62 per share, according to Valero's October 30th earnings conference call. Yet even with the Aruba losses, Valero's earnings were $1.90 a share, or $1.1 billion in the third quarter. That makes Valero a value buy at around $28.16 per share.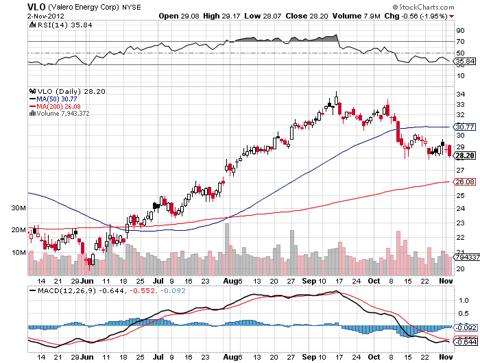 The recent troubles at Valero present a classic value opportunity - a good company beset with one problem. On the surface this seems to be the kind of opportunity that value investors love to seek out and pounce upon.
But we're going to look at the numbers to see if Valero is really a value buy. The numbers from before the third quarter conference call look quite good for Valero.
The company had a dividend yield of 2.45% and a quarterly gross profit margin of 9.83%. Valero's quarterly gross profit margin was lower than competitors, Marathon Petroleum (NYSE:MPC), Western Refining (NYSE:WNR), and HollyFrontier (NYSE:HFC). Marathon had a quarterly gross profit of 19.1% on June 30th; Western Refining had a rate of 18.34%; and HollyFrontier led the pack with a gross profit margin of 23.4%. These figures indicate that Valero's profit margin is below the industry norm.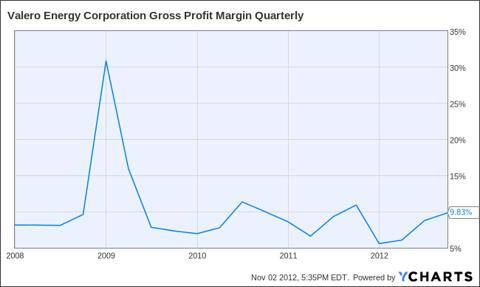 The company is making a profit; it just is not making as big a profit as some of its direct competitors. The company also lost money in the past year; its operating income was $2 billion in the third quarter of 2011 and $1.3 billion in the third quarter of 2012 according to the conference call. Without the Aruba losses, Valero's operating income would have been $1.7 billion.
Income is down at Valero because refining margins are falling, which is indicated by the conference call. Valero is also facing losses because of falling margins from its ethanol and retail businesses. In the third quarter refining margins, or profits on refining, fell to $13.12 a barrel; in the same period in 2011 the margin was $13.24. Valero is apparently paying more to refine because it is getting a lower price for petrochemical feedstocks and propane. Yet there is some good news. The margins for diesel fuel and gasoline are higher, according to the conference call.
There might be some good news here because Valero's refining volume has increased. It is up by 8,000 barrels a day from the third quarter of 2011 because the company bought two additional refineries. One of its refineries, the Meraux, was closed because of a fire in July but restarted production in October.
Operating expenses for Valero's refineries were up slightly to $3.72 a barrel in the third quarter likely because of the Meraux fire and higher energy costs. Operating expenses were still lower than last year's guidance had suggested because of lower energy and catalyst costs than expected. The company also reported that sales are slowing at its retail business because of lower demand for gasoline. Interestingly enough, Valero reported higher retail operating income in Canada than the U.S. Retail operating income in Canada was $24 million, and in the U.S., it was $17 million.
Valero is taking some steps to lower costs and increase profitability. The company is planning to spin off its retail business, and it is converting the Aruba refinery to a lower cost transportation hub.
Valero is not a good value buy yet, because it has not been able to fix its problems. The company is still facing losses and falling profit margins in its primary business. Its ethanol business lost $73 million in the third quarter, which was down from third quarter 2011 when it lost $180 million because of higher corn prices. Not surprisingly, Valero has cut its ethanol production.
The best course of action on Valero for value investors is to take a wait and see approach. If the company can solve its problems and return to profitability, it might be a value play. Checking back when the company sells its convenience stores would be the wisest move. Until it does that, more traditional oil companies, such as Marathon and Exxon Mobil (NYSE:XOM), and explorers, such as Apache (NYSE:APA), are better value plays.
Disclosure: I have no positions in any stocks mentioned, and no plans to initiate any positions within the next 72 hours. I wrote this article myself, and it expresses my own opinions. I am not receiving compensation for it (other than from Seeking Alpha). I have no business relationship with any company whose stock is mentioned in this article.