Nuclear power currently provides about 13.5% percent of the world's electricity. OECD countries take about a quarter of this share, whereas developing countries account for much lower demand.
Ever since the devastating Tsunami and earthquake struck Japan in March 2011 and shut down the atomic power plant in Fukushima, the uranium industry has been in a continuous decline. Governments from Tokyo to Berlin have cut short their dependence on nuclear energy, which has resulted in a sharp decline in uranium spot prices. Uranium spot prices are down 39 percent from pre-Fukushima price of $69.63. However, we believe that most of the impact of the Japanese disaster has already been priced in. Major export economies, such as Japan, have energy intensive industries. Therefore, they cannot shift away from nuclear energy overnight. We believe the long-term outlook of the industry remains favorable, especially because energy starved countries like India, China, Saudi Arabia, and UAE have reactors under production. Oil rich countries such as Saudi Arabia are building reactors, which is a clear message that nuclear energy is here to stay.
Cameco Corporation (NYSE:CCJ), one of the giants of the Uranium Industry, reported a 50 per cent decline in quarterly earnings y/y. CCJ has also cut its long-term production goals by 10 percent due to a drop in net new reactors being built.
The pace of the development work of the company's projects in Canada, Kazakhstan, and Australia, has also been decreased until an improvement in demand is observed. However, slow but continued work at these projects will enable the company to respond quickly to demand improvements.
We have a neutral rating on the Uranium Industry in the short term and we believe prices will fall further before they stabilize and demand returns. Demand largely depends on positive sentiment across the globe from fuel buyers, and on the Japanese nuclear restart. However, we have a bullish stance on CCJ in the long term as we believe that when the market rebounds, CCJ will be the first stock to benefit.
Company Overview
Cameco Corporation , listed on both the New York Stock Exchange and Toronto Stock Exchange, is the largest publicly listed uranium producer in the world. Uranium production, fuel manufacturing, and supply of conversion services are the company's main operations. Nuclear energy plants across the world use CCJ's uranium products to generate electricity. The company has three main reporting segments, namely, Uranium, Fuel Services and Electricity. The Uranium segment, which accounts for more than two-third of the revenue generated by the company, is engaged in mining, milling, exploring, purchasing and selling of uranium concentrate. Purchase and sale of conversion services and refining, conversion and fabrication of uranium concentrate come under the Fuel Services segment. The Electricity segment, through its 31.6 percent stake in Bruce Power L.P (BPLP) generates and sells nuclear electricity. In August, CCJ announced plans to add Yeelirrie uranium project in Western Australia, one of Australia's largest undeveloped uranium deposits. The company's headquarters is in Saskatoon, Canada.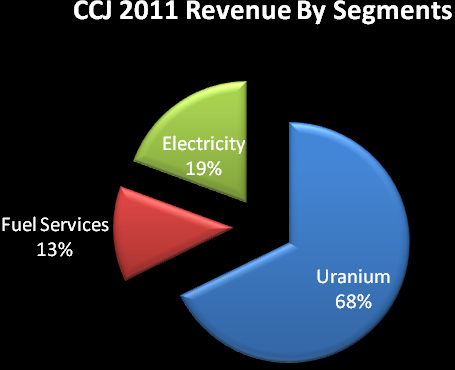 Qineqt Calculations and Company Documents
Q3'12 Earnings Review
Cameco Corporation , the largest publicly listed uranium producer in the world, reported third-quarter net earnings of $82 million ($0.21 per share) or adjusted net earnings of $52 million ($0.13 per share), down 50 percent from the same quarter of last year. Earnings are adjusted for one-time higher mark-to-market gains on foreign exchange derivatives.
As both prices and sales went down, the company also missed consensus analyst estimates of $0.27 EPS by more than 50 percent. Lower sales and realized prices, together with higher costs, resulted in a dip in earnings for the uranium business. Increased sales and lower costs resulted in higher earnings for the electricity business, which partially offset increased exploration and administration expenses.
Quarterly revenue of $408 fell by 23 percent year/year; however, sales rose by 4 percent quarter/quarter. Gross profit also declined y/y by 25 percent; however, q/q gross profit saw an increase of 31 percent. CFO also declined y/y by 77 percent to 44 million in the third quarter. Average realized prices dipped y/y for both the uranium and fuel services segments, but were flat for the electricity segment.
Uranium Segment
Quarterly uranium production of 5.3 million pounds was flat q/q and y/y. Sales volume was down 29 percent y/y to 5.1 million pounds; q/q sales volume rose by 4 percent. Both average spot price and average long-term price for uranium declined y/y by 6 percent and 7 percent, respectively. Average realized prices for the segment declined by 6 percent in terms of $US/lb and by 2 percent in terms of $Cdn/lb. Revenue for the segment declined by 30 percent y/y due to lower sales volume. On the other hand, average unit cost of sales rose by 4 per cent y/y, squeezing margins further. Lower sales volume, lower royalty charges, and higher per unit cost for produced uranium, resulted in a $50 million decline in Q3 gross profit.
Fuel Services Segment
Reduction in planned production resulted in 25 percent less production volumes y/y for this segment. Sales volume also declined by 28 percent from the same period a year before, which, together with a 3 percent dip in realized prices, resulted in a 31 per cent decline in revenue for the fuel services segment. Similar to uranium, total cost of sales also declined for fuel services in lower sales volumes. The gross profit declined by $7 million or 58 percent due to lower sales volume and higher per unit cost of sales.
Electricity Segment
Higher output for the electricity segment resulted in a 6 percent increase in y/y revenue. Due to no planned outage days, capacity factor increased by 6 percentage points to 99 per cent from 93 percent in Q3'11. Operating costs declined by 4 percent y/y. CCJ received $30 million in earnings before taxes, an increase of $11 million, out of the $95 million distributed by Bruce Power L.P (BPLP) to partners. BPLP also made a $5 million capital call to CCJ in the third quarter.
Guidance
The uranium market continues to decline since the Fukushima nuclear disaster, and the uncertain market conditions have led the company to cut its long-term production goal by 10 percent. The company in its recent Q3 report announced to cut production target by 2018 to 36 million pounds a year, from earlier targets of 40 million pounds a year.
Financials
CCJ is trading at a forward P/E of 12.2x compared to 6.9x for RIO Tinto Plc (NYSE:RIO) and 12.9 for BHP Billiton Limited (NYSE:BHP). Cameco has a PEG ratio of 2.2 and a long term earnings growth rate of 8.5. The company has a beta of 1.77 and pays an attractive dividend of 2.10 per cent for long term investors.
| | | | |
| --- | --- | --- | --- |
| Comp Sheet | CCJ | RIO | BHP |
| Forward P/E (1 year) | 12.23 | 6.93 | 12.91 |
| PEG ratio (5 year expected) | 2.18 | 0.5 | 2.1 |
| EV/EBITDA (NYSE:TTM) | 9.39 | 4.76 | 4.75 |
| Dividend yield | 2.10% | 2.90% | 3.50% |
| Long-term earnings growth rate | 8.50% | 16.80% | 6.40% |
| Share price Performance (YTD) | -4.00% | -2.00% | -4.30% |
Source: Yahoo Finance
Note: Currency Canadian dollars unless specified
Disclosure: I have no positions in any stocks mentioned, and no plans to initiate any positions within the next 72 hours.
Business relationship disclosure: The article has been written by Qineqt's Energy Analyst. Qineqt is not receiving compensation for it (other than from Seeking Alpha). Qineqt has no business relationship with any company whose stock is mentioned in this article.