The precipitous decline in uranium prices and the plant closures resulting from the Fukushima nuclear disaster is trickling down to uranium producers.
One of the world largest producers, Cameco Corporation (NYSE:CCJ), came into terms with the declining price of yellow cake and the changing attitude toward nuclear power generation. In its third quarter report, the company adjusted its expectations and is now estimating that 80 new nuclear plants will be built, down from the previous expectation of 95. This led the company to cut its forecasted demand for the material by 50M pounds to 2.1B over its 10-year forecast.
As a result of the reduced expected demand, the company responded by cutting its targeted growth plans to become a 40M pounds uranium producer by 2018 by 10 percent to 36M pounds. The company also responded by deferring development of what it calls its Greenfield projects until market conditions improve. The reality is that at current uranium prices, some of these projects will simply not earn a decent rate of return; therefore, this strategic refocus is essentially a must to preserve capital.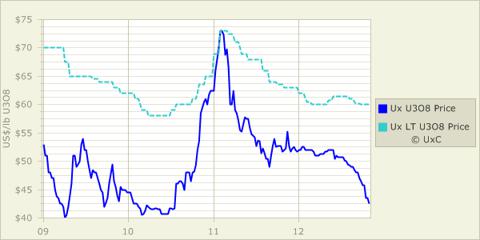 The company reported third quarter results on October 31 and revenues declined 23 percent on a year-over-year basis due to lower sales volumes and uranium prices. The company realized an average of $44.49 per pound sold in the quarter, a 6 percent decline from $47.33 per pound in the third quarter of 2011.
Similarly, gross profit declined 25 percent as the company also experienced higher costs in addition to the lower sales volumes and lower realized prices. The company expects about 30-40 percent of its annual sales volume guidance to be delivered in the fourth quarter, which is why it did not cut its sales volume guidance for 2012.
Given the outlook in the price of uranium and the size of Cameco, it will be difficult for the already large producer to compensate for the decline the commodity's price with production increases. This will be reflected in the company's shares as interest and enthusiasm begins to weaken over the coming 4-6 months, unless uranium prices begin to show signs of life. Until then there are better opportunities investors can pursue elsewhere.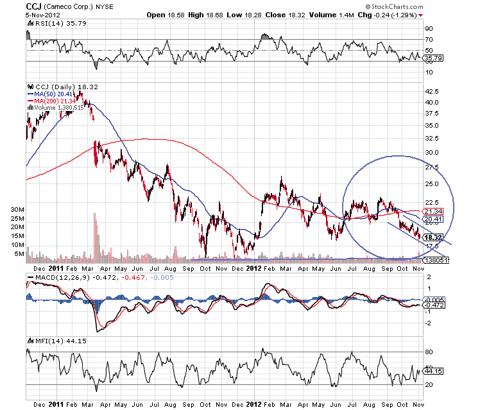 Disclosure: I have no positions in any stocks mentioned, and no plans to initiate any positions within the next 72 hours. I wrote this article myself, and it expresses my own opinions. I am not receiving compensation for it (other than from Seeking Alpha). I have no business relationship with any company whose stock is mentioned in this article.