A couple of offshore oil services firms have reported earnings that beat estimates over the last 24 hours. Transocean (NYSE:RIG) beat on both the top and the bottom lines. It had a nice run yesterday and I recently profiled the stock, which I own.
Tidewater (NYSE:TDW) also reported a beat on the top and the bottom lines, but not to the same extent as Transocean. I would use the tepid response to earnings today as a good entry point to pick up this good growth play.
Here are key highlights from Tidewater's earnings report:
EPS came in at $0.83 a share, $0.09 a share ahead of consensus estimates.
Revenues also beat consensus by a little over 1%.
Tidewater Inc. provides offshore service vessels and marine support services through the operation of a fleet of marine service vessels.
Here are five reasons why Tidewater is a good growth play at $49 a share:
Earnings are exploding. The company made just $1.93 a share in FY 2011, but is on track to earn over $3.40 a share in FY 2012. Analysts have over $5 a share penciled in for earnings in FY 2013.
The company is poised for better than 15% revenue growth in both FY 2012 and FY 2013. The stock has a cheap five-year projected PEG of under 1 (0.46).
The 12 analysts who cover the stock have a median price target of $60.50 a share on Tidewater.
The company sells for just over nine times forward earnings and also has a dividend yield north of 2%.
The stock has some good technical support just under the current stock price (see chart below).
Click to enlarge image.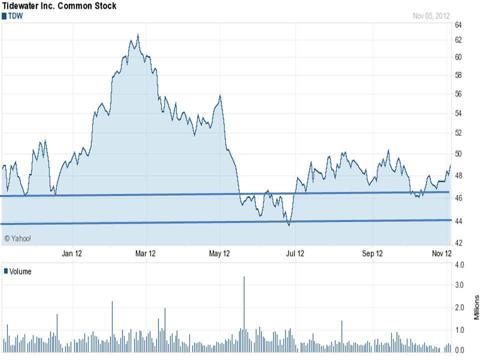 Disclosure: I am long RIG. I wrote this article myself, and it expresses my own opinions. I am not receiving compensation for it (other than from Seeking Alpha). I have no business relationship with any company whose stock is mentioned in this article.