Money is made by buying successful companies at a bargain price and then waiting for them to return to a fair valuation. The life insurance industry as a whole is undervalued due to significant headwinds in the industry as a whole. The most significant cause of this is the low interest rates affecting the life insurance industry's earnings from their float investments. As the below graph indicates life insurance company valuations march in lock step with interest rates. As interest rates increase so will life insurance company valuations. So it's only a matter of when not if interest rates will increase before we see life insurance company P/E multiples increase across the board.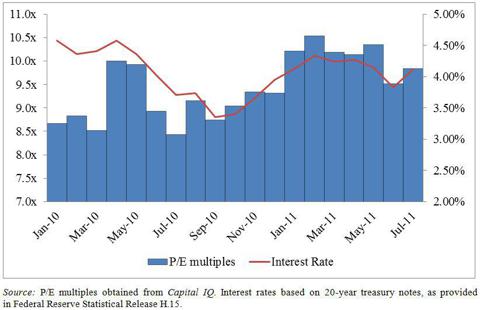 This presents the investor with an opportunity to buy quality companies at a significant savings and then profit as these companies return to a normal operating environment. Since the recession, many insurance companies have rebuilt their capital positions and strengthened their balance sheets. As a whole, many companies in the industry are financially better now than they were before 2007.
What's to like?
Currently the life insurance companies that stand to perform the best from this low point are Lincoln National (NYSE:LNC) and Prudential Financial (NYSE:PRU). These two life insurers beat EPS estimates in the 3rd quarter and have price to earnings ratios of 5.3% and 7.8% respectively. Lincoln National's median P/E ratio is 11 and Prudential's median P/E ratio is 13.
Lincoln National- Lincoln is battling its way through a tough macroeconomic environment. Lincoln Financial just beat its 3rd quarter earnings estimate and the company delivers a 1.7% dividend. In addition, insiders have been buying and the company sells for half of its book value.
Lincoln's debt load is a manageable 29% of its market capitalization and it's expected to grow earnings 7.5% for the next 4-5 years according to Valueline. Lincoln has a DCF value of $51/share and is selling at a 67% discount to its true value. Lincoln National is a healthy company with a variety of product across several investment segments including a very robust variable annuity business. I expect Lincoln National to double in price by 2014.
Prudential Financial- Prudential has been on a tear lately because of its climbing stock price and its growing quarterly earnings. Revenue has risen 32% from the same quarter last year and net income has risen from $789.00 million to $2,198.00 million from the same quarter in 2011. Just like Lincoln National Prudential sells half of its book value.
Prudential's true value on a DCF basis is $86 so potential investors have margin of safety of 43%. Prudential's debt load is a reasonable 39% of its market capitalization and earnings are expected to grow at a 9% clip per year out to 2016. Prudential also just bought Hartford Life's life insurance business for a bargain price of around $600m. I expect Prudential's price to increase by 50% by 2014. While you're waiting for Prudential to increase in price to its fair value you can collect a hefty 3% dividend.
Disclosure: I have no positions in any stocks mentioned, and no plans to initiate any positions within the next 72 hours. I wrote this article myself, and it expresses my own opinions. I am not receiving compensation for it. I have no business relationship with any company whose stock is mentioned in this article.