Many people say that the PC is dead. I disagree. The fact is, the PC is constantly in a state of change. There is no such think as rebirth, only of evolution. Many companies have been in the forefront of the PC era since day one. The two most notable companies are Apple (NASDAQ:AAPL) and Microsoft (NASDAQ:MSFT).
Evolution and revolution in the high-tech space go hand in hand. Many times, it's hard to distinguish one from the other. But for all the high-tech revolution and evolution, one thing has not changed. And that is, at the heart of the PC is the operating system that does all the dirty work, and in the forefront is the user interface. As far as the later is concerned, today we are reaching a milestone.
While one of the PC evolutions today is the all-in-one PC, the real revolution has to do with the interface. More specifically, the fact that touch-screen computing is finally coming to consumers.
The new input device which will be the actual screen itself and your fingers will be part of the hardware. Personally I think this is going to be the next big thing.
Yes tablets and phones have already revolutionized the landscape and while Google's (NASDAQ:GOOG) new Chromebook is a revolution in itself, the fact is that is has limited scope. And while more and more people will buy and use thin client PCs like the Chromebook, the fact is that the PC we use today is not going anywhere.
I think time has come for a revolution in ordinary PCs. And the revolution will be touch-screen desk-top computing. No company is better positioned to exploit this new revolution than Microsoft. Microsoft's new Windows 8 operating system is not only an evolution, but a revolutionary milestone at the same time. And right now, it's the only kid on the block.
Already, many PC vendors have incorporated the new operating system in their new all-in-one offerings. Among other, ASUS with the ET2300, Acer with the Aspire A7600U, Sony's Vaio Tap 20, Dell's XPS, the Lenavo IdeaCentre A720 and the Samsung Series 7 Touchscreen all in one PC and many others. Hewlett-Packard even introduced an all-in-one workstation (I want one of those).
But for touch-screen computing to be able to become a reality, you need an operating system that supports this idea. The Windows 8 operating system seems to be the first to fill this gap.
But Windows 8 is not just a PC thing, it's a across many spaces thing. The Windows 8 operating system will for the first time, make it very simple for people to use all sorts of devices across many spaces. PCs, phones and tablets, will more or less have the same interface and usage ideology. If you know how to use a tablet, you probably already probably know how to use a regular PC and vice-versa.
Make no mistake, in 12 months from now, touch-screen computing will be embedded in bedrock by the masses and there will be no turning back. Yes Microsoft's Windows 8 probably still has some bugs and there are not that many apps and programs specifically made for touch-screen computing yet, but it will not take long for us to get there. And when we do (at most in 12 months as far as I'm concerned), Microsoft will be in the center-stage of everything.
Interestingly enough, even though Apple has two good all-in-one models, to date it has no touch-screen strategy. Yes, the day when touch-screen PCs will be in everyone's homes is still a little far out, but I am surprised Apple has not really embraced the concept, relying on tablets alone. Also, Apple's all-in-one offerings are too expensive to be a mass market successes. All-in-one touch-screen PCs need to come down a little in price, something that is already in the works.
Investment case
The questions now is, what kind of an investment case does Microsoft pose? To be honest, whenever, over the past several years, I looked at Microsoft's fundamentals, I dismissed it outright as an investment.
It was always a very expensive stock for my tastes. Especially on a Price/Sales and PE metric, it was never my cup of coffee.
But time does wonders to cure any expensive stock, especially after a decade of earnings growth.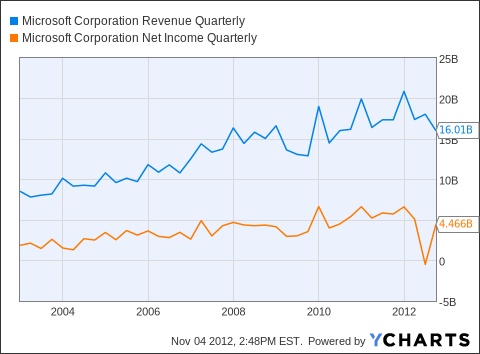 MSFT Revenue Quarterly data by YCharts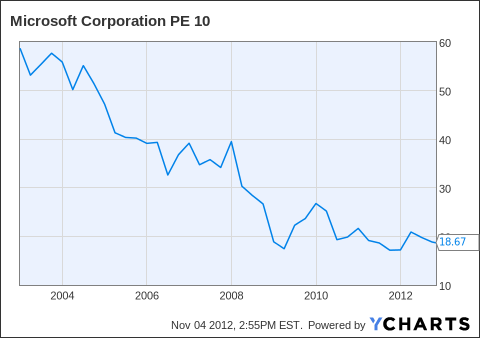 MSFT PE 10 data by YCharts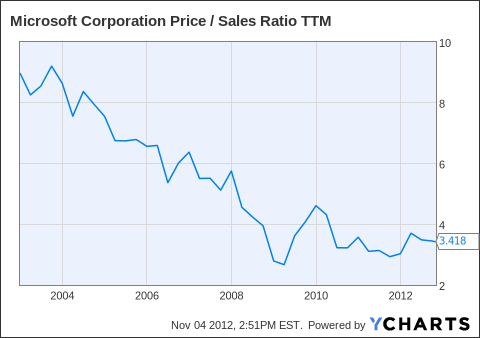 MSFT Price / Sales Ratio TTM data by YCharts
Even though Microsoft is still not my cup of coffee, it has come down a lot from the bubble days of the late 90s. And even if I am not ready to buy it yet, it is officially on my radar screen as a candidate.
Also, if analysts have it right and the forward 12 month PE indeed turns out to be 9, the day when it does become my cup of coffee might be sooner that I think.
One great catalyst for Microsoft's stock, except for the fact that is has become real cheap (or will be), is the chart below.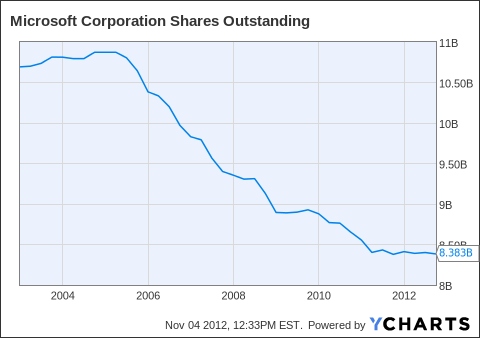 MSFT Shares Outstanding data by YCharts
Make no mistake, sooner or later this stock will go much higher. I am not sure from what levels, but management is doing the right thing to reduce the float and whenever it happens, history has shown it will pay off for stockholders.
As a side note, when comparing Apples to Apples (or Apple to Microsoft), the there is something that Microsoft has that Apple doesn't have, and that is a shrinking float.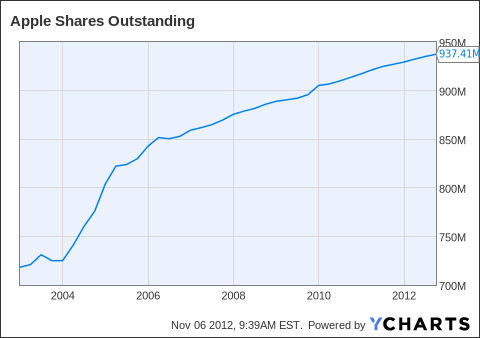 AAPL Shares Outstanding data by YCharts
Bottom line: I like the whole Windows 8 concept and I think Microsoft will be the center-stage of evolution once again, as touch-screen computing will become an everyday reality very soon. I am not discounting Apple's contribution, but it is Microsoft that usually successfully markets these concepts to the masses.
I also love the fact the float of the stock is shrinking and if you ask me, I think that will be the ultimate catalyst for higher prices.
But because total returns are a function of when and where one buys any stock, it is important to buy this stock at the best price possible.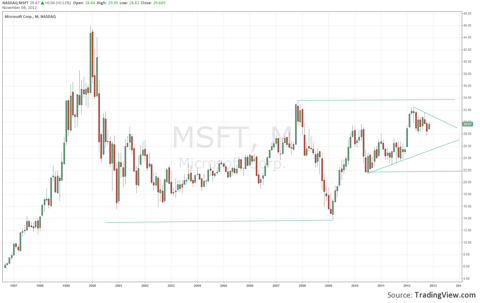 Click to enlarge
If you can buy MSFT in the mid to low 20s, I think it poses little risk almost under any market condition.
Final note. Because I think the ultimate catalyst for higher prices will be an announcement from Microsoft for another stock repurchase program, If they announce any such program, that is the signal to buy, irrespective where the price action is on the chart.
Disclosure: I have no positions in any stocks mentioned, and no plans to initiate any positions within the next 72 hours. I wrote this article myself, and it expresses my own opinions. I am not receiving compensation for it (other than from Seeking Alpha). I have no business relationship with any company whose stock is mentioned in this article.