With my views on the economic drop being much deeper and longer than most, I am beginning a stake in Portfolio Recovery Associates (NASDAQ:PRAA), which is essentially a debt collection company - they buy debts gone bad from other companies for a cheap price and then try to collect more than they paid for. Sort of like what our government is going to do with $700B pretty soon. ;)
Much like our push into pawn shops - and highlighting of "low on the totem" pole retailers - these all play off the same theme. The reasons to own this name should be quite obvious if you've read my articles for more than a week. This should be a growth industry in the coming few years. The last earnings report is here. The company's website is here.
Portfolio Recovery Associates, Inc. provides outsourced receivables management and related services in the United States. The company engages in the purchase, collection, and management of portfolios of defaulted consumer receivables. The company serves financial services, auto, retail, utility, health care, and government sectors.
At $46 the stock is trading at a PE ratio of under 15 on 2008 estimates of $3.12, for about 15% growth. The chart is excellent of late and we have a pullback to the 20 day moving average today as the stock is down 6%+. We're starting a 1.2% stake in the $45.60s and would like to add on pullbacks to the 50 day moving average down near $44.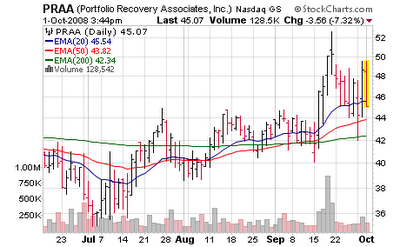 Disclosure: Long Portfolio Recovery Associates in fund; no personal position