On Monday, November 5, after the markets closed, Annaly Capital Management (NYSE:NLY) reported its results for the third quarter of 2012. The agency mortgage REIT reported Q3 GAAP net of $224.8 million or $0.22 per share, $921.8 million or $0.98 per share for Q3 of 2011, and a loss of $91.2 million or $0.10 per share Q2 of 2012. Annaly's adjusted Q3 net income came in at $449.8 million or $0.45 per share, which was comprised of $142.2 million in realized portfolio gains and $307.6 million in net interest earnings.
Annaly buys agency mortgages that are backed by federal agencies. Other well-known agency mREITs include American Capital Agency Corp (NASDAQ:AGNC) and Hatteras Financial (NYSE:HTS). Index ETFs for mREITs include the FTSE NAREIT Mortgage REITs Index ETF (NYSEARCA:REM) and the Market Vectors Mortgage REIT Income ETF (NYSEARCA:MORT), though both of these ETFs also hold mREITs that invest in non-agency backed securities. See a recent performance chart for NLY: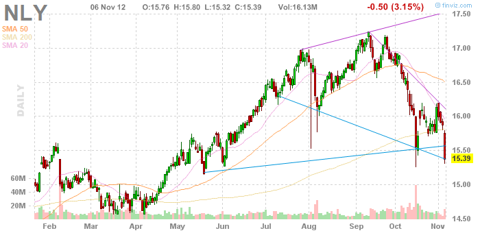 Beyond the start reduction in GAAP income, Annaly also noted that its net interest spread for the quarter fell to 1.02 percent, which was about two-thirds the spread recorded for Q2 of 2012, which came in at 1.54 percent, and below half the 2.08 percent spread NLY logged one year earlier. Though still substantially below these historic margins, Annaly did note that its spread at the end of the quarter was 1.24 percent, which may indicate the situation improved throughout the quarter. Nonetheless, that rate was substantially below the average for Q2 as well as the rate at the end of Q2, which was 1.59 percent.
The flattening yield curve has become increasingly problematic for agency mREITs, especially as prepayment rates in the U.S. accelerate. Annaly also noted that its prepayment rate came in at 20 percent, which was higher than the 18 percent rate for Q3 of 2011 and also higher than the 19 percent rate logged during Q2 of 2012.
About three weeks ago, Annaly announced plans to repurchase up to $1.5 billion of its outstanding common shares over a 12-month period. This plan was clearly made in reaction to the rising prepayment rates and flattening yield curve, as well as to alleviate some of the company's substantial dividend burden. Due to prepayments and the high dividend payouts that the REIT model necessitates, mortgage REITs like Annaly usually go to the market and sell additional shares in order to raise funds and expand their operation.
This repurchase plan and the Q3 results both indicate that Annaly anticipated weakness in its valuations, and also that a dividend cut may be forthcoming. Based upon Annaly's income stream alone, its current quarterly dividend rate of $0.50 appears unsustainable. The company also makes money through the sale of the agency RMBSs it holds, many of which have appreciated as interest rates have declined. Annaly had a common stock book value per share of $16.60, compared to $16.22 for Q3 of 2011 and $16.23 for Q2 of 2012. Book value is a moving target and has likely changed since the end of Q3, but based upon these valuations Annaly is likely now trading somewhere between five and ten percent below its present book value.
Another major concern for NLY is the coming debt ceiling debate. Agency-backed paper is in many ways like a quasi-treasury, and anything that will change the interest rates or credit rating of U.S. debt will have a similar effect upon the agency debt NLY holds. In the summer of 2011, when the debt ceiling was last at issue, NLY faced some significant temporary declines. This, coupled with the growing probability of a dividend reduction next quarter means that NLY will likely remain pressured for the near term.
Disclosure: I am long NLY. I wrote this article myself, and it expresses my own opinions. I am not receiving compensation for it (other than from Seeking Alpha). I have no business relationship with any company whose stock is mentioned in this article.