When Electronic Arts (NASDAQ:EA) and Take-Two Interactive (NASDAQ:TTWO) both reported strong earnings, the companies reminded investors that only "hit" titles matter for driving growth. EA generated strong sales from its core titles, Madden NFL 13, NHL, and FIFA Soccer 13. On Apple's (NASDAQ:AAPL) iOS, The Simpsons: Tapped Out was a success. The game was the top grossing app on the App store. Bejeweled Blitz is another title that did well.
On mobile, EA managed to grow mobile revenue by 60%, to $88 million, led by smartphone and tablet revenue. This indirectly shines some positive light for struggling game maker Glu Mobile (NASDAQ:GLUU). During its quarter, Glu Mobile failed to produce a strong title. The company decided to delay new titles in development, to assess their viability. Still, Glu said that it managed to grow revenue by 70% year-over-year.
On the flip side, social networking games are no longer a source for growth for EA. In fact, social networking games hurt results for EA. On Facebook (NASDAQ:FB), EA's CEO said that Facebook moved away from some of the game-based viral channels. EA is planning to reduce the number of SKUs on the site.
EA's decision to lower its exposure to the social platform offers insight for shares in Zynga (NASDAQ:ZNGA). Treading close to $2, Zynga said in its quarterly report that it was finding it difficult to keep users engaged in their CityVille and CastleVille titles.
6-month Share Performance: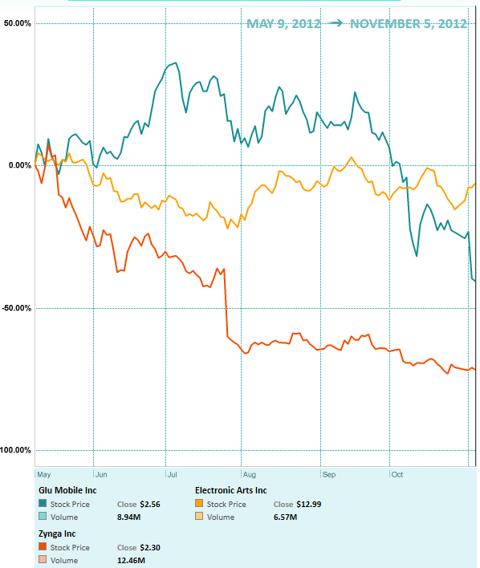 Chart Source: Kapitall.com
Game players were adapting more quickly to mobile, smartphones and tablets, making it more difficult for the company to keep them engaged. Zynga's growth strategy starts with FarmVille 2.
There are three things for Zynga investors to focus on:
1) Emphasis on Strong Game Titles
Zynga is going to focus more on its strong titles: Farmville 2, ChefVille, and Poker. Farmville 2 now has 61 million monthly active users. 500,000 of them were unique buyers, and on a peak day, users purchased nearly $1 million in virtual goods. A 3D game of FarmVille 2 was done recently; its purpose was to increase game quality and to drive daily audience higher. Poker will be a bigger contribution to revenue than in previous quarters.
2) Cost reduction
Zynga reduced its staff count by 5%, which would save an annualized $60 to $80 million. 13 games will be retired, and efforts will be emphasized on stronger titles like Zynga Poker.
3) Cash Balance
Zynga is buying back up to $200 million in shares. In the next quarter, capital expenditure will be between $12 million to $17 million. The company ended its quarter with cash of $1.6 billion. Zynga has 830 million shares outstanding. This means the company has $1.93 in cash per share.
Analysis and Conclusions
Most of the heavy costs for Zynga will be absent in the next quarter. Zynga's headquarters and costs associated with its zCloud infrastructure were completed. This will reduce the negative pressure on cash flow. To enhance revenue, Zynga will need to put greater effort in growing its core assets. Its mobile poker game is one example that will sustain growth.
Zynga closed at $2.24. With $1.93 of cash on hand per share, investors are getting Zynga's business for $257 million, or $0.31 per share. If Zynga is able to grow their "hit" titles, the odds are better than Zynga will not drop below its cash value per share.
Disclosure: I have no positions in any stocks mentioned, but may initiate a long position in EA over the next 72 hours. I wrote this article myself, and it expresses my own opinions. I am not receiving compensation for it (other than from Seeking Alpha). I have no business relationship with any company whose stock is mentioned in this article.