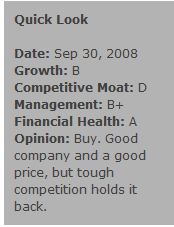 Conn's (NASDAQ:CONN) is a regional home appliance (27% of sales) and consumer electronics (30%) retailer operating 73 stores in Texas, Louisiana, and recently into Oklahoma. Right off the bat, the first thing that comes to mind is "tough competition." Indeed, since the company is going nose to nose with retailing heavyweights Wal-Mart (NYSE:WMT), Best Buy (NYSE:BBY), and Home Depot (NYSE:HD). Consumer retail is a business with low customer captivity (translation: no moat), and Conn's has no discernable scale advantages that would allow it to survive irrational price or advertising wars with one of these big players. For primarily this reason, it does not make the MagicDiligence Top Buys list.
However, this is still an interesting and well-run company. Long-time management (CEO Tom Frank has been with the company 48 years) has carved out a strategy that differentiates the business from direct competitors. Customer service is a big factor in successful retail ventures, and Conn's requires all of its sales personnel to take training to specialize their knowledge of home appliances or consumer electronics, even going so far as to send them on delivery and installation trips to put this knowledge to the test. For anyone who has encountered a clueless clerk at Circuit City (NYSE:CC), the value of this is evident. In addition, Conn's has a next-day delivery policy, and nearly 95% of qualifying purchases were fulfilled. Again, this is in stark contrast to most of the big box retailers.
But the biggest differentiation is Conn's in-house financing unit. Buying big-ticket items like plasma televisions or a new washer/dryer is often done on credit cards, where providers earn big interest rates. Conn's decided it wanted to benefit from these by financing the sales of its own products, and today close to 60% of all sales are done through the in-house credit department. The company earns over 19% interest on its credit receivables while paying about 2.5% over LIBOR (currently under 4%) to obtain the capital for the loans, leading to an interest spread generally around 12-13%. Banks would kill for that spread. The financing business has been so successful that it now accounts for well over 10% of revenues.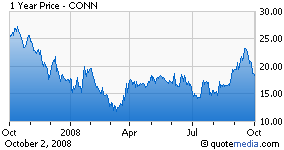 Running the financing unit in-house puts default risk on the company's back as well. Fortunately, this has not been a major issue. Provisions for loan losses have typically been around 3%, and even last quarter (ending July 31) did not produce defaults out of the ordinary. The company recently renewed its financing securitization facilities with banking partners, and the company believes it has enough access to capital to continue its financing business through the next 12 months. This is extremely important news given the seizure in the credit markets today.
On top of all this, Conn's traditional metrics are good as well. The company has next to no debt, and runs operating and cash flow margins, roughly in line with its competitors. The financing business plays a bit of havoc with the Magic Formula screening system though - financing income is included in operating earnings, but retained interest in the receivables is not, leading to a higher MFI return on capital than is realistic. MagicDiligence calculates about a 22% figure - not enough to land it on the screen in normal circumstances. Still, this is a well-run regional player with some interesting competitive strategies and represents an attractive MFI pick.
Disclosure: Steve owns no position in any stocks discussed in this article.