During the past decade Pfizer's (NYSE:PFE) Lipitor generated $115 billion in cumulative global revenue. Today, Lipitor is no more!
According to a Seeking Alpha Pfizer's Q3 earning call transcript, Lipitor lost $5.5 billion in revenue in the first 9 months of 2012. How can such diminishing contribution to Pfizer's product portfolio affect weight of Pfizer's shares in your own investment portfolio?
In 1996, Warner Lambert and Pfizer conducted the most successful launch in the history of the pharmaceutical industry when they jointly introduced the cholesterol-reducing drug Lipitor (atorvastatin).
On its first year on the market, Lipitor generated $580 million and before the end of 2001 it managed to generate $6.5 billion globally and to assume global pharmaceutical leadership position, a position it maintained till the end of 2011.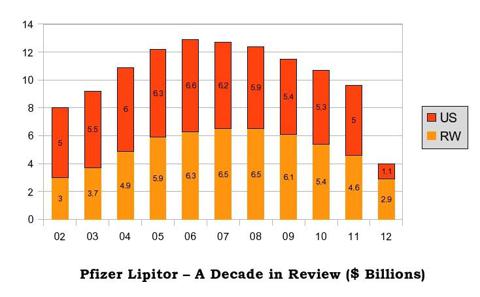 Source: Generic Opportunities in Lipid Regulating Drugs Market
Over the past decade, Lipitor was the most widely used branded prescription treatment for lowering blood cholesterol levels. Global Lipitor sales peaked at $13 billion in 2006 and has been on a downward trend ever since.
Lipitor lost patent exclusivity in Canada in May 2010, Spain in July 2010, Brazil in August 2010, Mexico in December 2010, Japan in June 2011 and in Australia in April 2012.
In the US, Lipitor lost exclusivity in November 2011. Authorized generics from Watson Pharmaceuticals (WPI) and Ranbaxy (OTC:RBXZF) entered the market in December 2011 and multi-source generic competition began in May 2012.
In the rest of Europe, while the basic patent for Lipitor expired in November 2011, the exclusivity period was extended by six months to May 2012 by virtue of a supplementary protection certificate and pediatric extension. In May 2012 Novartis (NYSE:NVS) launched generic version in almost all European countries.
At the end of 2011 Lipitor accounted for 14.2% of Pfizer's global revenue. Those who have been watching Pfizer know that it has no worthwhile blockbuster in its R&D pipelines or near commercialization that would be able to compensate for the hemorrhage caused by Lipitor's loss of patent.
Pfizer is also still cleaning up after Wyeth mega merger which left it with many patent expired, or near expiration, brands and lots of portfolio dogs.
Current PE at Pfizer stands at 19, way higher than most of its peers, GlaxoSmithKline (NYSE:GSK) currently stands at 13.5 and Lilly (NYSE:LLY) at 13.2.
Pfizer is planning to buyback up to $10 billion of its own stock, which is good in the sense that it redistributes cash back to the shareholders.
However, if top brass is thinking of giving extra cash back to the shareholders that means they already know that they have no worthwhile projects out there to invest the extra cash in.
If I was holding pharma stock in a portfolio I would sell some of Pfizer's and reinvest the cash in GSK's or Lilly's. PE of 19 is kind of high for a mature pharma play.
I would try to read the article about Eli Lilly: Cymbalta Patent Cliff before putting my money in Lilly though.
Disclosure: I have no positions in any stocks mentioned, and no plans to initiate any positions within the next 72 hours. I wrote this article myself, and it expresses my own opinions. I am not receiving compensation for it (other than from Seeking Alpha). I have no business relationship with any company whose stock is mentioned in this article.