Commodity Chart Of The Day
Daily Silver
(click image to enlarge)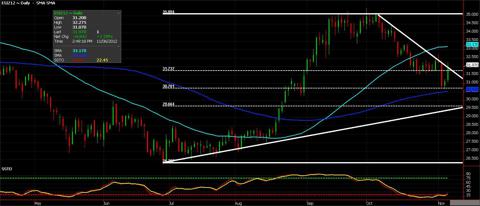 Click to enlarge
As of this post, silver futures are higher by 2.6%, and 4.25% off yesterday's lows. As the chart above shows, the 50% Fibonacci level has supported, and prices did hold above the 100 day MA -- identified by the dark blue line. We are challenging the down sloping trend line as we speak, and it will be interesting to see the next few days' action. I am in the camp that we trade up to the 50 day MA -- identified by the lighter blue line -- in the coming weeks. That would be an appreciation of $1.25 from current levels.
The market has been oversold for several weeks, but we are not out of the woods just yet. I'd like to see consecutive settlement above the $32 level, and see outside market influence also be positive. If the U.S. dollar starts depreciating, it would also help out the cause.
The play I've advised for those traders searching for metals exposure is the same strategy in both gold and silver. I've advised bullish ratio back spreads in February gold and March silver. Scale into the trade, as I think this could be the beginning of the next leg, but until we get confirmation, it is just my opinion… stay tuned.
Risk Disclaimer: The opinions contained herein are for general information only and not tailored to any specific investor's needs or investment goals. Any opinions expressed in this article are as of the date indicated. Trading futures, options, and Forex involves substantial risk of loss and is not suitable for all investors. Past performance is not necessarily indicative of future results.
Disclosure: I have no positions in any stocks mentioned, and no plans to initiate any positions within the next 72 hours. I wrote this article myself, and it expresses my own opinions. I am not receiving compensation for it. I have no business relationship with any company whose stock is mentioned in this article.