We attended the recent Silver Summit Investor Conference in Coeur d'Alene, Idaho.  We looked forward to taking the pulse of silver enthusiasts following the spring-summer long retreat in the metal's price.  As luck would have it, with the volatility in the credit and metal markets, it turned out to be the most fortuitous time for holding the conference.  A true skeptic might suspect that the government had conspired with those organizing the conference in the timing of the event. 
Major themes at the Silver Summit included the suspicion over the integrity of major currencies, transparency of central bank actions, and reliability of reporting actual stores of precious metal inventories.  The conference was well attended.  While silver enthusiasts bought nearly all the physical silver for sale from vendors in the halls, we could not ascertain to what degree this enthusiasm extended to precious metal equities. 
We see the correction in mining stocks as having created a significant reentry point for equities.  We were particularly interested in Alexco Resource Corporation (NYSEMKT:AXU) and South America Silver Corp. (SOHAF.PK), both of which are located outside the Idaho's Silver Valley and the Sierra Madre in Mexico.  Alexco is in the Yukon Territory and South American Silver is in Bolivia.  Both are early in development relative to their potential to become world-class silver deposits, and both have an interesting base metal or industrial metal component with potential for significant near term catalysts.
Alexco Resource Corporation Nears Production Decision
The Keno Hill silver district may in time rival Idaho's Silver Valley.  The district is ten to fifteen miles wide and over 20 miles long.  Between 1921 and 1988, the Keno Hill district produced more than 217 million ounces of silver, with average grades of 40.5 opt silver, 5.6% lead and 3.1% zinc, ranking the district in the top 3% by grade of today's global silver producers.
Keno Hill Silver District Map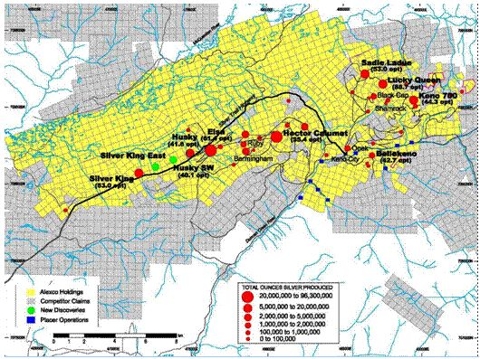 Click to enlarge
Source: Alexco
Alexco acquired the district out of bankruptcy, after the prior owner ceased operation during a period of low metal prices and increasing environmental regulations.  The district had only recently been consolidated and had not been subjected to modern or comprehensive exploration, development, or operating methods. 
Alexco was selected from among several bidders due to its ability as an environmental firm to permit, manage environmental risk, and close mines.  In addition, Alexco holds useful and valuable patents on proprietary processes that effectively manage groundwater contamination.  In return, Alexco has become the sole source provider for environmental remediation of the district, which should lead to a contract exceeding $50 million over five years, to begin in late 2009 or early 2010.
Alexco has the right to develop and mine the resources at Keno Hill and is indemnified against any liability from past mining activities.  It is in an unprecedented position to rapidly study, permit, and develop the district in cooperation with the local and federal government.  This opportunity becomes even more interesting when taking into account the exceptionally high grades of silver and base metals found within the district.
Alexco is still early in compiling and studying volumes of historic data and should soon release assays for their 2008 drilling season.  As an example of the exploration potential, it recently released drill results on the Lucky Queen target.  The Lucky Queen was one of the highest producing areas at Keno Hill, producing 11 million ounces of silver from 1927 to 1932, from 123,500 tons grading 88.7 oz/ton silver.
In particular, drill hole K08-161 intersected a 2.45 meter interval grading 2,249 g/t silver (65.5 opt), 8.3% lead, or 75.8 opt silver equivalent, which included a 0.35 meter interval grading 11,182 g/t silver (326 opt), including 30.1% lead and 1.7% zinc, or 363.9 opt silver equivalent.  This was an infill hole believed to be related to historic mining at the Lucky Queen, between step-out drilling completed in 2006 and 2007.  These two holes intersected grades of 17,380 g/t silver (507 opt) over 1.12 meters and 13,775 g/t silver (402 opt) over 0.30 meters, respectively.  Grades at these levels require follow-up.  They have potential for lower risk and highly profitable mining operations, with lesser capital requirements, similar to what is now being considered at its Bellekeno project.
Alexco has commenced its underground development program at Bellekeno which was in operation at the time the district ceased operation.  As the most advanced project within the district, it is the most suitable for immediate development.  Management has completed a preliminary economic assessment suggesting a modest but highly profitable operation and is pursuing options to fund the project without diluting the district-wide opportunity.  They believe that, based on past operations, recent drilling and metallurgical studies, the ore may be economically mined with great appeal to smelters. 
Bellekeno Portal, Keno Hill Silver District, Yukon Territory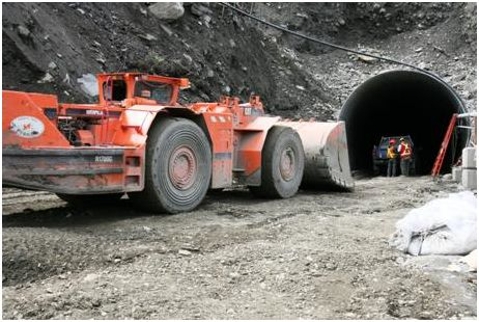 Source: Alexco
Development at Bellekeno may lead to production in early 2010, which may be coincidental with commencement of the contract for clean-up of the district.  These activities may generate cash flow to accelerate further development while minimizing dilution.  Management anticipates making a construction decision at Bellekeno early in 2009.  In the meanwhile, investors may look forward to assays from the 2008 drill program, progress on the underground program at Bellekeno, and from their environmental business.
South American Silver Corp.'s World-Class Bolivian Asset
South American Silver's wholly owned Malku Khota project in Bolivia is shaping up to be a world-class asset.  Malku Khota has a strike length of about 15 km (5,475 hectares) where mineralization is contained within a sedimentary package, in a highly exposed ridgeline, suggesting a low strip ratio.  The project is at a high elevation, in a relatively uninhabited area, and within 20 to 25 km from a main highway and power.  There is dirt road access to the project from the cities of Oruro and Cochabamba. 
Limosna Ridgeline, Malku Khota, Bolivia
click to enlarge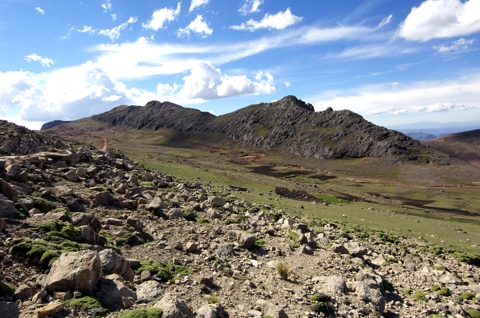 Click to enlarge
Source: South American Silver
The Limosna, Wara Wara and Sucre targets at Malku Khota have multi kilometer strike lengths within sandstone ridges hosting silver and indium mineralization.  Indium trades at about $700 per kg and is in demand for flat panel screens and other applications.  A NI 43-101 compliant resource estimates an Indicated resource of 144.6 million oz. silver and 845,000 kg indium, or an Inferred resource of 177.8 million oz. silver and 968,000 kg indium.  This resource is based on 25,000 meters of drilling in 75 drill holes completed through August of 2008.  These targets are a relatively small portion of the entire land package which is highly prospective for additional metals which include gallium, lead, zinc, antimony, and gold. 
Management of South American Silver was upfront regarding the political situation in Bolivia, but considers that a compromise between the lowland departments and current President Evo Morales is likely.  The long-standing issue requires addressing a redistribution of wealth between wealthy lowland ranchers and indigenous peoples.  President Morales is resisting foreign influence which may be helpful for reaching a long-term solution.  A compromise may include higher taxes, including the mining industry, commensurate with levels typical with other nations. 
The administration of Evo Morales appears to appreciate the importance of outside investment in the mining industry.  Companies investing in Bolivia, providing some level of confidence in the nation's stability, include Apex Silver Mines (NYSEARCA:SIL), Sumitomo Corporation (OTCPK:SSUMY), Coeur d'Alene Mines (NYSE:CDE), Pan American Silver (NASDAQ:PAAS), Jindal Steel of India, and Petrobas of Brazil.  We suspect that South American Silver's progress will be of great interest to larger mining companies for acquisition to maintain their development pipelines.
Disclosure: The author is long AXU and SGLDF.PK.  An affiliate of the author's employer provides corporate advisory services to AXU.