Two weeks after I wrote there was an opportunity to buy/trade Canadian Real Estate Trusts (REITs), the results have been disappointing. There was no late month rally, and prices are weak after they went "ex" their November distributions. However, I think patience will be rewarded.
Two of them reported third quarter results - yesterday Dundee (OTC:DRETF) which is now almost pure office real estate, and today RioCan (OTCPK:RIOCF), which is almost pure retail commercial.
| | | | | |
| --- | --- | --- | --- | --- |
| Name | Oct 23 | Oct29 dist. | Nov 6 | 2 wk return |
| Artis | 16.04 | 9.0 cents | 16.20 | 1.6% |
| Cominar | 23.46 | 12.0 cents | 23.35 | 0.0% |
| Calloway | 28.06 | 12.9 cents | 28.84 | 3.2% |
| Dundee | 36.56 | 18.3 cents | 36.31 | (0.2%) |
| RioCan | 26.80 | 11.5 cents | 26.93 | 0.9% |
I listened to both conference calls this morning, and will briefly recap their results and my impression.
The important metric Adjusted Funds From Operations (AFFO) per REIT unit is key for determining the ability of a REIT to pay out cash distributions to unitholders.
Dundee reported 61 cents AFFO/unit in Q3 ending September 30, flat with Q2 but 3 cents higher than Q3 2011. The payout of 54.9 cents per quarter indicates a ratio of 90.2% down from 94.8% last year. CEO Michael Cooper indicated the board might be in a position to consider a modest distribution hike (max 2%) in a quarter or two.
Another key metric is same property net operating income (NOI), which gives an indication of organic income growth excluding acquisition growth. Dundee has grown greatly year over year, with the acquisition of Whiterock REIT in March and a 2/3 interest in the Scotia Plaza. Dundee reported Q3 NOI growth of 1.6% and 2.0% YTD.
Other interesting facts to note about Dundee's results - they say their "in-place" (eg existing tenant) rents are 12% below market and releasing is occurring at higher rents as these leases roll over.
So why is the Dundee unit price still going down?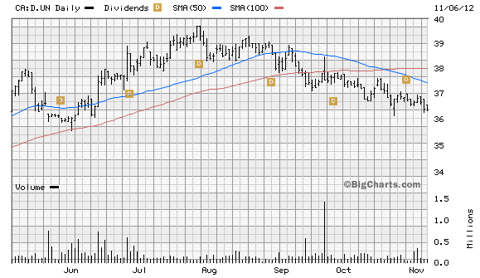 Click to enlarge
The metrics on Dundee reflect that office space commands greater rent than most retail and all industrial on a square footage basis. Valuing their 100.1 million Series A and other units outstanding as of June 30, at $36.50, the valuation comes out to $7.3 billion or $312.50/sqft per square foot versus book value of $6.94 billion or $251.57/sqft.
The interest in the Class AA Toronto twin tower called the Scotia Plaza cost them $640/square foot, which really bumped up the number. It should be noted that Toronto top office space goes for somewhere in the high $20s net effective rent, compared to Manhattan's $60 or so.
Dundee sold a 56% interest in their industrial property portfolio by floating them into Dundee Industrial REIT, whch valued the 6.0 million square feet at around $100/sq foot, leaving Dundee with 22.4 million in almost pure office. I thought they might take some of the cash from the deal and pay a special, but they said they'd use it to retire the $121.7 million in 6.0% convertible debentures that become callable December 31. At that point, Dundee will have only $60 million or so in CV debts outstanding, one thing I like about their capital structure.
CEO Cooper was bullish about Dundee's prospective income in 2013, saying that $18 million of incremental NOI was already built in due to leasing activity.
RioCan REIT is the largest public REIT in Canada, with 47.7 million square feet of property and another 3.3 million under development.
The REIT reported 40 cents in Q3 AFFO/unit, which was a nice boost from 37 cents Q3 2011. The payout ratio dropped from 103.9% to 95.3%. CEO Edward Sonshine said they would propose a distribution hike to their board in December. When questioned about the magnitude of the potential increase, he said the hike would be such as to allow a continued drop in the payout ratio. How's that for not answering the question directly?
I would expect a modest hike in line with his expectation of 1.5% to 2.0% NOI growth in 2013, which, with portfolio leverage, might indicated a bump of say 1/2 cent from 11.5 to 12.0 cents per quarter.
RioCan's Sonshine was bullish about their prospects as was Dundee. He indicated the 40 cents AFFO was now "base line" even though some of that was boosted by $7.4 million in lease cancellation fees. They still have to deal with vacancies caused by Zellers and Hudson's Bay Company which wants to get out from under the leases. But only 1% of the RioCan portfolio income is exposed to this group.
RioCan's unit price has firmed up recently.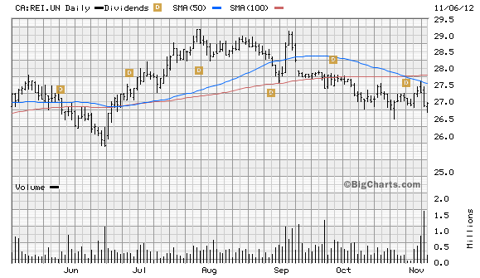 Click to enlarge
Disclosure: I am long OTCPK:RIOCF, OTC:DRETF. I wrote this article myself, and it expresses my own opinions. I am not receiving compensation for it (other than from Seeking Alpha). I have no business relationship with any company whose stock is mentioned in this article.