By Karl Smith
Gallup is arguably the most significant monitor of the U.S. labor market. It has an insanely massive sample -- the daily number is really a 30-day moving average of 30,000 interviews. It conducts interviews every day and offers the seasonally unadjusted figures.
Here is its look...
...and its take on its own numbers:
Seasonally unadjusted unemployment of 7.0% is the lowest Gallup has recorded since it began collecting unemployment data in January 2010. It is also more than a full point and a half improvement over the October 2011 rate, when unadjusted unemployment was 8.4%. The size of the workforce, which can influence employment rates, was little changed, at 68.3%, from 68.2% in September.
To make things easier, it averaged by months. Here is the daily series:
Click to enlarge images.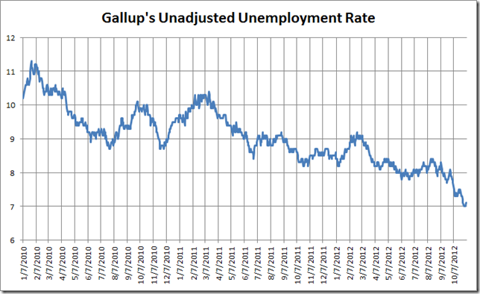 I like year-over-year changes as they not only smooth out seasonal variation, but noise in general. But, of course, recent breaks in the trend will be muted.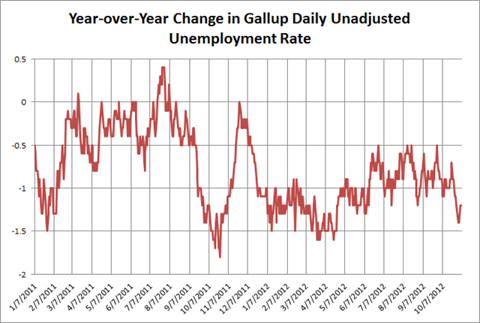 It looks like something happened during the fall of 2011, although its not completely clear what. Year over year is influenced not only by this year's events, but last year's as well. So, that weird up and down could be related to something that happened in 2010. If so, however, you would tend expect the transition in and out to be smoother. Also, I should say it could be related to the quick and dirty way I did year over year, not checking for missed interview days, etc.
By the beginning of 2012, however, the unemployment rate seemed to be on a solid downward path, perhaps stumbling around April and perhaps regaining momentum recently. In any case, however, the year-over-year trend has been steadily down throughout the entire year. At worst, 2012 unemployment was only half a point lower than the same time in 2011, at best 1.5 points.
And, the near-term data suggests that the year-over-year improvement should hold up if not steadily improve.