We find it absolutely ridiculous that Teva Pharmaceuticals (NYSE:TEVA) should be trading at an adjusted 2013 PE of 7.28X earnings. Despite its stumbles under the previous CEO, Teva is still the industry leader in the generic drug segment and it is emerging as a major branded pharmaceuticals company in its own right. A number of Teva's bears have been growling about Copaxone going off patent in 2015. As we have held our position in TEVA since 2003 and as we are aware of the importance of that drug to Teva's bottom line, we are not going to make like an ostrich and stick our heads into the sand with regards to Copaxone's future prospects. At the same time we are not going to be cowering in fear because Teva's bears are peddling doom and gloom like they were Latter-Day Cassandras.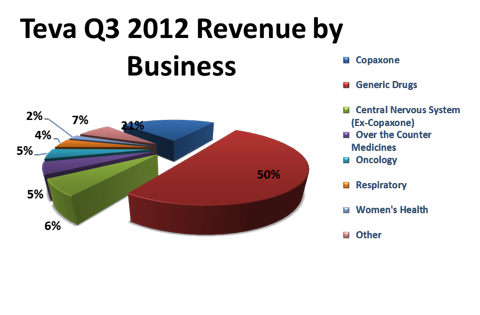 Source: Teva's Q3 2012 Financial Report
Copaxone continues to lead the U.S. and global relapsing-remitting multiple sclerosis market in both sales and market share. Copaxone's US market share is over 40% and Teva's management expects it to maintain its global market leadership position due to its established and clinical experience in treating RRMS patients. Copaxone (Glatiramer acetate) was originally discovered by Dr. Dvora Teitelbaum at the Weizmann Institute of Science in Rehovot, Israel. Copaxone gained approval in the US in 1996 and will go off patent in 2015. There were concerns that Copaxone would lose its patent protection before 2015, but Teva's patent victories in June 2012 helped eliminate that short term threat. Although Teva will have to deal with Copaxone's patent expiring in 2015, it may not necessarily have to deal with an immediate generic version of Copaxone as the drug has very particular chemical properties and any generic version would potentially require separate, costly clinical trials before receiving approval.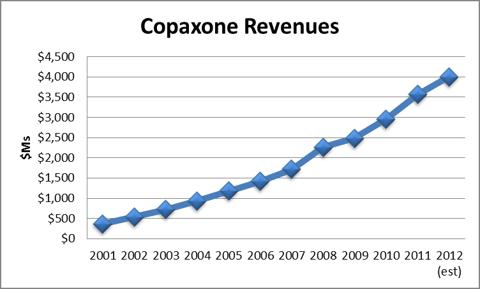 Source: Teva's 2002-2011 Annual Reports and Our Estimates
Copaxone's biggest competitive threat comes from new branded drugs launched by its competitors. Novartis (NYSE:NVS) received FDA approval for Gilenya (Fingolimod) in 2010, Sanofi (NYSE:SNY) gained approval to sell Aubagio in September 2012 and Biogen Idec (NASDAQ:BIIB) is seeking approval for BG-12 (dimethyl furnarate). All of these products are oral multiple sclerosis drugs while Teva's Copaxone is an injectable drug. Teva also announced that its Laquinimod oral multiple sclerosis drug under development showed positive results in a Phase IIa clinical trial for multiple sclerosis patients with Crohn's Disease. While we believe that Copaxone is not totally impervious to these new competitors, we believe that Teva will be able to manage these risks and competitive headwinds going forward due to the following reasons.
Teva recently completed a late-stage trial of a longer-acting version of Copaxone and this one-year study showed that a 40mg injection of Copaxone three times a week versus 20mg daily injections reducing the annualized relapse rate for multiple sclerosis patients by 34.4% compared to placebo.
Copaxone is the market leader and has a 16 year track record of effectively and safely treating multiple sclerosis. While its competitors have impressive new products, these products do not have much of a track record outside of clinical trials.
Copaxone is a first-line drug therapy product. Such drugs are usually recommended on the basis of clinical evidence for its efficacy in the population at large. If a first-line therapy either fails to resolve the issue or produces intolerable side effects, additional agents (second-line therapies) may be substituted or added to the treatment regimen.
Because of the special factors associated with multiple sclerosis, patient stability is key according to leading neurologists. Doctors aren't going to switch a stable patient to a new drug simply because it might be easier to swallow (such as an oral drug versus an injection) or because it might save a few thousand dollars. Copaxone has a strong track record in reducing acute attacks of multiple sclerosis and that will help it remain competitive.
In conclusion, we at Saibus Research have reinforced our long position and our long thesis in Teva Pharmaceutical Industries. While we can see that Copaxone's salad days have passed it and it has two more years of above-average growth and profitability, we believe that the market is assigning a high level of fear, uncertainty and doubt to Teva's Copaxone franchise. The key part of our thesis in Teva is the new management team led by Dr. Jeremy Levin. While Teva is not going to generate the 20%+ annual revenue growth that it enjoyed from up until 2010, we believe that it offers superior growth and valuation prospects relative to its generic competition and its branded pharmaceutical peers and we believe that Teva is one of the rare situations for investors in that it is a "blue-chip turnaround play". We believe this because while Teva's growth is still better than almost any traditional pharmaceutical company with the exception of Perrigo (NASDAQ:PRGO) and Novo-Nordisk (NYSE:NVO). At the same time, Teva has a number of rough edges that it acquired along with its acquisition spree led by former CEO Shlomo Yanai. We believe that Teva's new CEO Dr. Jeremy Levin is what the doctor ordered with regards to fixing Teva based on his solid record at Bristol Myers Squibb (NYSE:BMY).
Disclosure: I am long TEVA, NVO. I wrote this article myself, and it expresses my own opinions. I am not receiving compensation for it (other than from Seeking Alpha). I have no business relationship with any company whose stock is mentioned in this article.
Additional disclosure: This article was written by an analyst at Saibus Research. Saibus Research has not received compensation directly or indirectly for expressing the recommendation in this article. We have no business relationship with any company whose stock is mentioned in this article. Under no circumstances must this report be considered an offer to buy, sell, subscribe for or trade securities or other instruments.