Although we don't have a position Alcatel-Lucent (ALU), we know people who do and because Alcatel-Lucent is so cheap, we have kept a loose tab on it over the last couple of years. We have also been interested in Alcatel-Lucent because the company was formed through the merger of French telecom equipment maker Alcatel with U.S. based telecom equipment maker Lucent Technologies and we had been following Lucent's efforts to turn itself around in the wake of the Dot-Com and Telecom Bubble bursting in 2000. We are also aware that Alcatel-Lucent is not the only telecom equipment company facing the twin headwinds of a challenging macroeconomic environment and the soft demand for telecom equipment at the major carriers. We see that Ericsson (NASDAQ:ERIC) and Nokia Siemens (NYSE:NOK) are facing the same problems that ALU is facing.
RECENT HIGHLIGHTS AND LOWLIGHTS AT ALCATEL-LUCENT
Unfortunately for Alcatel and Ben Verwaayen, the stabilization that Alcatel-Lucent enjoyed from 2009-2011 has come to an end and the company has returned to generating operating losses. Alcatel-Lucent saw a 2.8% revenue decline in Q3 2012 versus Q3 2011 levels due to a 19% revenue decline (€195M) in its Wireless Networks business. ALU's revenue was €3.6B in Q3 2012 versus $3.7B in the prior year period. At least this was better than the 7.2% year-over-year decline the company experienced in Q2 2012 versus Q2 2011 levels. Alcatel-Lucent includes the old Bell Laboratories and as such it is a former affiliate of AT&T (NYSE:T) and Verizon (NYSE:VZ). Verizon and AT&T also represent 12% and 11% respectively of ALU's YTD 2012 revenues. Verizon had cut its YTD CapEx by $1.2B year-over-year and 90% of these cuts came at its profitable and steadily growing Verizon Wireless segment. AT&T cut its YTD CapEx by $1B, as a 6% increase in its Wireless capital spending to accommodate its 4G-LTE build out was more than offset by an 18% in its Wireline segment. Considering that the AT&T/Verizon duopoly represents nearly a quarter of ALU's revenue and considering that the duopoly is cutting its capital investment spending even though it doth protest too much about how little capacity it has it's no wonder why ALU's revenue and profits have been soft this year.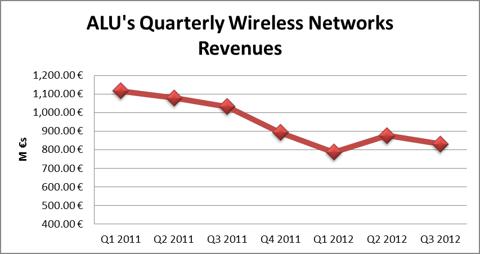 Sources: Alcatel-Lucent's Q2 2012 and Q3 2012 Earnings Releases
ALU's Optics Networks business also saw weak results and its revenue declined by €102M in Q3 2012 versus Q3 2011 levels, continuing weakness that we saw in Q2 2012. This helped contribute to a €219M year-over-year decline in its Networks Division adjusted operating income, which pushed it from an adjusted operating profit of €48M in Q2 2011 to a loss of -€57M in Q2 2012. ALU's Wireless Networks revenues had seen a continued decline from Q1 2011 to Q1 2012, before trending upward in Q2 2012. Unfortunately, Wireless Networks' Q2 2012 performance seemed to be a "dead-cat bounce." At least the performance of ALU's IP Networks (30% year-over-year revenue growth), Wireline (26%) and Services (6%) businesses have seen positive year-over-year revenue increases and helped partially mitigate the weakness of the rest of ALU's businesses.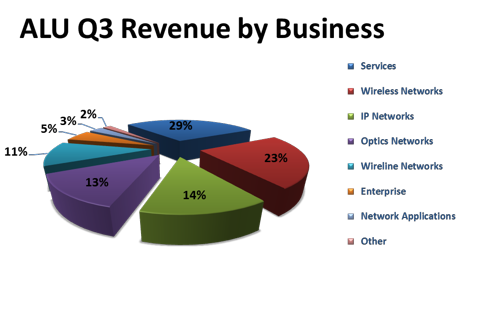 Source: Alcatel-Lucent's Q3 2012 Earnings Release
ALCATEL-LUCENT'S COMPETITIVE POSITION
Although Nokia Siemens and Ericsson are suffering from the same weak environment as Alcatel-Lucent, we have the most concerns about ALU's weak performance. Q3 2012 revenue growth for the telecom equipment industry was practically "a game of inches" and these three telecom equipment titans were in a smash-mouth, grind-it-out competitive struggle in order to generate any semblance of revenue and profit growth. We were surprised that Nokia Siemens was able to generate the year-over-year revenue growth (2.58%) that it enjoyed. Although Ericsson's revenue slipped by 1.62% year-over-year, it was still better than the 2.8% decline that Alcatel-Lucent endured. Although Nokia Siemens generated a quarterly profit of €182M during the quarter, Ericsson remained the industry's profit leader with SEK 2.2B (US~$328.6M). We would like to tell ALU's stakeholders "don't look back, Nokia Siemens might be gaining on ALU."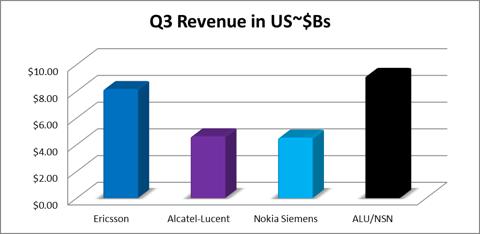 Sources: MRQ Releases for Alcatel-Lucent, Ericsson and Nokia
ALCATEL-LUCENT'S FINANCIAL POSITION
Despite the fact that Alcatel-Lucent has been bleeding cash since its 2006 merger combining Alcatel and Lucent, we take note of the fact that it still has €5.07B in cash and other liquid financial assets as of Q3 2012. Unfortunately it is nearly offset by its €4.78B in bonded debt outstanding as of Q3 2012. At least it is in a net cash and investments position of €289 right now. However it still has to deal with €814M of financial debt due within the next year, as well as €585M due in 2014 and €1.027B in 2015. We don't know why it repurchased $115.5M of its 2.875% Series B Convertible debentures in H1 2012 for $110M. While this may save $3.3M in annual pre-tax interest, we think it is foolhardy to prematurely redeem low-cost long-term debt when the company has higher-cost debt with shorter maturities outstanding. Furthermore, if Alcatel-Lucent tries to refinance its $2.5B in upcoming debt maturities over the next 3.25 years, we expect it to be paying a lot more than the 5.5% weighted average cost of debt that it is paying right now, which will be another headwind to its already weakened profitability.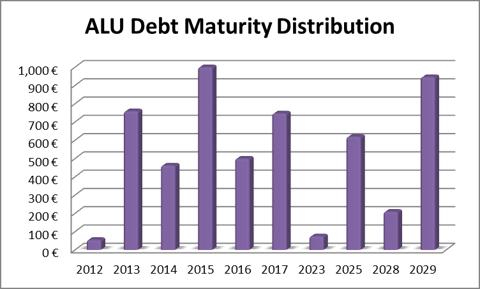 Source: Alcatel-Lucent's Q3 2012 Earnings Release
CONCLUSION
In conclusion, we believe that Alcatel-Lucent will continue to muddle through the morass of its mediocrity for at least 2-4 quarters before it begins to recover. When the biggest increase in telecom capital expenditures is coming from Sprint Nextel (NYSE:S), we are not that optimistic on telecom equipment makers like Alcatel-Lucent or its peers. When you combine a decline in telecom equipment spending from leading telecom blue chips like AT&T and Verizon with a weak macroeconomic environment in Alcatel-Lucent's home market of Europe, you get an investment with high risk and volatility and no immediate upside catalysts. We like the fact that the company is trading at a near 50% discount to gross cash and a near 50% discount to its book value. However we are also mindful of the fact that Alcatel-Lucent has a negative tangible book value of $2.4B and has had free cash flow deficits since its 2006 merger combining Alcatel with Lucent. Although we are keeping our eyes peeled for potential asset sales, we are mindful of the fact that the company has already harvested billions of euros from the sale of assets in 2009-2010.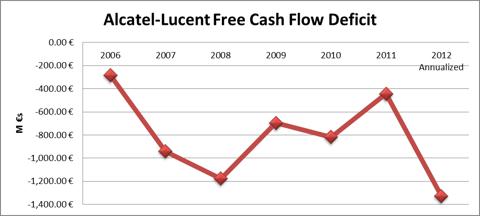 Source: Morningstar Direct
Disclosure: I am long S. I wrote this article myself, and it expresses my own opinions. I am not receiving compensation for it (other than from Seeking Alpha). I have no business relationship with any company whose stock is mentioned in this article.
Additional disclosure: This article was written by an analyst at Saibus Research. Saibus Research has not received compensation directly or indirectly for expressing the recommendation in this article. We have no business relationship with any company whose stock is mentioned in this article. Under no circumstances must this report be considered an offer to buy, sell, subscribe for or trade securities or other instruments.