Last week, Pengrowth Energy Corporation (NYSE:PGH) announced it is suspending its Premium Dividend program, effective with the December 17, 2012 payment. Pengrowth cited that it came to this determination based upon "the current low share price environment." The program provided eligible shareholders with the opportunity to reinvest their dividends in new shares at a five percent discount to the average trading price of PGH shares over the prior month.
Investors should consider this move a sensible one. In theory, this discounted reinvestment program was a deal, and especially so if shares are being undervalued by the market. While it is always unclear whether a equity or asset is truly being undervalued by the market, the decision to cut this program would appear to indicate that at least Pengrowth's management is of the opinion that it is undervalued.
See a recent performance chart for PGH:
(click image to enlarge)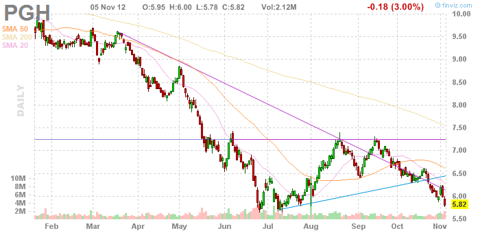 Pengrowth is an oil and gas company with a fairly balanced portfolio of oil and gas reserves, and with about two-thirds of its current production being natural gas and natural gas liquids. Pengrowth's assets are located in Canada, across Alberta, British Columbia and Saskatchewan. Pengrowth shares have declined considerably over the last year, largely due to declining natural gas prices and the negative effect they have had upon PGH's cashflow and assets.
On July 6, Pengrowth reduced its monthly dividend by about 42.8 percent, from 7 Canadian cents (currently $0.0702) to 4 Canadian cents (currently $0.0401). Pengrowth followed Enerplus Corporation (NYSE:ERF), another Canadian oil and gas company, which cut its monthly dividend from 18 Canadian cents per share to 9 Canadian cents. Both companies slashed their sizable payouts in reaction to substantial declines in natural gas prices and weakening oil prices during the first several months of 2012. Despite PGH's sizable dividend reduction, the company's fairly comparable 44.7 percent share price decline since the start of 2012 leaves it with an annualized yield of about 8.1 percent.
Beyond declining energy commodity prices in the first half of 2012, part of PGH's reduction was also likely due to a $200 million pro forma capital expenditure reduction that coincided with the NAL Energy Corporation acquisition that the company announced in Q1 of 2012. The acquisition added more than 35 percent to PGH's production, and increased the company's inventory of oil and liquids-rich drilling locations to over 700.
With that added NAL production, Pengrowth logged its highest quarterly average production at 94,284 boe per day, compared to 74,568 boe per day in Q3 of 2011, or a 26 percent increase. Pengrowth is also pursuing adding more production by continuing to develop its non-producing assets, including its Lindbergh thermal bitumen project, towards which PGH just announced a $55 million commitment. Pengrowth estimates that Lindbergh "has the potential to deliver over 30,000 barrels per day of long-life, low decline production." This estimation of the production out of Lindbergh may be somewhat optimistic, but even a fraction of that production would be helpful.
Meanwhile, it would appear that the company's current production rates should help it maintain its present dividend payout, provided energy prices remain stable. Moreover, the elimination of the Premium Dividend program should make it slightly easier for PGH to continue paying out those sizable dividends going forward. As production continues to grow, any future increases to energy commodity prices should bode well for Pengrowth.
Disclosure: I am long PGH. I wrote this article myself, and it expresses my own opinions. I am not receiving compensation for it (other than from Seeking Alpha). I have no business relationship with any company whose stock is mentioned in this article.