Pfizer Inc. (NYSE:PFE) is the world's largest pharmaceutical firm, with annual sales near $70 billion. PFE manages its operations through five segments: Primary Care; Specialty Care and Oncology, Established Products and Emerging Markets; Animal Health and Consumer Healthcare, and Nutrition. Following the major acquisition of Wyeth, prescription drugs now account for close to 90% of sales. PFE's top sellers include cholesterol-lowering Lipitor, Celebrex for arthritis, Viagra for impotence, and Lyrica for epilepsy and some types of neuropathic pain. PFE enjoys a wide economic moat around its business with its solid foundation based on strong cash flows generated from a portfolio of diversified patent-protected drugs. However, in the short-term, recently approved generic forms of Lipitor will likely negatively impact the sales of Lipitor, as shown in the recent earnings report.
Recent Earnings and Fundamentals Overview
On Nov. 1, 2012, PFE posted a decrease in profit as revenue declined. The net income of PFE fell to $3.21 billion (43 cents per share) vs. $3.74 billion (48 cents per share) a year earlier, with a decline of 14.2% from the year-earlier quarter. The revenue fell 15.9% to $13.98 billion from the year-earlier quarter. PFE's adjusted net income of 53 cents per share beat the mean estimate of 52 cents per share despite the miss of average revenue estimate of $15.47 billion, as reported by Derek Hoffman from Wall St. Cheat Sheet. As quoted from Ian Read, Chairman and CEO,
"Overall, our results this quarter reflect continued product losses of exclusivity, most notably Lipitor in all major markets. Despite a challenging and dynamic environment, worldwide revenues from many of our key medicines, including Enbrel, Celebrex and Lyrica, continued to grow operationally. Additionally, we continued to perform well in emerging markets, most notably in China, given the breadth of our portfolio and focused investment."
The Company also lowered the ranges for certain components of 2012 financial guidance where the average estimate for the fiscal year has moved down from $2.21 a share to $2.20 over the last thirty days. On the positive side, PFE's board of directors had authorized a new $10 billion share repurchase program to be utilized over time, upon the sale of its nutrition business to Nestle. The new program is in addition to the $4.1 billion authorization remaining under the current share repurchase program. PFE's earnings call transcript can be read here.
While PFE is suffering from the sale decline of Lipitor since Nov. 30, 2011, the expiration date of its U.S. patent, PFE's fundamentals remain solid and cash flow continues to be strong. Despite the negative EPS growth for the 3 year average, PFE's 3 year average revenue growth of 11.8 is faster than the industry average of 6.9. The operating margin of 25.6% ttm is higher than the average of 22.7%, where the net margin is slightly below the industry average. PFE's consistent free cash flow generation and debt-to-equity of 0.4, as compared to the average of 6.0, had given it a strong edge to continuously develop its drug pipelines and maintain its leadership position in the industry of major drug manufactures. At a current P/E of 21.0, P/B of 2.3, and P/S of 2.9, as compared to the average of 17.2, 2.8, and 2.7, PFE is currently fair-valued as compared to its peers.
Ownership and Analysts Ratings
As reported by Insider Monkey from KapitallWire, George Soros had $12 million invested in PFE. Irving Kahn, one of the legendary value investor Benjamin Graham's students, hold 2.5 million shares of PFE at the end of September and PFE is Irving Kahn's top holding.
The majority of analysts (88.2%) rate Pfizer as a buy, which compares favorably to the analyst ratings of its nearest 10 competitors, which average 51.2% buys, as reported Narrative Science from Forbes.
Technical Analysis
PFE closed at $24.58 with a 0.12% gain on Monday, one day before the U.S Presidential election. The volume of 20.43M is 27% less than the 30 day average of 28M. PFE had dropped 5.6% from its recent high of $26.04 on Oct. 18. The MACD (12, 26, 9) indicator had been showing a bearish sign since Oct. 22, 2012 and MACD difference continued to diverge, as seen from the chart below. On Nov. 1, PFE had sliced through its 50-day MV of $24.73 and had been trading below it in the past 3 days. The next support will be at $24.42 (pivot point, S1) and $23.96 (pivot point, S2) with upside resistance of its 50-day MV, followed by $25.71 (pivot point, R1). From the momentum perspective, RSI (14) of 40.27 is showing increased momentum toward selling, where below 30 is considered as over-sold. In the short-term, the selling pressure will continue for PFE and the next major support will be at $22.74, 200-day MV, if PFE continues to fall below S1 and S2 pivot points.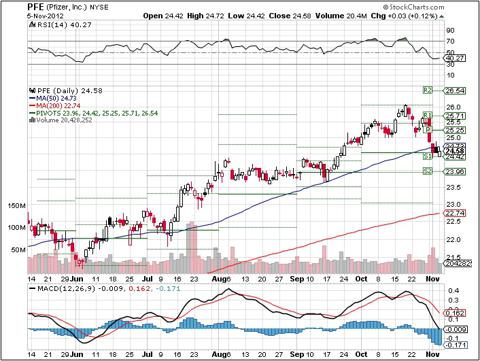 Source: StockCharts.com
Options Play
PFE's long-term outlook remains solid and strong. However, the selling pressure may continue in the near-term. We will review a credit put spread options play for long-term investors who share the same view and would like to acquire PFE stock at a further discounted price. We will use the Nov. 5 closing price as an example.
Short 1x Feb. 16, 2013 Put at the strike price of $23.00 for the credit of $0.52
Buy 1x Feb. 16, 2013 Put at the strike price of $21.00 for the cost of $0.17
The net credit will be $0.35, before fees and expenses. If PFE closes below $23.00 on Feb. 16, 2013, the acquisition cost for PFE stock will be $22.65, which gives an edge of 7.85%, as compared to the current price of $24.58. However, if PFE closes above $23.00 upon options expiration, 21.21% profit will be gained for the $1.65 ($2 maximum loss - $0.35 credit received) margin used. This options play should only be reviewed for long-term investors. For more patient investors, it will not hurt to establish long-term positions after the MACD indicator starts to stabilize or show a bullish signal, accompanied by decreased selling momentum, where RSI (14) starts to move toward 50 middle-line.
Disclosure: I have no positions in any stocks mentioned, but may initiate a long position in PFE over the next 72 hours. I wrote this article myself, and it expresses my own opinions. I am not receiving compensation for it (other than from Seeking Alpha). I have no business relationship with any company whose stock is mentioned in this article.