Western Union's (NYSE:WU) stock has been hammered ruthlessly after its Q3 earnings release. But unless you have a short-term investment outlook, this is one of those rare opportunities great value investors talk about: Buying a great company at a bargain price.
In my previous article on Western Union, I argued that although the company is in a "boring" business, it has great potential and makes for a solid investment. Despite recent developments my main thesis remains intact, and as you'll see below, it is an even better investment today than it was 15 days ago.
Moving on, we'll:
see that Western Union's competitive position is secure and strengthening;
"stress test" the company to find out how difficult, earnings-wise, 2013 could be;
check the dividend's safety;
look at what may work as a catalyst for the stock price to recover; and
figure out the value of the company and what is the upside potential for the stock.
But first, let's see what happened. In the Q3 earnings press release, Western Union CEO Hikmet Ersek said:
As we have progressed through 2012, however, the market environment in consumer money transfer has become more difficult, especially in recent months. To better position us for the sustainable growth of this business we are implementing a series of strategic actions, with a focus on enhancing our value proposition, continuing to invest in the fast growing digital channels, and further optimizing our cost structure.
The problem is that these "strategic actions" will have a negative impact on the company's revenues for 2013 and cause a 10% to 15% decline in operating income compared to 2012. This news caused immediate downgrades from analysts following the stock, creating, so far, a 33% fall from $17.98 (prior to the release) to $11.95 (at the close Nov. 2).
Competitive Position
Western Union's main strength lies in the economies of scale that are created by the company's size. Western Union has more than four times the revenue of its biggest competitor, MoneyGram (NYSE:MGI). This is because Western Union has twice the agents MGI has (510,000 vs. 275,000, respectively) and more than double the revenue per agent. As a result, Western Union has its fixed costs spread over a greater revenue base and enjoys greater operating margins.
Furthermore, scale gives Western Union the ability to match any offers its competitors make. Scale also gives it the ability to force smaller competitors out of business since they cannot match Western Union's prices profitably. Finally, its trusted and well-recognized brand makes it possible to add agents faster than competitors because agents know that with Western Union, they will have more customer traffic than they would have with any other money transfer company. Agents use this advantage as a way to promote and grow their main businesses and use Western Union as an extra service for their customers.
Analysts have expressed two main concerns about Western Union's competitive position:
Online ways of transferring money may make Western Union's scale and wide network irrelevant. The vast majority (96%) of Western Union's revenues come from cash-to-cash transfers. Most of the people who use this service are immigrants sending money back home, and most of them don't even have a bank account. That makes it practically impossible for online money transfer services to reach them.
After management's acknowledgement of pricing pressures in certain corridors, some analysts are worried that this is a signal that Western Union's competitive position is eroding. There is a logical error behind such a proposition. We saw earlier that no one can effectively compete with Western Union due to its size and brand. Western Union's management said in its Q3 conference call that it has begun and will continue to do price promotions in the corridors where competition has picked up. And since Western Union can compete very effectively on price, we can safely conclude that it's going to win this fight and even expand its market share. Finally, when competitors are brought to their knees, Western Union will be able to go back to its premium pricing and increase profitability even more. We have to keep in mind, though, that this won't be a fight that will end quickly -- the results won't be clear (through added market share and increased revenue) for at least a year or so.
So, 2013 may be a weak year, but it'll be a year during which Western Union will grow its market share and become more efficiently run.
EPS Possibilities for 2013
Let's examine how Western Union may fare in two particular scenarios next year. The first is management's guidance regarding a 10% to 15% decline in operating income compared to 2012 levels. We will use only the low end of that, just to be cautious. The second scenario accounts for a 25% decline, which I don't believe is probable. It will give us an idea of how things would look if something goes horribly wrong.
Click to enlarge images.

Click to enlarge
For 2012, I used a normal tax rate of 25% instead of the real one (14%). That's because this low rate is a one-time event. To calculate EPS, I used the diluted shares from the latest earnings release. And I didn't take into account potential share buybacks.
As you can see, Western Union's drop in price was so big that even in the worst-case scenario it trades only 11 times forward earnings. But more on valuation later.
The Dividend
Along with Q3 earnings, management announced a 25% increase in Western Union's dividend from $0.40 to $0.50. This means a current dividend yield around 4%. No matter how nice that seems, we have to be certain that it's sustainable before taking it into account. As you can see below, Western Union's free cash flow is consistently close to net income. So, even in our worst-case scenario for 2013 (meaning $1.11 EPS) we can expect FCF around $1. This means that Western Union's $0.50 dividend is perfectly safe.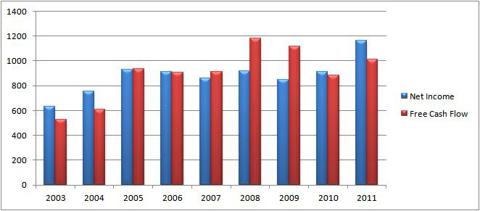 Click to enlarge
Catalysts
Despite all the catalysts described above, I don't expect the stock to bounce back soon. I believe that for analysts to endorse the stock again we will have to be at least two quarters into 2013, so that market share gains are clear enough for them to see. Solid results and proof that management's strategic actions are working are, in my view, the only way for the stock to come back and exceed pre-fall levels.
But as we have already seen, the odds are overwhelming that the company will perform accordingly.
Valuation
Before we decide which is the correct multiple for the stock, we have to take into account that Western Union has more than $2 per share of surplus cash. The company has five-year average revenue growth of 4% and 10-year average revenue growth of 9%. I believe that those aggressive promotional moves are going to give a strong boost to revenue growth, although through market share gains mostly. It wouldn't be too much to assume, then, revenue growth of 4% to 9% for the next five years. A reasonable multiple for this kind of growth would be between 12 and 15.
In order to calculate the value range of the stock, based on our scenarios, we'll use the following equation:
Value = (Forward EPS X Multiple) + Cash
And we get the following results: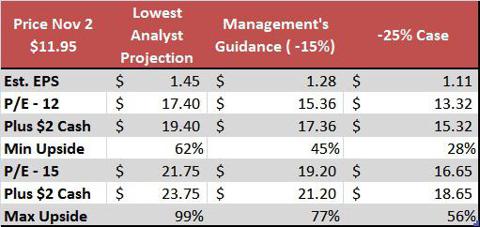 Click to enlarge
Conclusion
Erring on the side of caution, I think we should place the stock's value between $15.32 and $21.20. Also, we shouldn't buy above $13.10 [(1.11 X 10P/E) + 2$] in order to embed a margin of safety into our cost.
This value range is intended as a guide for the next 12 months. If you keep the stock for longer, however, and let your profits grow along with the company, I am certain that you'll achieve significantly greater returns than those mentioned above.
Disclosure: I am long WU. I wrote this article myself, and it expresses my own opinions. I am not receiving compensation for it (other than from Seeking Alpha). I have no business relationship with any company whose stock is mentioned in this article.