Stocks To Trade
Today, we are looking at an earnings trade in Freeport-McMoRan (NYSE:FCX), longs in Citigroup (NYSE:C) and Ebay (NASDAQ:EBAY), and shorts in Best Buy (NYSE:BBY) and Bristol-Myers Squibb (NYSE:BMY).
For an earnings trade, we are looking at FCX today. The copper and gold company reported earnings near the end of October. The results were decent, showing profitability, but missing expectations. Since the report, however, the stock has increased after a gap down. The company has ridden its 50-day MA higher since earnings, and it has been great support. With seasonality strength in China happening at the end of the year, we see positive movement potential for FCX moving through year-end The company looks solid, with its 200-day MA sitting below it as well. We like the company for a bull put spread below the 200-day MA.
Trade: FCX, Dec22, 36/34 Bull Put Spread
Max Gain: 15%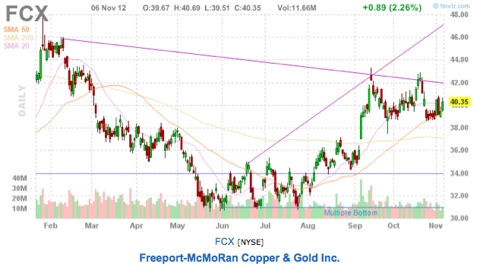 For longs, we like the looks of Citigroup and Ebay. Both stocks are looking very solid. C could be on the verge of a breakout, and we believe a Romney election would definitely be the catalyst to help push C over a breakout point right now. The company is forming a cup with 38.50 as resistance, and if the stock gets over that level, it could really start moving. The company has been strong since its October 15 earnings, and it looks primed to move much higher. We also believe the removal of CEO Vikram Pandit is going to actually going to be very solid for the company.
EBAY also looks very solid right now. The stock has not failed the 48 line since earnings, and it's in a great upward channel. It has strong resistance at 50-51, and if that breaks, the stock could see a very strong rally. The company's Paypal division continues to be very solid, and with the company's partnerships with Discover (NYSE:DFS) and other businesses, that line continues to prosper. We believe EBAY will be a very solid candidate for a bull put spread with solid support at 48, 46, and 42.
Equity Trade: C, Long
Breakout Point: 38.50
Options Trade: EBAY, Dec22, 45/43 Bull Put Spread
Max Gain: 13%
For shorts, we like the looks of Best Buy and Bristol-Myers Squibb. Best Buy continues to weaken more each month, and things show no signs of looking up. The stock had a nice day in the general market, but we believe up days for BBY should be used for shorting the stock. We like to short BBY on a bear flag at the 15.50 area where the 10-day MA sits. Why continue to be short BBY? We see a long-term death occurring for the company. It has lost to Amazon.com (NASDAQ:AMZN) as far as electronics sales. Its saving grace is its mobile business, which may end up being the only aspect of the company that lasts in the next two to three years. Fundamentals here are very weak, and show no plans/signs of changing.
BMY, on the other hand, is a very solid pharmaceutical company. Healthcare has been solid under President Obama. We look at a BMY short as a potential play on an unexpected Romney win. The stock has been weak as of late. It is in a downward wedge, and recently formed a head-and-shoulders pattern. We believe that a move below the 200-day MA at 33 would be very solid for a bear call spread entry. The stock has had yearly resistance at 35-36.
Stock Trade: BBY, Short
Breakout point: Short at 15.50
Options Trade: BMY, Dec22, 35/36 Bear Call Spread
Max Gain: 12%
Tomorrow's Outlook
For tomorrow, it's all about the election again. Who will win? The best thing for the market, in our opinion, is a clean victory for one or the other of the candidates. Romney would be better, most likely, for investors in the near term, but there are also sectors that benefit from Obama. Tomorrow morning, the market will be reacting mostly to the election news. In addition to that, we get some light economic data from Crude Inventories and Consumer Credit. Overall, though, it's all about elections. We have 10 picks for the candidates that we like if either one wins. The market is looking strong right now, and we will be curious to see if it can keep it going.
Our Moves/Holdings
We had a solid day in the market, as we closed down our Deere (NYSE:DE) long for a 2% gain, and Illinois Tool Works (NYSE:ITW) long for a 1% gain. We also closed Expeditors International (NASDAQ:EXPD) for a 4.5% gain. Finally, we closed Ford (NYSE:F) from our long-term portfolio for a 20% gain. We added a short in Fastenal (NASDAQ:FAST), as well as a pair trade long in Chico's FAS (NYSE:CHS), short SPDR S&P (NYSEARCA:SPY).
We have the following positions:
In our Short-Term Equity Portfolio, we are long Target (NYSE:TGT) and Visa (NYSE:V). We are short Fastenal and CSX (NYSE:CSX).
In our Options Portfolio, we are long Whirlpool (NYSE:WHR), Capital One Financial (NYSE:COF), Intuitive Surgical (NASDAQ:ISRG), Discover and Starbucks (NASDAQ:SBUX). We are short SPDR S&P and Baidu (NASDAQ:BIDU).
In our Earnings Alpha Portfolio, we are long Discover and Michael Kors (NYSE:KORS). We are short SPDR S&P and Salesforce.com (NYSE:CRM). We have a reverse iron condor in Chipotle (NYSE:CMG).
In our Goldman Sachs Up/Down Paper Portfolio, we are long CSX.
Charts courtesy of finviz.com.
Disclosure: I have no positions in any stocks mentioned, and no plans to initiate any positions within the next 72 hours.
Business relationship disclosure: The Oxen Group is a team of analysts. This article was written by David Ristau, one of our writers. We did not receive compensation for this article (other than from Seeking Alpha), and we have no business relationship with any company whose stock is mentioned in this article.