Amarin Corporation (NADASQ: AMRN), a stock that I follow very closely these days, has been a very frustrating play for both short-sellers and long-siders after its FDA approval on July 26th, 2012. Here is a chart, which includes the stock's 50 and 200-day moving averages to illustrate the last six months of trading more clearly: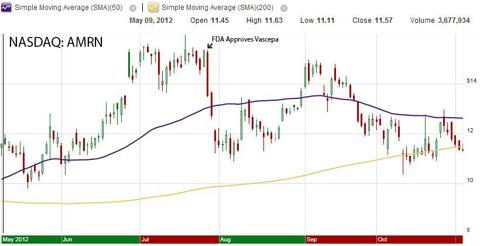 Click to enlarge
As you can see, Amarin's price action after Vascepa's FDA approval just seems like an overly dramatic "sell the news" reaction. There is more to the story though.
Vascepa: It's Not Just Fish Oil, It's Not Just Lovaza 2.0
While Vascepa has been officially FDA approved since July, it still hasn't been designated as a NCE (New Chemical Entity). Investors who are new to Amarin should note that the NCE has the potential to give Vascepa 5 years of exclusivity as opposed to 3 years on the market. NCE designation directly affects the long-term revenue potential of Vascepa, but also solidifies/hurts the exclusivity situation of the drug. Some will argue that Amarin has already sealed the exclusivity of Vascepa with its patent protection, which will be discussed later.
Vascepa is commonly referred to as a "fish oil pill" in the headlines, but it's important to realize why this is very misleading to those who aren't informed on the chemistry. The kind of fish oil pills that you can find over the counter (non-prescription, that is) are crudely refined capsules that contain the omega-3 fatty acids EPA (Eicosapentaenoic Acid) and DHA (Docosahexaenoic Acid).
Also, do realize that there is a prescription fish-oil pill that treats triglyceride levels above 500 mg/dL called Lovaza, which is marketed by GlaxoSmithKline (NYSE: GSK). Lovaza was originally developed by Reliant Pharmaceuticals, GSK took over after it bought Reliant back in 2007 for $1.65 billion.
Lovaza is quite similar to over the counter fish oil chemically, and has been shown to raise patients' LDL cholesterol (this is the "bad" kind that is directly correlated with heart disease.) Despite its flaws, Lovaza managed to do extremely well for itself due to huge demand from hypertriglyceridemia patients. Lovaza's 2011 annual sales came in over $1 billion, making GlaxoSmithKline's purchase in 2007 well worth the effort.
The key to understanding Vascepa, and hence Amarin's potential, is in its chemical composition of the product itself. Vascepa is a highly refined EPA (Eicosapentaenoic Acid) capsule, which is over 95% in purity. It also contains no DHA/Docosahexaenoic Acid. Since the DHA was removed during Amarin's updated refining process, Vascepa can lower triglycerides (like Lovaza does) while removing all the associated risks. This makes Vascepa an obvious improvement over Lovaza with more market potential.
Even more impressive is the LDL-cholesterol reducing effects that we saw in the Anchor study. This means that Vascepa not only removes Lovaza's biggest flaw, but reverses it. Since it's better in nearly every way, shouldn't Vascepa/Amarin be worth more than Lovaza/Reliant was in 2007? Even discounting the other drugs in Reliant's portfolio at the time of acquisition, this argument implies that Amarin would be worth far more than its current market capitalization in the event of a buyout.
If you want more details on Vascepa's unique composition, Iggy Igette wrote a comprehensive overview back in May that I highly recommend. Iggy's article also links to publications that give evidence to the medical/physiologic claims made above.
Speculators Get Very Concerned Without Information
The clinical trial data basically tripled Amarin stock in the last two years, which shows that the market did not forget the intrinsic value that was added by Vascepa's clinical trial results. AMRN got especially hot in April 2011, almost breaching $20/share after a press release that provided detailed results from the phase III Anchor study. Anchor met both its primary and secondary endpoints and provided evidence of Vascepa's potential to lower LDL cholesterol. This was a big deal.
Many people were expecting a larger pharmaceutical company to strike a deal with Amarin after the Anchor results or even buy the company outright, but the market never saw its own rumors materialize into anything. Even after the FDA approval of Vascepa, which was considered a potential barrier for pending M&A deals, the market got no announcements. It was disappointing, and even boring for everyone who was following Amarin.
Amarin has stated before that it would rather find a partner or buyer for Vascepa than attempt to market Vascepa alone, but the lack of any additional statements has caused many investors to forsake the notion that Vascepa will be bought out before the market launch of the drug. Many analysts have used this to justify downgrades on shares of AMRN, since the consensus is that Amarin is worth less as a company if it has to market Vascepa itself.
There hasn't been much recent commentary on Amarin, although Bart Classen of Summer Street stated last week that competing companies could approve their own versions of ultra-refined EPA capsules though a 505(b)(2) application. This directly conflicts with Amarin's patents, which protect Amarin's right to 95% or higher EPA capsules as well as their use as a treatment of hypertriglyceridemia until 2030.
The real question we should be asking is whether or not Amarin is going to find a partner, or if it will get acquired by a bigger pharmaceutical company before Vascepa hits the market. A good number of biotech traders are even assuming that Amarin has already received one or more offers for acquisition (or at least partnership), but has declined due to confidence in Vascepa's prospects. It's also possible that M&A activity is being held up over the NCE ordeal.
For now, AMRN can at least hope for an NCE designation at the end of this week (which is when we see the next Orange Book monthly update by the FDA). If the FDA manages to say nothing about Vascepa yet again, expect AMRN stock to stay weak as a number of bored speculators throw in the towel. If the FDA does designate Vascepa as a New Chemical Entity, expect a sizable rally. Not only would NCE designation give Vascepa more airtight protection in the long run, but it would give Amarin more leverage in any negotiations that may be occurring.
Disclosure: I am long AMRN. I wrote this article myself, and it expresses my own opinions. I am not receiving compensation for it (other than from Seeking Alpha). I have no business relationship with any company whose stock is mentioned in this article.
Additional disclosure: I also trade AMRN options