The agriculture sector has come down a long, long way since its recent highs. Leading the way down has been a sharp decline in agriculture commodities. The price of sugar is down 25%, soybeans are down 30%, corn is off 35%, and wheat is leading the way with a 40% decline since euphoria took the agriculture markets to unsustainable highs last winter.
Remember the food riots…the rice trading maven, who took a dozen barges, loaded them with rice, and tried to corner the market...expectations that ethanol production would push an already tight corn market into the stratosphere …the world was running out of food!
Or so everyone thought.
It was a great story. And it seemed like everyone got in on the act. Hedge funds were bidding up crop futures contracts. Food producers were hedging their bets to ensure they had raw ingredients. Agriculture reports were closely watched by mainstream media. Even Potash Corp (NYSE:POT) had an estimated 25,000 unique visitors to its company website according to Quantcast.com (a little anecdotal evidence never hurts).
Like all great stories, it had to come to an end. Now, fertilizer stocks have plummeted more than 60% across the board, the seed companies like Monsanto (NYSE:MON) and Syngenta (NYSE:SYT), and the farm equipment makers are well off their highs. And Potash Corp's web site traffic was cut in half.
All the bad news for farmers and the agriculture industry has created what could be an excellent buying opportunity in another subsector of agriculture stocks, livestock and meat. They directly benefit from lower crop prices because the biggest expense they face is feed costs.
Just take a look at what rising crop prices did to the profits and margins of Smithfield Foods (NYSE:SFD). The world's largest pork producer and processor missed already low earnings expectations in each of the past two quarters. The culprit was feed costs. Smithfield stated the following in its most recent quarterly report (emphasis added):
International segment operating profit declined in spite of significant sales growth. The decline is mainly attributable to less favorable results from our equity method investments and significantly higher raw material costs.

The [Hog Production] segment incurred an operating loss due to significantly higher feed costs.

Other segment incurred an operating loss as a result of significantly higher feed costs and less favorable results at Butterball.
It's all about feed costs. But it's not just isolated to Smithfield. When costs rise the entire industry takes a hit. They simply can't just pass costs on to end consumers.
In the chart below, the U.S. Department of Agriculture shows how tough times got for meat producers during the agriculture bull market of the mid 90's. The price of feed costs spiked 30% and ended 10% high after two years. Meanwhile the price of end products only increased 5%.
In essence, the meat producers watched their costs rise significantly and they were unable to pass them on.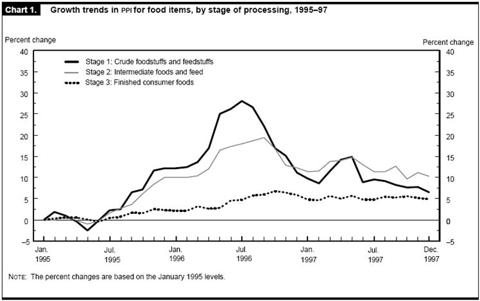 Click to enlarge
Normally, when input costs rise 10% and half of that can be passed on to end consumers, a company will be just fine. But this is the meat production industry and that 5% gap is very important.
If we go back to 2005, before agriculture commodities rose significantly, gross margins were pretty small. That year gross margins for Smithfield, Tyson Foods (NYSE:TSN) and Pilgrim's Pride (NYSE:PPC) were 10%, 6.5%, and 13% respectively. As a result, we can see how rising costs can quickly erode profits for meat producers.
Under normal circumstances the market anticipates the impact of higher feed costs. As you can see in the chart below, Smithfield, Tyson, and Pilgrim's Pride move inversely to agriculture commodity prices.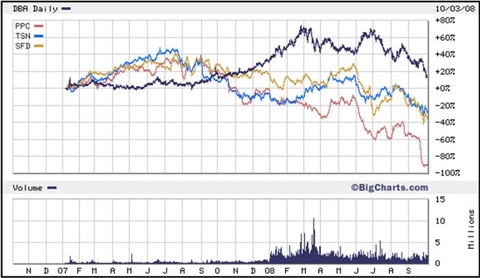 Click to enlarge
If we use Powershares DB Agriculture Fund (NYSEARCA:DBA) – which tracks the prices of wheat, soybeans, corn, and sugar – as a broad measure of crop prices/feed costs, then we can see a strong correlation between feed cost increases and the value of meat producer shares.
When crop prices rise, meat producers' shares went down. This pattern held strong until late May when credit concerns started to wreak havoc on the share prices of meat producers. The credit crunch, which hit all meat producers in significant ways, sent shares prices plummeting across the board.
So, is it time to buy meat producers? I don't think so…but the time is coming.
For instance, Sadia (NYSE:sda-old) recently announced it was on the wrong side of some currency bets. All of its expected profits for this year have disappeared on one single misstep. On top of that, Sadia had to rush to acquire a short-term loan to ensure it can stay in business. The failed bet was some very bad news that took the market by surprise as shares of Brazil's largest meat producer sunk 45% in two days.
And that's the biggest reason why meat producers aren't a buy yet. With Pilgrim's Pride on the verge of bankruptcy and Tyson and Smithfield having cash flow problems, there could easily be some more violent downward swings.
The industry is on the verge of crisis and it's not going to improve anytime soon. Jim Clarkson, a livestock analyst for A&A Trading, stated in an interview with Reuters, "It's the start of a recession. It is going to cut the demand for everything, including beef and pork."
The meat production industry is going to benefit from lower agriculture commodity prices, but credit issues and a recession are going to have a far greater negative impact that will more than offset any positive savings that would come from lower feedstock prices.
It's best to take a wait and see approach for the meat producers. So far they've been able to fend off significant credit concerns by raising capital with extremely good terms for the investors. If that capital dries up and the companies can't get any credit, the industry will truly be in a crisis. The markets are going through some wild mood swings and I wouldn't put a single dollar in until and shares are far too cheap to pass up.
Disclosure: I have no position in any of the companies mentioned.