BioMarin (NASDAQ:BMRN) is usually pretty quiet, but it appeared as a huge blip on my radar on November 5, 2012 after a 31% surge and an enormous spike in trading activity. Turned out that the phase III trial data for its drug GALNS was quite good, and the primary endpoint was met. Quoting the press release on the BioMarin website:
BioMarin Pharmaceutical Inc. announced today that the pivotal Phase 3 study of GALNS met the primary endpoint of change in six-minute walk distance compared with placebo at 24 weeks in subjects receiving weekly infusions of GALNS at the dose of 2 mg/kg (p=0.0174).
If you're interested to read the full release, which includes more details on the trial and the results, here is a link.
GALNS treats an extremely rare genetic condition called Morquio A Syndrome (or MPS IVA), which is found in roughly 1 out of every 200,000 births. With only 1,500 or so people affected in the United States, Morquio A Syndrome is clearly an orphan disease, which allowed GALNS to receive orphan drug designation. The FDA lets orphan drugs stay exclusive on the market for 7 (rather than 5) years, and allows for certain fee waivers. It also significantly increases their leniency when it comes time to decide on approval.
With its stellar phase III results, I fully expect GALNS to receive a priority review after BioMarin submits its NDA followed by an approval. To most, it's not so much a question as to whether or not GALNS will be approved to treat Morquio A Syndrome as it is a question of what that news is worth.
As mentioned before, BMRN rallied 31% just on news that GALNS reached its primary endpoint in phase III trials. Even assuming that this could basically be considered as equivalent to an FDA approval, with the orphan drug status and everything else included, it's hard to completely justify the market's optimism.
BioMarin's value increased by over $1.4 billion on November 5th in reaction to the GALNS clinical trial data, and now has a market cap of over $6 billion. Even making the generous assumption that GALNS was valued at zero last week, is the drug worth the additional $1.4 billion?
Even though orphan drugs that treat extremely rare diseases can earn enormous amounts of money per patient (hundreds of thousands of dollars each year is possible), the tiny pool of Morquio A Syndrome patients can't be worth that much - even taking into account the seven years of guaranteed exclusivity that we'd see after GALNS gets approval.
This helps explain why there was a proportionate jump in short interest when volume spiked on November 5th trading.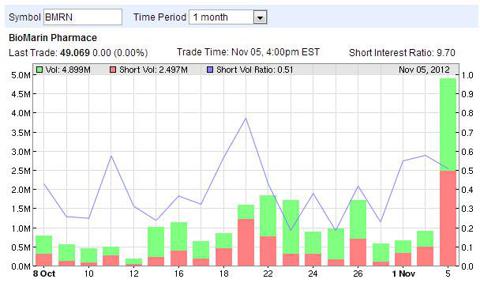 Approximately 2.5 million shares were shorted yesterday, betting against the huge jump in BioMarin's valuation. While there are 4 marketed products and 5 other projects in the company's pipeline that also affect the company's valuation, we can infer that excitement over the GALNS press release was too extreme for what it was.
This looks too much like the rally in Sarepta Therapeutics (NASDAQ:SRPT) on October 3rd, which tripled the stock in one trading session. More than half of the gains were given back in later trading sessions, and it goes to show that investors need to be very careful about orphan drug-related hype.
Disclosure: I have no positions in any stocks mentioned, and no plans to initiate any positions within the next 72 hours. I wrote this article myself, and it expresses my own opinions. I am not receiving compensation for it (other than from Seeking Alpha). I have no business relationship with any company whose stock is mentioned in this article.