ICU Medical (NASDAQ:ICUI) is an $892 million small-cap producer of innovative medical devices that are used in infusion therapy, oncology, and critical care. The company's products help to prevent bloodstream infections and protect healthcare workers from accidental needle stick injuries and hazardous drugs. It also produces critical care devices that are used for monitoring continuous cardiac output, oxygen saturation, and other key measures to diagnose and treat critical care patients.
The company's CLAVE product is a one-piece needle-free infusion device. The CLAVE products accounted for 36% of ICU Medical's revenue in 2011.
ICU Medical's largest customer is Hospira Inc. (NYSE:HSP), which accounted for 41% of worldwide revenue for the first nine months of 2012. It also sells to other medical product manufacturers, independent distributors, and through direct sales to end users.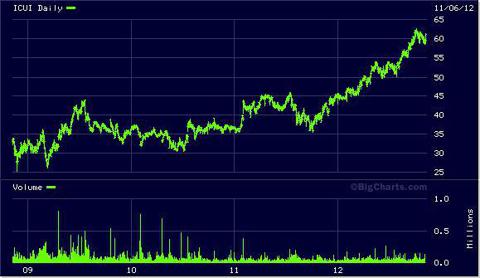 I think that ICU Medical could be a possible takeover target as a larger company could expand the reach for the company's products and take them to the next level for increased revenue and earnings. ICUI is currently trading at only 2.31 times its book value per share. When the price to book ratio is under 3, companies are typically attractively valued.
Some possible buyers for ICUI would be Becton Dickinson and Company (NYSE:BDX), Baxter International (NYSE:BAX), or Covidien plc (COV). All three of these companies have sufficient cash to cover the cost of acquiring ICUI.
| | | | |
| --- | --- | --- | --- |
| | Becton Dickinson | Baxter International | Covidien |
| Total Cash | $2.19 Billion | $3.19 Billion | $1.94 Billion |
| Operating Cash Flow (TTM) | $1.73 Billion | $3.05 Billion | $2.21 Billion |
An acquisition of ICUI would help expand and enhance the business of these possible suitors.
ICU Medical has a profit margin of 15% and operating cash flow of $69.37 million. It has $204 million in total cash with zero debt. The company also has an impressive current ratio of 10.81.
The demographics of the aging baby boomers also favor ICU Medical. With 10,000 baby boomers turning 65 every day, the need for the company's products will increase as the health of large numbers of seniors deteriorates.
Regardless of whether it is taken over, ICUI stands on its own as an attractive investment. It has 6 positive earnings revisions for 2012 and 4 upward revisions for 2013. The company is expected to grow earnings annually at 10.17% for the next five years. These estimates should be easily met. This growth should reasonably allow the current stock price of $61 to reach about $100 in five years.
Disclosure: I have no positions in any stocks mentioned, and no plans to initiate any positions within the next 72 hours. I wrote this article myself, and it expresses my own opinions. I am not receiving compensation for it (other than from Seeking Alpha). I have no business relationship with any company whose stock is mentioned in this article.