Analysts are in tight agreement on forecast EPS for communications provider Centurylink (NYSE:CTL) when the company reports quarterly earnings on November 7th, with a $0.59 mean estimate inside a tight range of $0.57-$0.60. Investor eyes will also be watching for any deviation of the I/B/E/S mean revenue forecast of $4.57 billion. The stock's fetching 7.5% dividend yield seems to reflect the risk now inherent in the company, especially on rumors of the possible acquisition of TW Telecom (NASDAQ:TWTC). One of StarMine's three credit risk models, SmartRatios Credit Risk, ranks Centurylink in the lowest decile for all North American stocks, which may give investors pause before jumping in to the stock.
The fatter dividend yield comes courtesy of a recent 11% drop in shares, but since 2010 the stock has failed to keep pace with the S&P 500 in making new highs.
click to enlarge image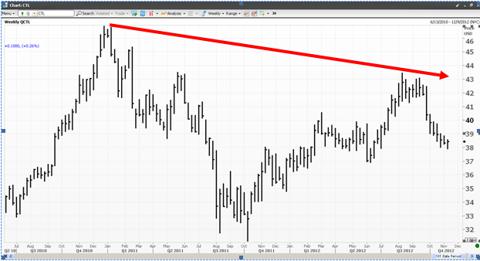 Click to enlarge
StarMine's SmartRatios Credit Risk Model ranks the stock a low 9 out of a 1-100 scale, indicating a higher level of credit risk than most other North American stocks. The model combines accounting financial ratio analysis from reported financial statements and forward looking analyst estimates via StarMine's SmartEstimate (using StarMine's best rated analyst forecasts for a higher quality estimate that is more indicative of the direction of future estimate revisions and surprises). The two of five components that are of most concern are Liquidity (2 out of 100) and Leverage (5 out of 100). The other three components score in the middle of the universe. These are Interest Coverage, Growth and Profitability.
Centurylink's leverage has moved higher the past couple of years from a debt/equity ratio low of 0.74 for the September 2010 to last (June 2012) quarter's 0.97, though lower than the 1.03 high of December 2011.
Pretax Margin's last quarter stood at 2.8% as compared to scores in the teens and 20's going back to 2003. Short-term and long-term liabilities stand at $34.78 billion. Sometimes overlooked is the underfunded pension obligation of $4.72 billion.
Should the $3.8 billion in market cap TW Telecom rumored acquisition become reality, StarMine's SmartRatios Credit Risk scores for Centurylink may decline further, and the company's ability to maintain the current high dividend amount may be challenged.
Finally, from two different approaches, StarMine's other credit risk models are less pessimistic. The Text Mining Credit Risk Model (which analyzes text from four sources of: company filings, earnings call transcripts, Reuters news and allowed broker research) scores Centurylink 20 out of 100, while the Structural Credit Risk Model (which evaluates the equity market's view of a company bankruptcy or credit default) shows a more bullish 74 out of 100 score.
Disclosure: I have no positions in any stocks mentioned, and no plans to initiate any positions within the next 72 hours. I wrote this article myself, and it expresses my own opinions. I am not receiving compensation for it. I have no business relationship with any company whose stock is mentioned in this article.