By Stephane Finch
Have you noticed that living in the U.S. has become a lot more flavorful in the last 25 years? Our food is spicier. Our coffee is richer and darker. Our beer is more robust.
Three of the companies that have both encouraged and benefited enormously from Americans' increasing hunger and thirst for bolder flavors are Chipotle Mexican Grill (NYSE:CMG), Starbucks (NASDAQ:SBUX) and Samuel Adams' brewer Boston Beer Co. (NYSE:SAM). All three stocks have handily outperformed the broader stock market as measured by the S&P 500 in the past five years.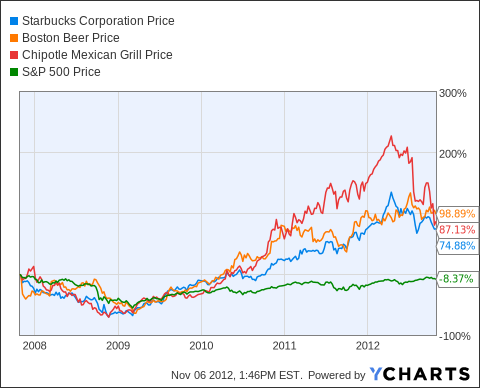 SBUX data by YCharts
But this year all three stocks have struggled a bit, lagging the broader market.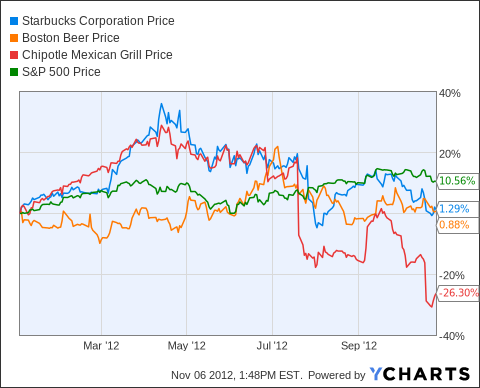 SBUX data by YCharts
Naturally, it's a time when value-minded investors are wondering if these companies' extraordinary run is over. All three stocks are trading at PE ratios that are significantly higher than the 16 times average of the S&P 500.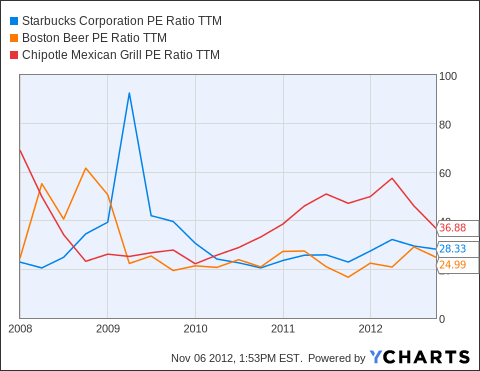 SBUX PE Ratio TTM data by YCharts
Boston Beer's stock, at a recent $106, is trading at around 25 times the $4.27 a share that the company projects it will earn this year. Too high, says Chicago hedge fund manager Clint Coghill, who thinks there's a slide ahead in Boston Beer's share price.
In July, Coghill said Boston Beer would be valued fairly if it were closer to $52. He was short the stock. I chatted for a few minutes with Coghill recently. His Chicago firm, Coghill Capital Management, is still short. There are several reasons why.
First, Boston Beer insiders have been selling. Coghill noted that three independent directors had sold $2.3 million in stock, chief executive Martin Roper had sold $2.8 million worth and founder Jim Koch had sold $5.5 million worth in the three months ended last July 10. And the insider selling has continued since then. (Here's more SAM insider transaction data from our friends at Morningstar.)
Second, Boston Beer's PE ratio is so much higher than that of other alcoholic-beverage company stocks.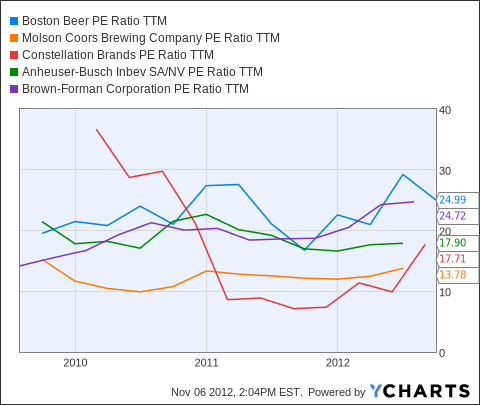 SAM PE Ratio TTM data by YCharts
Thirdly, and perhaps most importantly, Coghill is focused on Boston Beer's revenue growth, which he says has shown signs of weakening- though not in a way that is obvious if you look at the consolidated number the company puts out.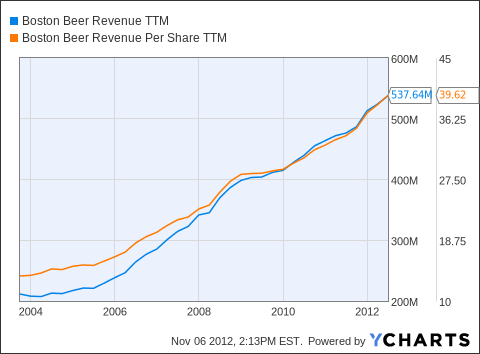 SAM Revenue TTM data by YCharts
As you can see, Boston Beer's sales (and sales per share) have been rising steadily since 2004. Top-line growth has been banging around mostly between 5% and 15%.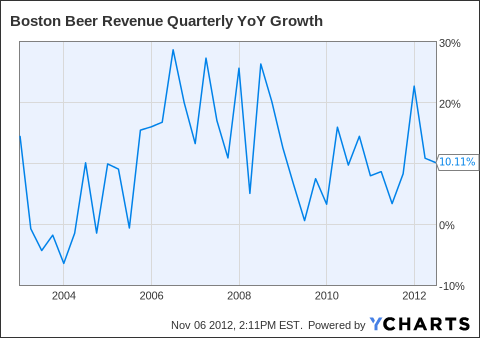 SAM Revenue Quarterly YoY Growth data by YCharts
In making his case, Coghill zeroes in on beer in particular. You see, Boston Beer sells 60 different beverages, but not all of those are Samuel Adams beers. On the not-beer side, the company has developed various other malt-based libations under brand names like Twisted Tea hard, Angry Orchard and House of Shandy. Boston Beer doesn't segment out the sales of these non-beers in its annual reports. But Coghill says if you strip away the fast-growing sales of the non-beers, there's evidence that Sam Adams is not growing much.
Beer mongers refer to revenues as "depletions." It's the total number of cases sold minus losses due to breakage or given away as freebies. Last spring, Boston Beer said its depletions would grow 6% to 9% in 2012.
Coghill has been studying grocery-store figures from New York-based number-gatherer Nielsen Co. (NYSE:NLSN) and says their data (which covers about half of Sam Adams' sales) in June showed Sam Adams beer volumes were down 6.5%. "For SAM to meet guidance, growth through their remaining channels (bar/restaurant, convenience stores) will need to be close to 20%," Coghill wrote in a July report. "We do not think those growth rates are achievable."
Yet Boston Beer continues to project healthy top-line growth. It said in its August quarterly earnings report that it expects its depletions to be up 8% to 12% this year. Undeterred, Coghill says Nielsen data still shows Sam Adams' depletions losing ground: "We believe that in 2013 their beer category depletions will actually decline year over year." He's skeptical that the company's sales in restaurants and bars plus its forays into hard tea, cider and shandy will be enough to keep Boston Beer's top line moving up at the promised rate.
(By the way, shandy is a mix of beer and soda pop or lemonade. If you consider a caramel macchiato to be coffee, an appletini to be a martini, and a Smart car to be a car, then shandy might be for you.)
Anyway, even assuming Boston Beer does succeed at getting 6% sales growth, Coghill says, it doesn't make sense to pay 25 times EPS for shares in a company whose top line is rising that slowly.
Coghill may be on to something. If you've been to a grocery store lately, you'll notice that the number of craft beers on the shelf is pretty breathtaking. My local Fry's grocery store sells an astonishing variety of beers. Every region of the country seems to have a local favorite craft beer-Goose Island in Chicago, Pyramid and Sierra Nevada out west, Brooklyn Brewery in New York, Harpoon in Boston and so on. The various brands are going after each other's turf-Sierra Nevada, Coghill notes, is building a 400,000-barrel brewery in Ashville, N.C.
Meanwhile, the mega brewers have launched tasty faux-craft labels like Blue Moon, made by Molson Coors (NYSE:TAP), or purchased regional craft brewers. Anheuser-Busch (NYSE:BUD) bought Chicago's Goose Island and is working to further popularize its old-time European craft names like Stella Artois in the U.S.
All these rival beers taste great-even to a guy like me, who loves Samuel Adams. I haven't poured a Coors since I was in my 20s, but I scarcely go a week without enjoying a Blue Moon. (Yes, I take it with an orange. Sue me.) Coghill notes that although Sam Adams depletions were up 6% in 2011, its share of the overall craft market fell more than a%age point, to 18.28%.
If Coghill is right and Sam Adams is losing ground, it's a real problem. The central thrust of the bulls' case for Boston Beer shares is that the company is a grower like Chipotle and Starbucks. The bulls argue that in a decade or two, craft beer will grow from its current 6% share of the U.S. beer market to something closer to 30%, that Boston Beer will still own close to a fifth of craft sales and that it will stand tall next to the Anheusers, Coors and Heinekens of the world.
Boston Beer's past growth has put it on track for that kind of future. But let's face it, Starbucks and Chipotle aren't up against the same kind of competition that Boston Beer faces. Nobody thinks Boston Beer is going away, but the notion that it may remain small is plausible.
Yet I'm not quite ready to abandon the bull case for Boston Beer. I argued early last year that its shares were relatively cheap compared to Anheuser-Bush Inbev. I still think they still are- as long as Boston Beer's Jim Koch (pronounced "coke") can find a way to keep his top line growing a modest 6% or more.
It's possible that even if there's weakness in Sam Adams grocery sales, it's no big deal. The Nielsen data, after all, doesn't account for Sam Adams' popularity in bars and restaurants. Grocers like Fry's and Whole Foods (NASDAQ:WFM) set aside plenty of shelf space for beer and wine-much more than local pubs or restaurants have. So yes, Sam Adams may struggle to maintain dominance there. Everybody agrees the grocery business sucks. If you go to your local sports bar, you're not going to find that many taps. If there are five or six taps, chances are pretty strong that Samuel Adams will be served on one of them.
Assume that Koch can stay dominant in sales to bars and restaurants, use his new tea, cider and shandy offerings to make up for any losses of beer sales in grocery stores and eke out 6% top-line growth for many years to come. Coghill asks the key question: Does that modest level of top-line growth justify a 25-times PE ratio?
Well, there's a pretty good case to be made that Boston Beer's stock is not more expensive than that of Anheuser-Busch Inbev and significantly cheaper than those of Brazil-based beer brewer-distributor Ambev (ABV), Denver-based Molson Coors Brewing and wine giant Constellation Brands (NYSE:STZ), based in Victor, N.Y.
First, remember that all those companies' revenues are growing more slowly than Boston Beer's.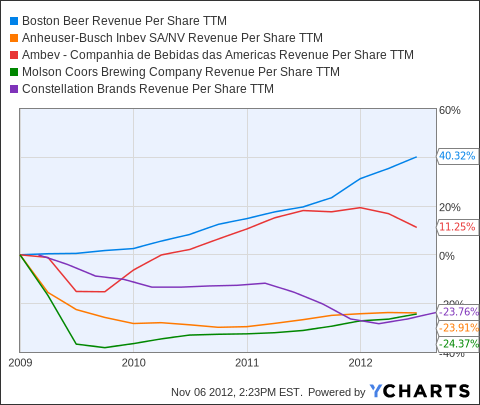 SAM Revenue Per Share TTM data by YCharts
Second, the three large-cap outfits have much, much higher levels of debt. It makes comparing their modest PE ratios to Boston Beer's higher PE ratio somewhat deceptive.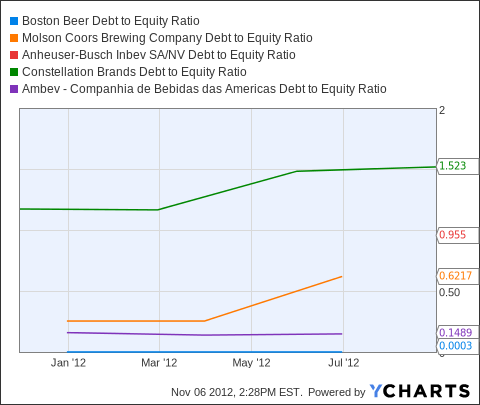 SAM Debt to Equity Ratio data by YCharts
The big outfits have big debts- understandably, since their revenues are annuity-like and they can borrow at super-low rates. But Boston Beer's $105 million in liabilities is a pittance next to its $1.4 billion enterprise value. And don't forget that Boston Beer recently had $40 million in cash and liquid investments on its books.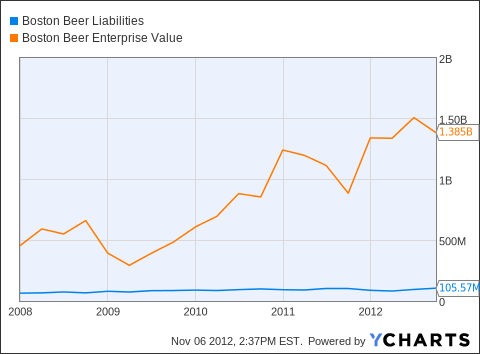 SAM Liabilities data by YCharts
These big differences in debt levels between the big guys and Boston Beer render PE ratio a fairly useless metric when comparing the relative values of the stocks. To even the playing field when comparing Boston Beer to its larger peers, look at a metric that takes debt out of the picture: enterprise multiple. That's total enterprise value divided by earnings before interest, taxes, depreciation and amortization. Right now, Boston Beer is trading at about 12 times its trailing EBITDA.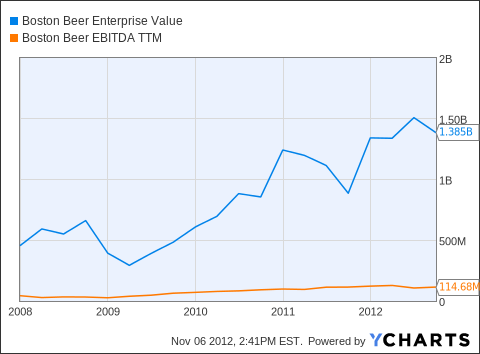 SAM Enterprise Value data by YCharts
Anheuser is trading at about 12 times trailing EBITDA, too. Molson, Ambev and Constellation are each trading at 15 to 20 times trailing EBITDA. (The multiples vary, depending whether you freeze out short-term liabilities and assets like receivables and payables that arise from their distribution operations when you tote up their enterprise value.)
So the short answer to Coghill's question is, essentially, yes, I think Boston Beer deserves a pretty high multiple if can keep its top line growing at 6% a year or more.
So then what if it can't? What if the softness that Coghill sees in Sam Adams sales does filter through to Boston Beer's top line? Even debt-free companies with slumping sales don't get to trade at 25 times earnings.
It may be too early for conservative investors to short this stock. If you're a Boston Beer investor, though, it might make sense to sell not all of your stake but some of it. After all, that's what Jim Koch is doing.
You could diversify into, perhaps, Chipotle stock, which is well below its all time highs. That company is nearly debt-free, and its earnings per share have been rising just a little more quickly in the last few years than Boston Beer's.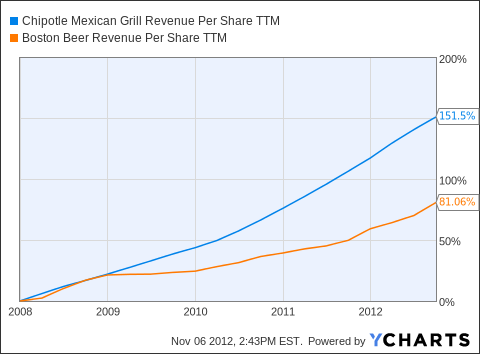 CMG Revenue Per Share TTM data by YCharts
Chipotle's PE ratio is only slightly higher than that of Boston Beer.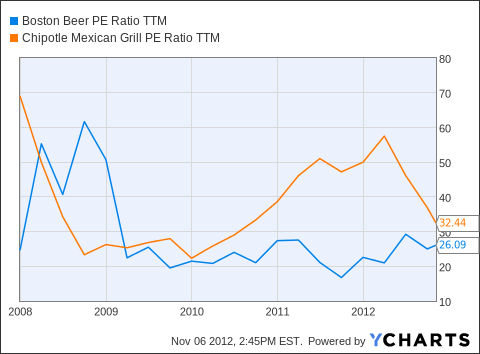 SAM PE Ratio TTM data by YCharts
And craft beer and Mexican food are an excellent combination.

Disclosure: I have no positions in any stocks mentioned, and no plans to initiate any positions within the next 72 hours. I wrote this article myself, and it expresses my own opinions. I am not receiving compensation for it. I have no business relationship with any company whose stock is mentioned in this article.