XPO Logistics (NYSEMKT:XPO) made an important milestone in the third quarter. Its freight brokerage business for the first time became the company's largest business segment in terms of revenue. In Q3, freight brokerage revenue grew 290% (YoY) to $32.2 million, thus driving a 49.8% revenue growth (YoY) for the entire company to $71 million.
The company's freight forwarding and expedited transportation revenue grew a modest 2.3% and 1.4% year over year, respectively.
The following chart plots the company's quarterly revenue by business segments since 1Q11. The short-hand notation in the legend represents its three segments: freight brokerage, expedited transportation, and freight forwarding. 3Q11 was the quarter when CEO and Chairman Bradley Jacobs first made his equity investment in the company.
click to enlarge images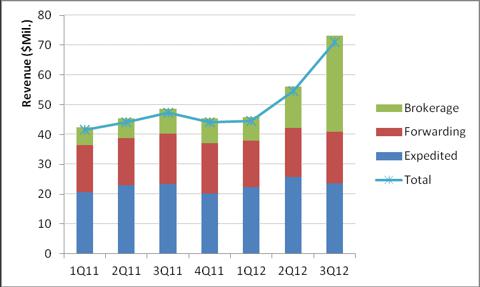 The slight discrepancy of the total revenue from the sum of the segment revenues was due to the existence of a small amount of internal sales transactions among the three business units, which were eliminated from the final revenue figures.
Consensus Estimates Exceeded But Organic Growth Lacking
The Q3 total revenue of $71 million exceeded lowered consensus estimate of $69.9 million. The adjusted EPS of $-0.38 also beat the consensus of $-0.48 for the quarter.
Excluding Kelron's contribution of $13.5M and Continental's contribution of $6.25 million (based on an annual run rate of $25 million, above $22M right before being acquired by XPO in May) in the quarter, revenue would have been $51.24 million, representing an 8.1% increase over 3Q11's revenue of $47.39 million. However, if cold starts were also excluded, the organic growth would probably have declined a mid-to-high single-digit percentage over 3Q11. This was largely a reflection of the sluggish transportation volumes and macro environment in Q3.
Freight Forwarding and Brokerage Gross Margin Held Up Well
The following chart plots the company's gross margin since 1Q11. In Q3, expedited transportation has experienced significant margin pressure due to soft demand for expedite freight and a per-mile rate increase to owner operators that went into effect in March. However, the gross margin for freight forwarding and freight brokerage held up well. The gross margin for freight brokerage has even increased sequentially from 11% in Q2 to 12.6% in Q3. This is impressive since cold starts were initially operated at low margin to attract customers. It definitely bears watching if the gross margin can continue to hold up in future quarters.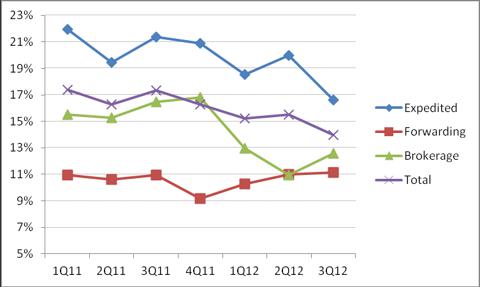 Short Term Pain, Long Term Gain
Some investors might be turned away by XPO's current red inks. But they obviously have forgot why the company is running red inks now. The operating and net losses simply resulted from investment in acquisitions, cold starts and expansion of sales force. In fact, XPO's main operating branches are all profitable except for Kelron, which was acquired in August. Express-1, CGL, and brokerage units including three of the four new acquisitions, Continental, Turbo and BirdDog, are all profitable on themselves. Besides, management has made it clear that Kelron is on its way to profitability too.
So the present red inks are simply short-term pain for the sake of long-term gain. Using management's own words, they are only long-term greedy. This is how they explained this on the Q3 earnings conference call:
"Now if that means sacrificing margin in the short term front for example, increasing headcount quite a bit and taking a hit to margin and profitability short term in order to have a great pay-off long-term, no problem, we'll do that all day long."
Simply Insane Long-Term Growth
Indeed, for XPO, if you are fixating on the current quarterly financial results you are missing out totally. This company is fast on its path to become a multibillion-dollar enterprise. Faster than even an XPO bull like me imagined just a week ago!
Following the Q3 earnings release, the management has revealed its blueprint for basically all the existing units and branches, including the cold starts and acquisitions made so far this year. Based on some simple math I did following the conference call, I found that management is targeting to grow the existing business to about $2.75 billion level in the next few years. Note I said existing, which does not include any future acquisitions and cold starts!
You heard it right. Even without any additional acquisitions and cold starts, the company will be generating annual revenue of about $2.75 billion in a few years!
Given the company has just produced $214 million of revenue in the last twelve months, this is simply insane growth! But this is not even anywhere close to the end of the story. The company will be making a lot more acquisitions and adding cold starts. So, get prepared to be surprised at how big the company will eventually become.
Jacobs said XPO might eventually become the second largest truck brokerage firm in this nation. Now I have more faith in the company getting there. Actually, I'm wondering if the company might even become the largest truck broker in the nation over time. This, even knowing that Jacobs has said he did not believe the company would become the largest truck broker.
Now back to the longer-term revenue potential of XPO's existing businesses (which include all cold starts and acquisitions as of November 7, 2012). I have listed my item-by-item estimates along with their justification in the following table. Quotations in the third column were taken from management remarks on Q3 earnings call.
| | | |
| --- | --- | --- |
| Business Unit or Branch | Revenue ($Mil.) | Management remarks (in quotes) on 3Q12 earnings call or other reasons for my estimate |
| Express-1 | 200 | "We are going to get that to 1000, hire more salespeople, take that business from less than $100M revenue to over $200M of revenue." |
| Freight Forwarding (CGL) | 130 | "We are planning to double the revenue in a couple of years." Freight forwarding revenue ttm was $66M as of 3Q12. |
| Charlotte | 600 | $500-750M with room for scaling up further one year or more after sales team is grown to 500-750 people. |
| Gainesville | 400 | $400M with room for scaling up further one year or more after sales team is grown to 400 people. |
| Chicago | 400 | On sales team, "there is no reason that can't be in the many hundreds of people a few years from now." |
| Reno | 75 | Target to have 50-100 people. Midpoint 75 people or $75M with room for further scaling up. |
| Dallas | 300 | My own educated guess. Yet another mega cold start with Turbo's Dallas team merged into it. |
| Continental | 75 | Targeting revenue of $75M and EBITDA of $4M in a couple of years. |
| Kelron | 150 | My own educated guess. Management is still working on their goal here. |
| Other cold starts | 360 | An average cold start target is $50-100M of revenue. There are 12 cold starts not accounted for above. Let's just assume $30M each. |
| Legacy brokerage | 60 | The legacy freight brokerage had $8M quarterly revenue or $32M annually. Doubling that would be $64M in the long run. |
| Total | 2,750 | |
When reading the table above, it might help to understand that the company estimates each salesperson will typically bring in at least $1 million revenue in the first year, with potential for further upside in subsequent years. This was how management put it on the conference call:
So we tend to target at least $1 million for a salesperson in the first-year and it could scale up from there.
With this guidance, you will be able to map headcount target into revenue target, as done in the table above.
For Reno and Continental, I have used the target I got from a telephone conversation with the management (CEO Brad Jacobs and Chief Strategy Officer Scott Malat) after the Q3 earnings release.
For Kelron, the management is still evaluating its lane history and has yet to finalize a goal on it. But I have assumed 25% of its customers will be mulled, and in the next few years its revenue will be doubled from the reduced base of $75 million.
The "Other cold starts" item covers 12 cold starts not singled out. I have used an average of just $30 million for each cold start to arrive at the $360 million target. This was significantly lower than the $50-100 million goal cold-start presidents typically have.
The "Legacy brokerage" item stands for the freight brokerage business before any cold starts and acquisitions. That business was at $8 million each quarter or $32 million annual run rate. My estimate of $60 million was slightly less than double this revenue base.
Bottom Line: Stock of the Decade
If you are still wondering if the company can really grow this fast, I encourage you to read my previous two articles on XPO here and here. Given the insane long-term growth, I believe XPO could turn out to be one of the best stocks of the 2010s.
Disclosure: I am long XPO. I wrote this article myself, and it expresses my own opinions. I am not receiving compensation for it (other than from Seeking Alpha). I have no business relationship with any company whose stock is mentioned in this article.