Biogen Idec (NASDAQ:BIIB) has delivered a solid performance of nearly 22% this year. This performance is a continuation of a dramatic increase in share price which has been ongoing since 2009. Even though BIIB has delivered strong performance for the past few years, the stock price has declined nearly 13% over the past two months. Through this article, I will explore some of the historic fundamental drivers of BIIB and make the argument that the recent decline in share price may represent an excellent purchasing opportunity.
Strong Returns
In order to analyze BIIB, I have relied heavily on two key fundamental metrics: return on assets and return on equity. Return on assets is the net income of the firm divided by average total assets. Return on assets tells the analyst how efficiently an organization uses its assets to bring profits into the firm. Return on equity is the net income of the firm divided by directly-invested shareholder equity. Return on equity is worth examining in that it informs the investor as to how successfully management has historically generated returns for investors. The chart below shows the past 5 years of return on assets and return on equity for BIIB.
click to enlarge images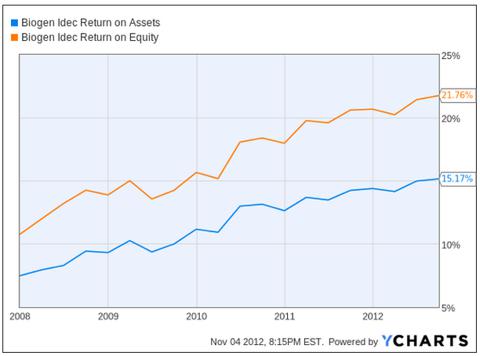 Click to enlarge
The investor should immediately note the consistency of growth in return on assets and return on equity for BIIB. Over the past 5 years, there has never been a single year in which return on assets or equity declined. What this tangibly means is that BIIB has consistently strengthened its ability to bring profits into the firm through its efficient use of assets and judicious management of shareholder equity.
As a firm increases its effectiveness at generating profits, it tends to experience an increase in share price. Investors in search of performance tend to reward organizations which exhibit the ability to deliver increasing returns across consecutive years. This simple relationship of performance and investment is evident by the fact that while performance has increased steadily over the past 5 years, the share price of BIIB has increased over 130%. This clear and consistent relationship is the groundwork of this article. I believe that BIIB has proven itself to be a strong competitor throughout its lifetime and it will continue to outperform in the future.
In 70% of all quarters throughout the past 5 years, BIIB has increased its return on assets and return on equity. The market has responded to these increases in performance by adding to the share price. Over the past quarter, a very interesting relationship has been developing, however. This year, returns have continued marching upwards; however share price has declined since this quarter began. I believe that this decline in share price represents early investors booking profit and individuals attempting to call the top of the stock. In my opinion, this pullback in share price represents an excellent opportunity to buy the security at discounted prices.
It is important to note that the current levels of performance are exemplary and likely to continue. The company currently earns around $400 million every quarter from an asset base of around $9 billion and these figures have been rising fairly consistently for the past 5 years. I believe that the current levels of returns will continue to rise due to the fact that the company has proven itself successful through income in proportion to its asset base. Since the organization has been able to expand its operational assets and in so doing capture greater amounts of net income, this proves that the company is moving to seize business opportunities that provide strong returns to investors. Numerically speaking, BIIB has increased quarterly net income by nearly 100% through increasing its assets 11% over the past 5 years. I feel that this exemplary growth in earnings through a modest growth in assets represents the fact that return on assets will continue to grow into the future. In order to maintain this growth, BIIB must continue doing exactly what it is doing: prudently expending capital to purchase assets which will bring revenues back to shareholders.
Technically Speaking
Even though I believe that BIIB is a strong company, I do not advocate immediately purchasing shares. I believe that the most appropriate method of participation in BIIB depends on the investor's risk tolerance. BIIB is currently in a strong uptrend which began between 2010 and 2011. Even though this trend is very strong, it is important to note that nearly all trends experience some sort of pullback in which prices move against the prevailing technical directly. BIIB is currently in a pullback in which prices have declined 12% over the past 6 weeks. It can be seen in the chart below that this pullback currently places the price very close to the ascending trend line. Trend lines tend to act as support or resistance and I believe that within the next week or two, prices could bounce upwards. For more aggressive investors, I believe that a purchase within the next week would be appropriate due to the fact that price may find support at the rising trend line. A more cautious course of action would be to wait until price breaks above the recent high established when the current decline began. If price is able to overcome the threshold of $158, then I believe that a purchase is warranted since the trend will have been confirmed through a resumption of price increase. Whichever course the investor chooses to take, I believe that all long positions should be exited at $125 per share. If price falls to this point, then the upward trend will have been violated and all reasonable support zones will have been broken.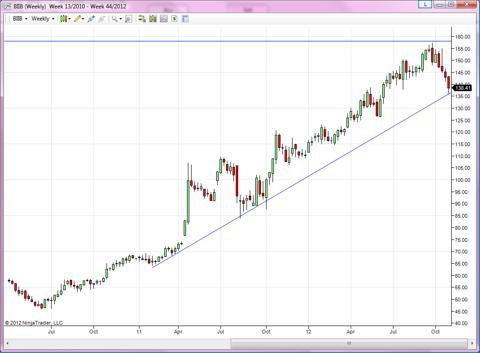 Click to enlarge
Disclosure: I have no positions in any stocks mentioned, and no plans to initiate any positions within the next 72 hours. I wrote this article myself, and it expresses my own opinions. I am not receiving compensation for it (other than from Seeking Alpha). I have no business relationship with any company whose stock is mentioned in this article.