As of Friday's close, 80% of stocks in the Russell 3,000 are down year to date, and a whopping 17% are down more than 50%. 
In the chart below, we highlight the year to date change of each stock in the Russell 3,000 sorted by performance (100% to -100% scale).  As shown, the red takes up much more area than the green, and it gets pretty ugly towards the tail end on the right side.
click to enlarge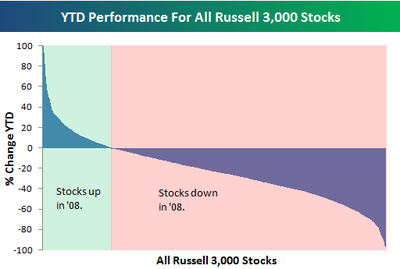 But we'll at least leave readers with some positives heading into Monday.  Below we highlight the 25 best performing stocks in the Russell 3,000 year to date.  At least there are some stocks up in this market!