Value investors are not supposed to pay attention to the financial media, but there are some stories that make certain stocks look interesting. A case in point is Netflix (NASDAQ:NFLX), which billionaire and value investor Carl Icahn just bought a 10% in. News of Icahn's move gave the video content provider a one-day boost on Halloween that fell flat within two days.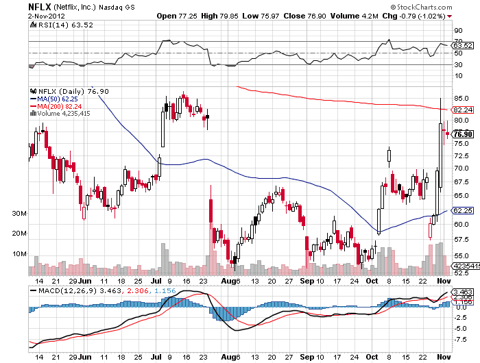 Is Mr. Icahn onto something here? Is Netflix actually a good buy in the video entertainment sector? After all, it is facing stiff competition from Amazon (NASDAQ:AMZN), Google (NASDAQ:GOOG), Apple (NASDAQ:AAPL), and many others in the content on demand sector. Judging by the numbers, the answer is no.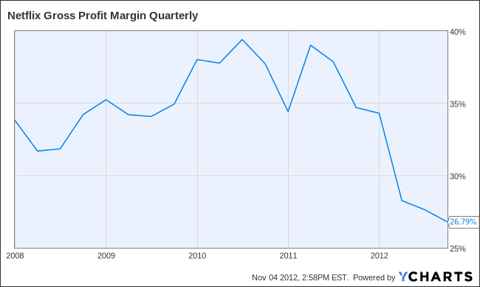 Netflix has a gross profit margin of 26.79%; as you can see, it has been going down in recent years, but it is still pretty good. Netflix has a higher gross profit margin than Amazon.com, which had a gross profit margin of 25.26% on September 30th. So Netflix is still earning a nice profit margin even if its core business-mail order video-is on the wane.
That seems to make Netflix a classic value play; it isn't sexy or hip, but it still makes money every time somebody becomes a regular subscriber. The company currently charges $15.98 for its monthly service after a month's free trial. Bloomberg Businessweek estimates that Netflix has around 25.4 million subscribers in the United States alone. Even if the company doesn't add subscribers at the rate it wants, Netflix will still make money.
Netflix is expanding overseas; it just launched its online streaming service across Scandinavia, a move that caused the stock value in local television and pay per view operator, Modern Times Group (OTCPK:MDTMY), to fall by 15%. So the company has growth potential overseas even if it only has around 5 million subscribers outside the U.S.
Netflix needs to expand outside the U.S. because it is getting more competition on its home turf. Verizon (NYSE:VZ) and Coinstar (NASDAQ:CSTR), which owns those Redbox machines that seem to be located in every supermarket in America, are planning to launch something called Redbox Instant. Redbox Instant sounds like a bargain basement copy of Netflix.
The danger to Netflix from moves like this is obvious; subscribers might start jumping back and forth between video services as many people already do with satellite services. Netflix may have to lower its prices or offer special deals to keep viewers subscribing. Either move will obviously cut Netflix's revenue and cash flow. So can the company afford to do that?
For the moment, yes. As of September 30th, 2012, Netflix had revenues of $3.54 billion, and they were increasing. The company has managed to grow its revenues in the face of competition, so it has the cash to survive in the short term. The danger might be in the long term.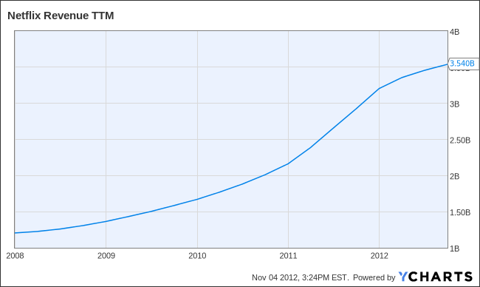 Can Netflix survive increased competition at home and expand overseas at the same time? Bloomberg news says no because its analysts think Netflix will have to add seven million new customers in the United States this year to cover expansion costs. Bloomberg's writers don't think Netflix can achieve this goal. That means the company might have to raise subscriptions to cover foreign expansion-a move that will probably drive customers away.
Still, it is easy to see why an old school value investor like Mr. Icahn is interested in Netflix. At the end of the day, the company still generates a lot of cash from its operations. Netflix's cash flow from operations was $104.42 million on September 30th. That figure is good, but it has fallen dramatically by almost $200 million in the last year, as you can see.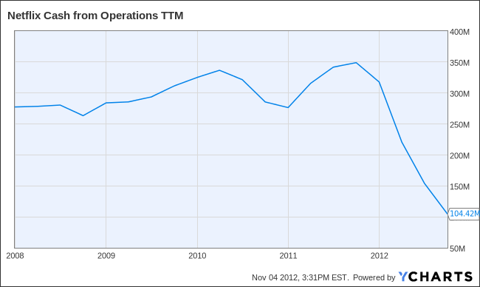 Despite Icahn's interest, Netflix looks like a company in a desperate situation; its cash flow and profit margin are falling just as it is embarking on a costly foreign expansion. Netflix's cash flow is going down and will keep going down for the foreseeable future. If that wasn't bad enough, the company is facing increased competition from all sides.
Netflix might be a good buy for a billionaire like Icahn, but it isn't a value buy for the average person. The stock is overpriced, and the company's only hope for success is to spend a lot of money on costly expansion. If the expansion fails, the only thing that will fall faster than Netflix's share value is its cash flow.
Disclosure: I have no positions in any stocks mentioned, and no plans to initiate any positions within the next 72 hours. I wrote this article myself, and it expresses my own opinions. I am not receiving compensation for it (other than from Seeking Alpha). I have no business relationship with any company whose stock is mentioned in this article.