September, perhaps not surprisingly, was the worst month ever for high-yield corporate debt - also known as junk bonds. Junk's 8% one-month drop was, statisticians say, an anomaly so rare it should happen only once every 28,000 years, or so. With average junk yields now about 15% - more than double that of a year ago - and the Treasury/junk spread at a staggering 12%, Barron's says junk may be a bargain.
"The market has fallen so sharply that it's difficult to declare a bottom," investment advisor Marty Fridson says. "It's hazardous to jump in, but historically you would have made money buying in times like these if you were patient."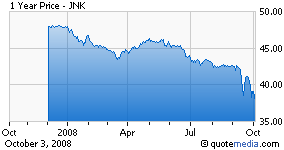 Previous selloffs in 2002 and 1990 were followed by surges of 28% and 39% the next year, Barron's notes. Default rates are a modest 3.2% - but markets are pricing in an increase to 10%+ over the coming year. Veteran bond manager Dan Fuss notes that even if defaults hit Depression-era levels, bonds should still beat Treasurys over the coming years. If the markets bottom and the credit crunch abets, investors could earn 25% in the next year.
Large ETF and closed-end junk bond funds include SPDR Lehman High-Yield Bond index (NYSEARCA:JNK), Western Asset High Income II (NYSE:HIX), BlackRock Limited Duration Income (NYSE:BLW) and Dreyfus High-Yield Strategies (NYSE:DHF).
:::::::::::::::::::::::::::
Surprisingly, the two areas of bond investing that have seen large inflows this year are international bonds and junk.