This has been a brutal year for farmers as key grain crops experience sharp production declines because of adverse weather conditions.
This summer's drought in the US caused an estimated 13 percent drop in corn production while massive flooding in Russia, Ukraine and Kazakhstan destroyed almost a quarter of the collective production of those countries. France's wheat harvest was off by a third this spring because of its harsh winter.
While those losses resulted in relatively small global production declines (the global wheat crop was off by only 5 percent while corn production fell by just 3 percent) they have a disproportionate impact on grain prices. Few countries are actually self-sufficient grain producers while producer countries consume most of what they grow.
Just seven countries and the European Union produce about 90 percent of global wheat exports. The seven largest countries are the United States, Canada, Argentina, Australia, Russia, Ukraine and Kazakhstan. The corn market is even tighter, with just four countries producing 84 percent of exports and the US alone producing more than half of the world's corn.
That concentration spells trouble when most of the world is reliant on grain imports. Mexico depends on the US for about half of its wheat and a third of its corn consumption while Japan imports nearly all of its grain. Egypt and the rest of North Africa import most of their grains, as does much of the Middle East. Overall, just over two-thirds of countries are net food importers.
As a result, grain prices have shot up from a low of USD157 in June 2010 to USD353 today, thanks to the troubles in just a few countries. The upward surge in corn prices has been even more dramatic (see chart below).
click to enlarge images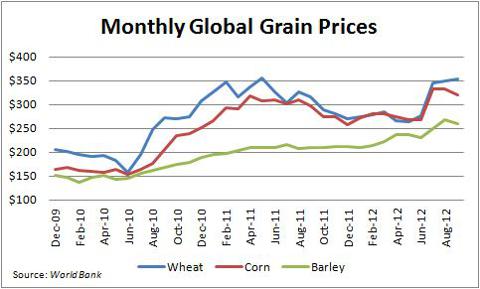 Prices could get even worse - from a consumer's perspective - if Russia and Ukraine ban wheat exports as they did after losing much of their crops to wild fires and floods in 2010. And despite the US shortfall in corn production, the federal government hasn't eased up on its ethanol mandate. In fact, it has gone ahead with requiring that a greater proportion of ethanol get blended into gasoline. A larger percentage of the US corn crop is devoted to ethanol production than ever before, another potential hit to exports (see below).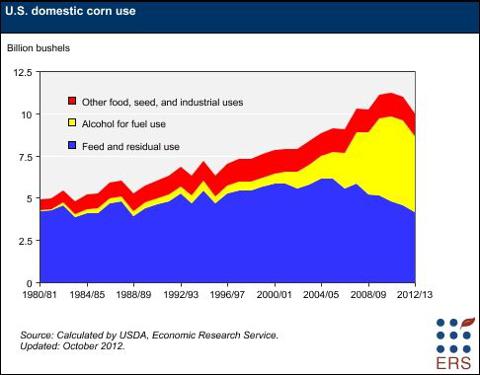 Trouble in Emerging Markets
Over the past eight years, food prices have more than doubled, leading most analysts to believe that higher food prices are here to stay. Higher global energy prices have increased the cost of production and protectionist taxes and export bans have made global food markets less efficient over the short term.
Over the long term, the world has experienced radical shifts in food consumption patterns, with China serving as an excellent example. In 1970, the average Chinese consumed just 9 kilograms of pork per year. Today that number is 55 kilograms, with China accounting for half of global pork consumption. The country also has grown to consume about a fifth of all poultry. Brazilian meat consumption has nearly doubled over the past two decades.
Consequently, consumption of global meat is expected to double between now and 2050, driving a 75 percent increase in grain demand with most of that increase devoted to feeding livestock. Over that same period, the global population is expected to reach 9 billion souls.
If current global trends of growing incomes and increased urbanization continue apace, those estimates could even be conservative. That's particularly true as urbanization and shifting climate patterns are making traditional food producing countries less reliable sources of supply.
Thanks to all of these interrelated factors, food production is already beginning to fall short of demand in some parts of the world. As the poor have migrated from rural areas into urban areas in search of work and opportunity, they've become more dependent on food purchases to meet their dietary needs whereas in the past, they would have produced at least a portion of their consumption themselves. And as we've seen in China, if they are fortunate enough to find work and see their incomes rise, they begin consuming greater quantities of resource-intensive foods such as pork and beef.
As cities have grown, climactic patterns have shifted and environmental pollution has become a greater issue. The proportion of arable land available for farming has fallen to just 11 percent of the global landmass, even as populations have grown.
Given those concerns, last month Emomali Rakhmon, president of Tajikistan, encouraged Tajik citizens to stockpile two years worth of food. His country is expecting an unusually harsh winter even as it already reels from high grain prices caused by the weaker-than-expected harvests in Russia, Ukraine and Kazakhstan.
When Russia and the Ukraine banned wheat exports, Tajikistan was particularly hard hit because it imports much of its wheat from those two countries. The country's climate isn't conducive to wheat production, due to harsh weather and unfavorable topography. Just a small region in the country's southwestern corner is flat enough to accommodate any large-scale agricultural production.
Emerging countries aren't the only ones struggling with high grain prices. The problem has become so widespread that in September, French President Francois Hollande called for global governments to develop strategic food stockpiles to help mitigate extreme swings in food prices on international markets.
However, while all of these factors have converged to create short-term pressure on food prices, they need not constitute a long-term crisis.
To meet growing global food demand, agriculture is embracing innovation. For instance, global positioning system (GPS) technology is increasingly used for precision field mapping to allow for largely automated tractor guidance and farm planning, to increase yields and reduce labor costs. GPS also allows farmers to work in rain, shine or darkness to more effectively manage even larger farms.
Regardless of whether you buy into the idea of man-made climate change, farmers will tell you that weather patterns tend to run in long-term cycles typically of a decade or longer. As a result, irrigation systems will also likely come into wider use to combat climate irregularities such as this year's drought in the US.
Genetically modified organisms, while extremely controversial, are also improving agriculture and boosting crop yields by making plants more drought- and pest-resistant. While the debate is likely to rage on this issue for years to come, GMO seed is already in wide use, particularly corn modified to tolerate applications of particular pesticides.
One of the best ways to play global growth in food demand is to buy into a food producer, but there are surprisingly few available to US investors that mainly conduct business in emerging markets.
While I am generally negative on Argentina thanks to increasing government intervention in the country's markets, I do see upside opportunity for Cresud (NSDQ: CRESY), given its growing sales in South America and Asia.
Cresud grows and markets soybeans (199,559 tons produced last year), corn (250,435 tons), wheat (18.269 tons), sunflower (14,503 tons), sugar cane (576.048 tons) and other crops (123,435 tons). It also raises both beef and dairy cattle and is a major South American milk producer. Owning more than 1.1 million acres of farmland, the company is also a major real estate concern.
Shares are currently trading at the low end of their long-term valuation range after operating income fell by 10 percent in 2012. That was mainly due to the severe drought in the region last spring, which pushed up operating costs in the company's Cattle segment because of higher feed prices. Cattle prices also fell as many smaller farmers were forced by higher feed prices to cull their herds early, creating a glut of beef on the global market.
Despite those headwinds the company's overall production posted strong growth, as crop production grew by more than 153 percent compared to the previous fiscal year and beef cattle production grew by 75.9 percent. Milk production also posted moderate growth.
Thanks to that steady production growth, all of this year's drought-related losses should be more than made up for next year as a result of higher beef and grain prices.
Despite being headquartered in Argentina, most of the company's farmland is actually located in Brazil, which historically has maintained favorable farm regulations that are out of the grasp of the Argentine government. That farmland is extremely attractive because at the company's current valuation, investors are basically buying the land at a discount while paying nothing for its ongoing operations. As a result, the company is an excellent hedge against an uptick in inflation.
The company also carries relatively little debt, currently trading at a debt-to-book value ratio of just 33.9 percent. The biggest drawback is that about 80 percent of the company's debt is denominated in US dollars, which exposes the company to fluctuations in exchange rates because it operates in pesos. While I don't look for a substantial depreciation of the dollar, I do see the greenback's impact on the company lessening as the global economy stabilizes.
I'm also encouraged by the fact that Cresud sells most of its production to emerging markets with the primary exception being its soybean crop, most of which is sold to Japanese concerns. As a result, Cresud has a very stable source of demand for its production.
The company is also extremely shareholder friendly, returning about a third of its cash flow to investors every year through its annual dividend. Typically paid in November, this year it should amount to about 27 cents per share for a yield of about 3.5 percent. You can find several more emerging market growth picks like Cresud in my free report.
Disclosure: I have no positions in any stocks mentioned, and no plans to initiate any positions within the next 72 hours. I wrote this article myself, and it expresses my own opinions. I am not receiving compensation for it. I have no business relationship with any company whose stock is mentioned in this article.