On July 10, 2008, Dow Chemical (NYSE:DOW) announced that it would be buying Rohm and Haas (ROH), an American chemical company, at 78 dollars a share, in cash. The transaction is scheduled to be consummated on January 15, 2009. However, because of the uncertainty in the financial markets, Rohm and Haas has been trading downward.
You can find the most recent spread on this deal getting done into double digit territory here. Why is the spread so wide? I can give you five factors off the top of my head.
1. There is a chance that the credit crisis could slow or scuttle the deal. Even though Warren Buffett arranged part of the financing to include sale of equity interests with Berkshire Hathaway (NYSE:BRK.A) as well as the Kuwait Investment Authority, the main underwriters to pay the shareholders of Rohm and Haas Company will come through a loan provided by Citigroup (NYSE:C), Morgan Stanley (NYSE:MS) and Merrill Lynch (MER). To put things mildly, there is significant uncertainty as to whether one, two or all three of these banks who signed this agreement on July 10, 2008, will be a functioning entity on January 15, 2009.
2. Hedge funds have been forced to sell off lots of their stocks, including ROH, to satisfy investor redemptions demands to get their money back out of their funds. This forced selling has no rational relation to the stock price.
3. Active shorting in the basic materials market to make up for the financials shorting ban have driven sector share prices down. This has created an oversold enviroment which has heavily discounted shares across all sectors. You can check out Dave Fry's weekly chart of SMN on his Thursday's Dave's Daily ETF Blog to see where the wind is blowing these days.
4. There are a few regulatory hurdles since DOW and ROH own the same businesses in certain industries which would make them corner the market, which means DOW needs to sell a couple of business in order to avoid antitrust roadblocks. The facilities being targeted for sale include its acrylic acid and esters operations at Clear Lake, Texas and its UCAR Emulsion Systems specialty latex business in North America. This doesn't seem to be a big problem but it appears to have a significant factor in the ROH price nonetheless. If a potential buyer for the businesses cannot obtain financing due to adverse credit conditions, this is going to slow the deal down as well.
5. What's on the line ultimately? The fee Rohm & Haas may have to pay Dow if a deal fell through is $600 million. The fee Dow may have to pay Rohm is $750 million. The termination fees come to 3.9 percent and 4.9 percent of the deal value, respectively. That is not a lot of skin in to have in the game in a liquidity crisis.
These five factors provide significant headwinds into the successful consummation of the deal but ultimately, it comes down to this: many things have changed since July 10, 2008 but the core business expansion reasoning behind the deal remains the same. Dow needed to make a move to broaden its product offerings in higher margin markets such as paints, coatings and electronic materials. Dow has long been among the largest global makers of commodity chemicals such as those used to make plastics, but that business is typically cyclical and yields thinner margins than specialty chemicals.
The July 10, 2008 Squawk Box interviews with Andrew Liveris, CEO of Dow Chemical, Inc. are below and they make a compelling case for the transaction being consummated.
The nutshell argument is that Rohm and Haas was a logical acquisition for Dow since Rohm and Hass had numerous interactions with Dow across different marketplaces and that the Haas family had decided that it was time to sell and that Dow offered a tremendous premium to forestall any other competitors to take the market space occupied by ROH.
Liveris maintained that they had hoarded cash in anticipation of an opportunity such as this and that he feels that any premium paid on the acquisition will be paid off in two years. Among the many synergies cited by Liveris was the opportunity for both companies to vertically connect the petroleum producers (the Kuwaiti suppliers) with a wider variety of downstream manufacturers of petroleum products.
Dow's acquisition of Rohm and Haas would also snuff out a big competitior in the water filtration industry. An acquisition would allow Dow to profit off of both competing techniques in a market with higher margins than their traditional market share.
Finally, it has been blessed by Buffett, and if any of the underwriters try to sneak out, Buffett may very well put more of Berkshire Hathaway's money into the financing if BRK can get a better ROI. The premium paid to ROH reflects a valuation of the company at $18.8 billion. On July 10, 2008, Liveris belived the deal would pay for itself in two years.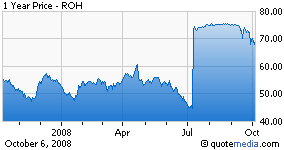 A lot of things happened between now and then but Liveris was extremely pessimistic about the economy before it became fashionable. Exposure to commodity prices and reliance on the commercial paper market will make anyone jumpy.
I would also like to point out the board of Rohm and Hass Company announced a dividend of 41 cents per share payable December 1, 2008 to all shareholders of record as of October 31, 2008. The share price may drift down throughout October and there is significant downward pressure due to the factors outlined above; however, getting into ROH before Halloween and getting the dividend before year's end will also increase the spread.
Disclosure: Long DOW and BRK.B.