Last week Immersion Corporation (NASDAQ:IMMR) reported Q3 2012 results and updated investors about its latest achievements.
Financial highlights
Total revenues in Q3 2012 were $7.1 million, an increase of 10% Y/Y;
Royalty and license revenues of $6.4 million were up 8% from Y/Y;
Net loss for the third quarter of 2012 was $(3.0) million, or $(0.11) per share;
Adjusted EBITDA in Q3 was $(1.6) million, as compared to $454,000 in Q3 2011;
Gross profit was $6.9 million or 96% of revenues;
Excluding cost of revenues total operating expenses were $9.8 million, including non-cash charges relating to depreciation and amortization of $500,000 and stock based compensation of $880,000. OpEx in the Q3 2012 also included litigation related costs of $3 million;
As of September 30, 2012, Immersions cash, cash equivalents, and short-term investments were $47.9 million;
During the third quarter of 2012, the

company

used approximately $3.2 million to purchase 581,200 shares of its common stock, at an average price of $ 5.51 per share. Immersion bought back a total of 968,488 shares YTD. As of September 30, 2012, the company had approximately $20 million remaining under its authorized stock repurchase program;
The company reiterated its guidance for revenues of $32 to $38 million in 2012, with positive adjusted EBITDA. Management forecast implies revenues of at least $ 8.7 million in Q4, and positive adjusted EBITDA. While the lower end of guidance is based on the existing business, the upside is caused by the possibility to settle the existing litigations or other licenses related to basic haptics.
Here is a chart showing how Immersion's royalty and license revenue progressed in the last few quarters: after delivering flat numbers in Q2 2012, the company is now back to an 8% growth Y/Y, like in Q1, below what investors expected from a company leader in what seems to be a hot sector, haptics: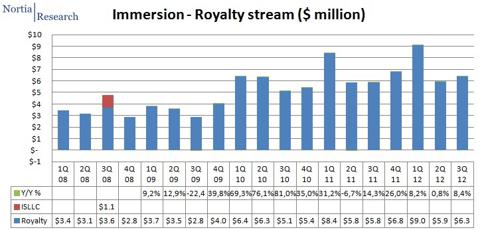 Click charts to enlarge
What we liked
During the conference call, management hinted at some success recently achieved both in Japan, through the recently announced partnerships with Docomo, NEC and Fujistsu, and China, which probably came as a surprise to investors.
In particular, the company revealed that Xiaomi is now incorporating haptics into its smartphones:
Vic Viegas - President & CEO

Xiaomi, one of the most disruptive innovators in the China smartphone market, has incorporated Immersion Haptics through our partner Imagis in their flagship M1 and M1S devices earlier in 2012. Most recently Xiaomi announced their powerful N2 Android smartphone with Immersion Haptics, which came to market in October. We're pleased with the progress being made in China and are actively engaged with additional OEMs. We expect to continue to see additional handsets with Immersion Technology emerge from this rapidly growing market.
Xiaomi is one the most interesting new players in the smartphone sector, as resumed by Forbes:
Founded in 2010, Xiaomi seems to be leading the race among upstart Chinese cellphone providers. Within two years it has captured about 5% of the smartphone market in the country. After selling 3 million devices as of mid-July, Xiaomi is on track to hit more than 5 million units by year-end, a figure expected to be bolstered by the announcement of its second-generation phone, the MI-2. A fundraising round earlier this year gave the company a $4 billion valuation, making Lei a billionaire worth $1.5 billion on FORBES China Billionaires List.
The company is "challenging Apple by imitation," as the New York Times noted, with some China Unicom sales representative describing Xiaomi as "the little brother of Apple."
The company is using Android as its OS, and is obviously very competitive in pricing, selling its new Xiaomi Phone 2 at roughly $300.
However, the relationship doesn't seem to hint at Immersion licensing its programmable haptics, so far:
Vic Viegas - President & CEO

So we are very optimistic that we will be working directly with these Chinese OEMs and allowing them to use our TS 3000 and TS 5000 solutions.
According to management, over 5 million handsets were already shipped in China, through different OEMs.
We've already discussed, in the past, Immersion's approach to the mobility sector, underlining the various different levels of the company's offering. It may be time, however, to update our chart, including both royalties from chip partners (although they are not exclusive to this sector), and Reverb technology:

Click to enlarge
While Immersion has never been very open about reveling the exact cost of licensing each offering, we've used our assumptions, indicated on the right hand side of the chart, to give SA readers a rough indication of per-unit royalty. Programmable haptics should roughly range in the $0.10 per handset, and HD haptics should achieve about twice as much.
If we look at Q3 2012 numbers, we'll notice that mobility and semiconductor now represent roughly the majority of Immersion's revenues (55%), from roughly 48% in 2011.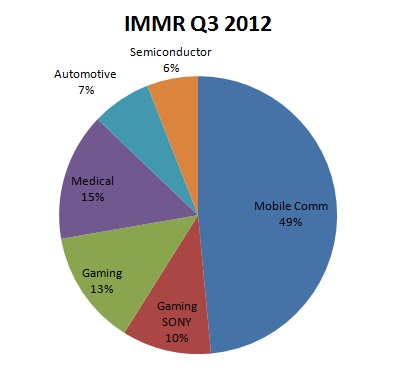 Although two deadlines for potential settlement have already expired in the ITC litigation, management remains confident of a positive outcome from the court case:
Vic Viegas - President & CEO

Moving to our efforts to monetize basic haptics, we remain positive about the progress of our ITC litigation, which is moving forward as planned. We are nearing the completion of the discovery phase in the case. The hearing is scheduled for late March, with an initial determination due in June and a final determination in October.

In the meantime, we continue to engage in discussions with current and new customers to license basic haptics. The final result and timing of these discussions remains unknown. However, we continue to believe there is potential for Immersion to monetize unrealized opportunities for basic haptics in the current fiscal year.
What we did not like
Immersion is now trading close to its 52 week low of $4.15, usually on very low volume. The market seems to be quite disappointed by the lack of real growth in revenues, in spite of the launch of very successful tablets and handsets like Samsung's Galaxy and Note ranges, while the court case will still need several months before coming to a conclusion.
As management already hinted several times at new licensees both for its basic and programmable haptic offering, with no real big announcement following this speculation, the company is at risk of losing investors' trust, which could lead to even deeper declines in the stock price, absent positive news.
During the conference call there was no mention of what is happening with Nokia (NYSE:NOK), one of Immersion's first licensees, whose Symbian handsets had some of the most refined haptics effects ever produced. Microsoft's (NASDAQ:MSFT) new Win 8 Phone OS doesn't seem to include haptics at this stage, and Microsoft has access to Immersion's IP at no cost, following the settlement between the companies (although in the past management hinted at the possibility of partnering with Microsoft to ease and speed up the implementation of haptics into this new OS).
Following a question during the Q&A session, Immersion's CEO also explained that, while the company is experiencing a very good success with app developers in the implementation of haptics into their offering, it is intentioned to wave the royalties for 2013 as well:
Mark McMahon - FBL

In terms of the deals that you made with the android app developers to forgo I guess licensing revenue through the remainder of 2012, how is that going to work exactly come January 1?

Vic Viegas - President & CEO

So, I believe we'll be also offering the use of the SPK without charging the app developers in 2013.

Mark McMahon - FBL

So, is that a strategic decision to try to drive user experience to drive demand on to the phones, I mean, could you talk a little bit about why you're giving away essentially a pretty valuable product from what you've discussed before?

Vic Viegas - President & CEO

Sure, sure. It's clear that adoption and use of our SPK by the app developers is growing dramatically. They're seeing the benefits in the experience and the demand and take up in the content on these devices. So, it's a very satisfying experience, one that they want to continue. We believe that it continues to add value to the consumer but also to the OEMs because their products are now able to provide this very dynamic experience. So, it is a bit of a pull strategy that by having good creative content, it is creating demand and a positive experience. And it helps us in selling our solutions into the OEMs.

So, for the foreseeable future, for at least 2013, we'll continue with the same strategy and we continue to invest in other content areas, things as I said like short-clip videos, advertisements, audio and others. And those content opportunities all carry with different types of monetization. So, we will continue to evaluate but currently the use of the SPK on these app development efforts, we will provide for without charging them normal royalty.
The company was supposed to earn 5% of the revenues generated from Android apps incorporating haptics. What was once described as a very interesting additional royalty stream is now only seen as a tool to indirectly push OEMs toward the adoption of Immersion's IP.
Conclusion
Immersion has a very valuable IP (1,200 issued and pending patents) in a hot sector - haptics, a small technology that improves usability, adds realism and fun in gaming, and creates a more confident user experience that can also improve safety by overcoming distractions.
The company remains, potentially, a very interesting play in the touchscreen arena. The royalty based business model, associated with relatively low fixed costs, absent litigation, could allow Immersion to achieve very interesting financial performances going forward, assuming it starts growing revenues.
Unfortunately, the company hasn't, so far, executed very well in turning its discussions with potential licensees into signed agreements. The need to start litigation to monetize basic haptics, and the risks associated with it, add uncertainty to our basic investment thesis.
For unknown reasons, most of Immersion's success in the mobility sector, its main revenue source, has so far been associated with Far East OEMs, like Samsung, LG, NEC, Fujitsu and Pantec. China now seems to be joining South Korea and Japan as a potential market for the company. North American based producers, like Motorola, Research in Motion (RIMM) and Apple (NASDAQ:AAPL) don't seem to see, so far, the technology as essential or developed enough to become part of their offering.
However, the use of basic haptics built into Google's (NASDAQ:GOOG) Android OS, the company's MOTIV Development Platform, designed to automate better quality haptic integration into Android, and the possibility to obtain even more refined, localized HD haptic effects, may represent, at different levels, the much needed inflection points for a wider adoption of Immersion's technology in one of today's fastest growing sectors, touch screen technology. Looking outside mobility, the automotive vertical should finally start delivering good results in the future, as more OEMs understand the need to implement touch screens in cars, while preserving the confidence a driver receives through touch confirmation.
The elephant in the room is represented by the possibility that a larger company, active in the mobility arena, could see Immersion as an interesting acquisition target due to its IP, that could allow any player to strengthen its position in a sector where patents have become a very valuable (must-have) asset.
Disclosure: I am long IMMR. I wrote this article myself, and it expresses my own opinions. I am not receiving compensation for it (other than from Seeking Alpha). I have no business relationship with any company whose stock is mentioned in this article.