In the turmoil of the last few weeks, 'there is an under the radar' story (pun intended) that is worth recalling. A story that could change the world as we know it.
The majority of folks on the planet still lack telephones. They lack the basic services that telecommunications makes possible. The internet and computers are still the stuff of science fiction in these areas.
Laying telephone lines or cables in many of these remote areas is not cost effective. Fixed ground based systems require too much maintenance and takes too long to install. That is where satellite communications comes in. When you talk satellite communications, the biggest little company in the world is Gilat Satellite (NASDAQ:GILT).
Gilat makes the hardware, called VSAT (very small aperture) terminals, and provides the signal encryption technology used to encode the signals. Gilat currently controls fifty percent of the global VSAT market. Gilat technology has been improved to the point where weather no longer interferes with transmission or reception. Like the US Postal Service it delivers rain or shine. In fact, the USPS uses Gilat Satellite technology in all of its offices.
Five years ago I began building a stake in Gilat buying shares form $6 to $9. Then not long ago Gilat agreed to be taken over by an Israeli VC firm for $11.40 a share. I was disappointed because I thought the company was worth twice as much. In fact in Dec. 2007, this Forbes article confirmed my view.
Being a realist I sold at $10.90 and decided to move on. Then the 'you know what' hit the fan.
The Israeli VC company decided to re-negotiate the price. Gilat refused. Both companies are in court. Charges and counter charges could go on for years. Did the VC companies financing from Lehman Brothers have anything to do with the problem? Maybe. In any case you can drudge through all the info on your own. Since the deal's implosion, Gilat's share price has fallen by fifty percent.
So what's the big news?
September 9, 2008: O3b Networks, with support from Google, Liberty Global and HSBC, to deploy world's first high-speed, low-cost satellite system to transform communications access for billions
and this...
September 22, 2008: O3b Networks and Gilat announce Gilat's new line of satellite ground-segment equipment for O3b Networks' "fiber performance over satellite" network
Gilat Satellite once sold for close to $3000 a share.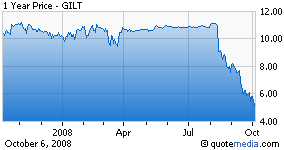 That's not a typo. Three Thousand Dollars a share! Will it ever see such a price again? I don't know. However on Thursday I dove in once again. The shares are selling at less than $6. If you think HSBC (HBC) knows a little about financing and Google (NASDAQ:GOOG) know a little about networking, you may want to check out a little company called Gilat Satellite.
Disclosure: Long GILT and HBC