So much for the market liking "certainty"! Huge selloff today as investors start to realize that the voters in their infinite wisdom have chosen to lock in place long term gridlock by basically going with the status quo despite how well that has worked out over the last few years (Thanks to all the under 25 year olds for being the difference in forging this result. We salute your wisdom at such a young age). One sector that has been hit hard today is Energy, especially the oil services industry given the administration's hostility to fossil fuel. I think the selloff is overdone as I don't see that negative of a long term impact to this industry from the election.
One of out every five jobs created in this historically weak recovery has been in the oil & natural gas space. I doubt even Elizabeth Warren would be so stupid to kill this "golden goose" and kick out one of the few solid legs of economic growth. One stock that looks particularly cheap is Weatherford Intl (NYSE:WFT) which I added to today as the Dow passed 300 points on the downside.
Weatherford International Ltd. provides equipment and services used in the drilling, evaluation, completion, production, and intervention of oil and natural gas wells worldwide.
6 reasons WFT is in bargain territory at under $11 a share:
 
The twenty five analysts that cover the stock have a $16 median price target on the stock, some 45% above its current price.
The stock is selling at the bottom of its five year valuation range based on P/CF, P/S and P/B.
WFT is selling at just over 8 times forward earnings, a huge discount to its five year average.
The company is tracking to close to 20% revenue growth for FY2012. Analysts see approximately 10% sale increases in FY2013. The stock has a cheap five year projected PEG (.72) as well.
Earnings are marching up nicely. WFT earned 70 cents in FY2011, but is poised for almost $1 a share in FY2012. Analysts currently expect a 30% EPS increase in FY2013.
The stock is approaching very long term technical support (See Chart).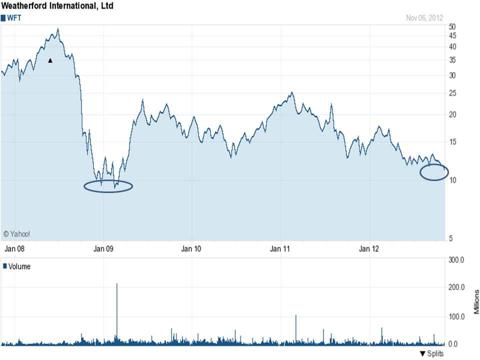 Disclosure: I am long WFT. I wrote this article myself, and it expresses my own opinions. I am not receiving compensation for it (other than from Seeking Alpha). I have no business relationship with any company whose stock is mentioned in this article.