In an increasingly volatile market riddled with flash crashes, high frequency trading and complex derivatives, it is understandable why many long-term investors focus their attention on dividends. Choosing among firms with a solid history of increasing dividends annually helps investors focus on long-term objectives as they can see income growth despite market swings.
Consider a scenario which illustrates this point - the market drops by 50%.
An investor holding a portfolio of small caps with no dividends is down by 60% or more. Disgusted that his portfolio is down after a decade of investing, he pulls the remaining 40% and never invests in the stock market again. He misses out on the subsequent rise.
The "dividend

growth

" investor has a portfolio that drops with the market and his capital gains are down 50%, yet his income is still growing. Far from wanting to sell, by focusing on yields with stocks that increase dividends if at all possible, he is prompted to buy more shares with these same companies that are now offering twice the dividend return for every dollar invested. Even if share prices remain depressed long-term, there is still the potential for a profitable investing system based on income growth and decent yield.
In this market, it is becoming vital to find a mechanism that removes emotional buying and selling - a condition that traders can capitalize on. Don't believe me? Check out this BBC trader that went on air last year about how he goes to bed every night dreaming of another crash to cash in on. While people like this multiplied thousands of times may not cause a crash - it sure can add fuel and fear.
But besides buying stocks with increasing dividends, what else can be done to create a strategy?
Value Added In Dividend Growth Stocks
Of course, a strategy of buying increasing dividends would make little sense if yields were only 0.5% as it would take decades or centuries to gain back any losses. Perhaps one of the most difficult aspects of a dividend strategy is knowing when to buy and when to sell. If valuation timing is added to the screening of dividend growth, we can create a simple long-term investment system (based on dividend growth universe) with buy and sell signals to get us in at the lowest valuations.
I wrote about this simple system in a Seeking Alpha article that applied an identical strategy to the S&P 500 Dividend Aristocrat index. This article will focus on the S&P High Yield Dividend Aristocrats (NYSEARCA:SDY) which based on the S&P Composite 1500 and companies requires a managed-dividends policy of consistent increases over the past 20 years. While similar, it will include more companies and cast a wider net.
How do we add valuation timing to these 81 stocks?
First we simply take half of the stocks with the highest dividend yield. Higher yielding stocks have historically out-performed the broad market (Tweedy, Browne Fund Inc. white paper). Why might this be? Higher yielding stocks often have lower earnings valuations (PE ratios). While low valuation may mean higher risk, you also get something more back for holding risk in these dividend stocks as opposed to non-dividend payers. As well, dividends may create a support effect when yields increase so high that even risk averse investors are willing to load up.
The second method to screen for the best value is to look at the trailing 5 year average dividend yield and compare that to today's yield. If the yield is significantly higher than the 5 year average, this may convey good value and the potential for prices to rise if it reverts back to the mean at some point.
Dividend Growth Plus Valuation Strategy
Next we want to test (historically simulate) this strategy and then show the current recommendations. First, we want to see the performance of the 81 stocks listed in the S&P High Yield Dividend Aristocrats to see if our valuation methods hold up historically. All testing will be done with equal-weighting so there will be differences between our tests and the actual index or ETF.
Equal-Weight S&P High Yield Dividend Aristocrats vs. S&P 1500 (1999 - Current)
Statistics

Total Return

Annualized Return

Max Drawdown

Sharpe Ratio

Sortino Ratio

Standard Deviation

Correlation with
Benchmark

R-Squared

Beta

Alpha

Screen

294.68%

10.43%

-40.21%

0.31

0.40

20.33%

0.78

0.61

0.80

7.96%

S&P

1500

25.42%

1.65%

-56.23%

-0.13

-0.17

19.75%

-

-

-

-
Same as Above but With the 2 Valuation Rules and 3 Month Rebalancing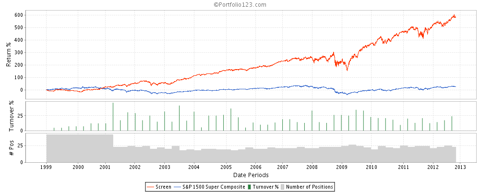 Statistics

Total Return

Annualized Return

Max Drawdown

Sharpe Ratio

Sortino Ratio

Standard Deviation

Correlation with
Benchmark

R-Squared

Beta

Alpha

Screen

579.79%

14.85%

-37.03%

0.53

0.71

20.03%

0.74

0.55

0.75

12.09%

S&P 1500

25.42%

1.65%

-56.23%

-0.13

-0.17

19.75%

-
These two valuation techniques are easy for any investor to do on their own. I add one more twist to this system. I screen for the top half of yield and top half of yield relative to a 5 year average. This leaves an average of 25 stocks. From these I want to pick the best 10. To do this I run a basic valuation ranking system across the 25 stocks (based on trailing and forward PE, PEG, price to sales, price to free cash flow and price to book ratio) and choose the best 10.
Best 10 Dividend Value vs. S&P 1500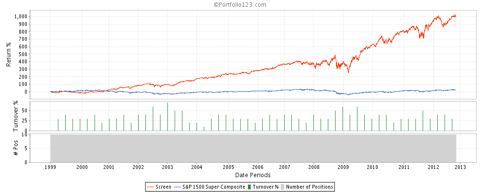 Statistics

Total Return

Annualized Return

Max Drawdown

Sharpe Ratio

Sortino Ratio

Standard Deviation

Correlation with
Benchmark

R-Squared

Beta

Alpha

Screen

996.61%

18.89%

-39.85%

0.62

0.87

23.64%

0.71

0.50

0.85

16.19%

S&P 1500

25.42%

1.65%

-56.23%

-0.13

-0.17

19.75%

-

-

-

-
In addition to these tests, I also ran a robustness check that bought at random times and held for 3 months based on the rules outlined in this article. These were the results for 3 month holding periods:

These are simplistic versions of the portfolios we recommend to our clients and it is easy enough for most retail investors to execute on their own at home.
Which stocks are currently recommended?
| | | | | | | |
| --- | --- | --- | --- | --- | --- | --- |
| Ticker | Name | Value Rank | Industry | Beta | Yield | Yield5YAvg |
| (NYSE:AFL) | AFLAC Inc | 98.77 | Insurance | 1.94 | 2.73 | 2.61 |
| (WAG) | Walgreen Co | 96.3 | Food & Staples Retailing | 0.95 | 3.23 | 1.93 |
| (NYSE:GD) | General Dynamics Corp | 95.06 | Aerospace & Defense | 1.26 | 2.98 | 2.51 |
| (NYSE:DBD) | Diebold Inc | 90.12 | Computers & Peripherals | 1.03 | 3.75 | 3.49 |
| (NYSE:CVX) | Chevron Corp | 85.19 | Oil, Gas & Consumable Fuels | 0.76 | 3.3 | 3.33 |
| (NYSE:SWK) | Stanley Black & Decker Inc | 80.25 | Machinery | 1.43 | 2.78 | 2.73 |
| (NYSE:EMR) | Emerson Electric Co. | 72.84 | Electrical Equipment | 1.15 | 3.17 | 3.03 |
| (NYSE:UGI) | UGI Corp | 69.14 | Gas Utilities | 0.47 | 3.39 | 3.31 |
| (NYSE:SON) | Sonoco Products Co | 65.43 | Containers & Packaging | 1.06 | 3.83 | 3.74 |
| (NYSE:MCY) | Mercury General Corp | 60.49 | Insurance | 0.99 | 6.01 | 5.79 |
Personal Modifications
One aspect to keep in mind is that some of these stocks had only 6 years of dividend increases when back-tested in 1999 (20 year minimum now - 14 years of testing). Thus, many investors will want to consider the broader universe of dividend growth stocks made available by Seeking Alpha contributor David Fish. Many of these principles are what go into the Dividend Value portfolio which I will be writing more fully about next.
If you have any questions on this model, or any other model I have created, please feel free to ask in the comments section below.
Disclosure: I have no positions in any stocks mentioned, and no plans to initiate any positions within the next 72 hours. I wrote this article myself, and it expresses my own opinions. I am not receiving compensation for it (other than from Seeking Alpha). I have no business relationship with any company whose stock is mentioned in this article.