Any investor of Vivus (NASDAQ:VVUS) who has a pulse probably knows the last thirty days has been brutal. Negative news first started last month when European regulators denied approval of the VVUS obesity treatment Qsymia due to increased risks of heart problems and birth defects. Additionally on Tuesday, VVUS announced a dismal sales and quarterly report which missed expectations by reporting a loss of .40 versus an already lowered loss estimate of .32. The combination of the poor sales report and increased expenses sent VVUS stock plummeting more than 21% Tuesday before closing down 3.13 at 11.82 a share. To make things worse, this price weakness continued as VVUS traded down another 10% Wednesday, touching the 10.60 level.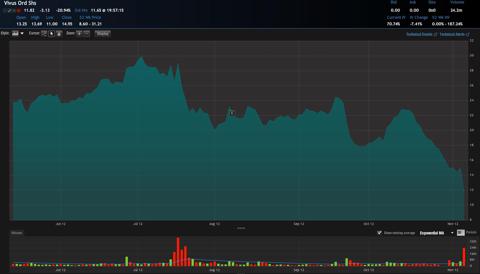 Click to enlarge
Charts courtesy of Trademonster.com
VVUS stock price currently has extreme downward pressure pushing the stock back to levels not seen in six months. Negative news and poor earnings reports indicate VVUS is having issues finding insurance companies are willing to cover Qsymia. In 10 business days in the third quarter net revenues were a pathetic $41,000, which only represented 656 Qsymia prescriptions. Needham already lowered the initial "analysts" projections for 2012 and 2013 to 10.6M down from 25M. With this being said, VVUS has a very long way to go to get anywhere near even these lowered expectations. On the bright side the initial launch was only covered by CVS (NYSE:CVS) and Walgreens (NYSE:WAL) which could account for somewhat slow sales. VVUS has since expanded the Qsymia pharmacy network to include Express Scripts (NASDAQ:ESRX) which accounted for an additional 4,904 prescriptions in October. Again this is still far short of the expectations but it's a start.
Now I know what you're thinking, tell me something I don't know. Well anyone who reads my articles knows technical and fundamental research is only a supplement to what the options market says in my mind. I use options sentiment to determine just where a stock may be going over both the short and long term. For example the net premiums of calls over the last 60-90 days have been sold hard and the premiums for puts have exploded to the upside. Translation, big players were selling calls in order to finance puts. This move appears to have been a huge winning strategy as VVUS has fallen from 30.00 back to below 12 in just over 90 days.
I mention this, because as of Tuesday options sentiment shifted dramatically. Several large bullish bets stepped into the stock betting to the upside. Look at the four largest trades of the day in the screenshot below.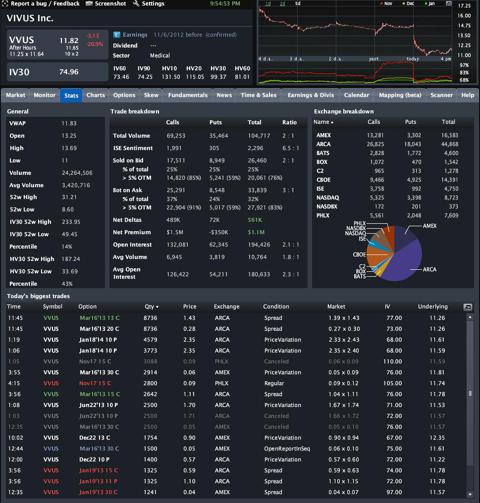 Click to enlarge
Data provided by LiveVol Inc
Notice the 4 biggest trades Tuesday. Typically on a large down day such as today is when investors are scrambling for protection buying puts at every opportunity they can find. Today, however, was different after one investor stepped in buying the March 13-20 call spread 8,736 times for a net debit of 1.15. This bullish bet cost the trader $1,004,640 which would explode to more than 5M if VVUS moves back above 20.00 at March expiration.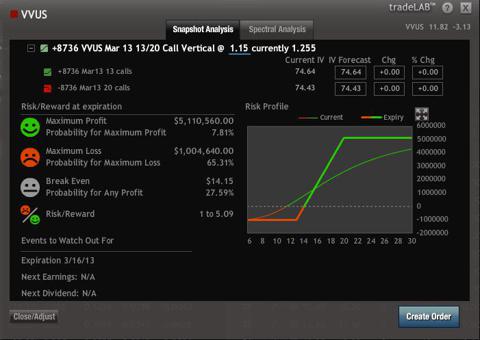 Click to enlarge
Charts courtesy of Trademonster.com
Less than 2 hours later another monster trade went off. In addition to this 1 million plus bet to the upside another very large bankroll also came in today selling 8,352 of the January 2014, 10 strike puts collecting 2.35 per contract. This single bet actually had the seller collect almost 2M in a net credit betting VVUS will be above 10 on January 2014. This is holding almost 6.4M in buying power so this is not some small time player as this is more than likely a pretty big hedge fund betting on a reversal in VVUS stock.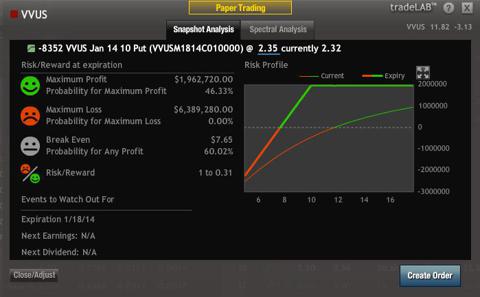 Click to enlarge
Charts courtesy of Trademonster.com
In summary I wanted to cast some positive light on what seems to be a rather dim story in terms of VVUS. It appears at least one big investor believes in the stock. To lay such a large premium bet on the table in a negative tape is where fortunes are made and lost. Although, I'm not currently long the stock and am not a fan of the most current quarterly report the options do now have me interested. I will look for continued weakness to look to get into and follow this trade in the future through some type of option spread.
Disclosure: I have no positions in any stocks mentioned, but may initiate a long position in VVUS over the next 72 hours. I wrote this article myself, and it expresses my own opinions. I am not receiving compensation for it (other than from Seeking Alpha). I have no business relationship with any company whose stock is mentioned in this article.