First Sandy not Athena
Hurricane Sandy was a multi-billion dollar storm. It has taken over 100 lives, left 8.5 million people in the dark, and as of Tuesday, some 900,000 people were still without power.
The Weather Channel announced in October that it would begin naming storms this year in an effort to aid in rising awareness and reduce the risk to the public.
Now we have Nor'easter Athena that is bringing 30-50 MPH winds along the New Jersey coast and there are Winter Storm Warnings in effect for parts of the Northeast. This could cause some additional power outages and coastal flooding and create more economic havoc along the Jersey coast to Long Island.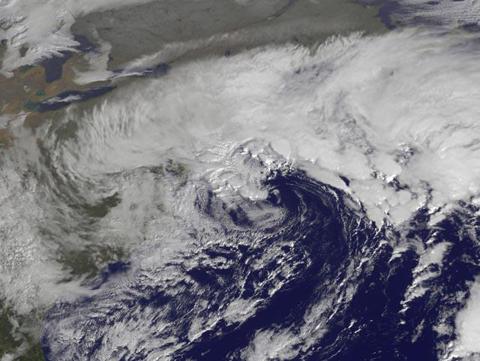 Click to enlarge
Athena, according to Greek Folklore, is the goddess of wisdom, courage and inspiration, civilization, law and justice, strength, strategy and skill. With ocean temperatures along the east coast the warmest they have ever been, additional big storms are possible this winter, though for the time being, a warming trend is likely
Source: WeatherUnderground
Energy Markets
The global economic concerns may play a greater role than any weather event for the immediate future, though we had a modest 5-7% pop in gasoline a week ago ahead of and during hurricane Sandy. Crude oil prices have again taken it on the chin and it will take confidence in the global economic picture and a cold winter to see prices back close to $1.00/barrel anytime soon.
While gasoline sales were nearly double their normal levels in the central Atlantic States prior to Sandy, nationwide, gasoline demand dropped 2.4% for the week. The upcoming storm could hit some of the areas smacked by Sandy and complicates the near term situation. Areas that recently had power outages may have to run additional generators. Overall gasoline consumption will depend upon the availability of gasoline and the ability to get electricity to households. If we see some prolonged outages again by Thursday a.m. this could result in a modest short term increase in gasoline demand, though low fuel supplies will potentially hinder any uptick in gasoline.
As we head into winter, trading crack spreads in heating oil and gasoline versus crude are often conservative weather plays. While it is a bit early to do this, the weather pattern heading into mid-late November is not one that will feature any cold weather in Europe or the Northeast. Hence, heating oil may begin to lag the crude complex in coming weeks unless we see some sustained cold.
The potential exists for some cold invasions a bit later on for key U.S. natural gas regions, but for the next 2-3 weeks, I expect a normal to warmer than normal early winter outlook. Hence, this will likely keep natural gas prices from reaching close to $4.00. Last winter, I was in the bearish camp calling for a record snow drought and warm winter. This year, expect a lot more volatility given other under lining more bullish longer term fundamentals. In the short term, however, the warmer outlook I see will probably prevent any major rally in natural gas.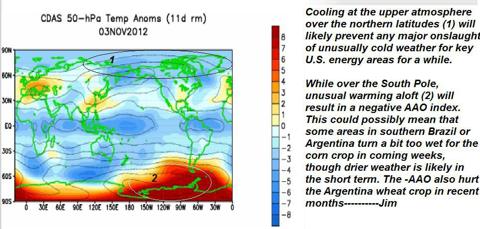 Click to enlarge
SOURC: NCEP/CDAS
Grains
South American weather will become more and more important to the soybean market, but I continue to maintain a longer term bearish aspect in soybeans. Since it appeared that the U.S. crop would be a bit better than the trade expected, prices have dropped more than $2/bushel. While the demand side of the equation is expected to be robust, as long as the weather improves in Argentina and Brazil, then prices will have a hard time rallying very far. Contrary to many bulls out there, I remain bearish this market longer term heading into 2013.
There are several weather concerns worth nothing for the grain market. First of all, the incredibly wet late summer and fall weather has hurt the Argentina wheat crop, while Australia's wheat crop has fallen smartly. This, combined with the U.S. wheat crop in one of the worst conditions in nearly 20 years, has kept the wheat market strong relative to corn and soybeans the last 2 months. Without El Nino forming, the possibility exists for the wheat crop from Nebraska to Texas to be sub-par again. Hence, I do not see a lot of downside in the wheat market for the time being. The corn market may begin to become concerned about irregular early seeding and crop growth in Argentina. Planting of corn has been much slower than normal in recent weeks. While drier weather will return, I am not convinced it will be persistent and the USDA 28 MMT Argentina corn estimate may be in jeopardy. After a 15% break in corn prices the last 2 months on worries over demand and lower soybean prices, corn too probably has little downside for now. Longer term, however, if the U.S. drought eases next year and South American still produces a decent, not great corn crop, seeing a major rally in corn prices is probably unlikely. Hence, looking to enter a short strangle formation buy selling puts and calls in corn may be a smart play for the next few months.
Soft Commodities
Earlier fall dryness in Minas Gerias, Brazil has not been enough to garner any bullish enthusiasm from traders. An article in the Wall Street Journal earlier this week points to the reason why coffee may remain in a bearish trend.
The situation from a weather stand-point also seems to be improving with a large Vietnam crop, rebound in Colombia's crop and needed rains falling in northern Brazil during the critical bloom stage
Cocoa prices have been in a wide trading range for weeks. The weather has oscillated back and forth between it being too dry in west African during the summer, to too wet in October raising some concerns about fungus diseases. Overall, however, weather conditions appears more optimal (drier) and a bit bearish for cocoa prices. While a slight world stocks deficit is expected this next year, worries over the European crisis again and the fact that El Nino will not form, raises the potential for steady to lower prices in the weeks and months ahead.
Orange Juice prices have dropped some 20% the last 2 months. This bear move was inspired by Florida escaping any major hurricane this summer/fall and something we discussed months ago.
While both Australia and Russia are expected to see some modest reduction in their sugar crops from earlier estimates, worries about the world demand side of the equation, plus a potential big crop coming out of Brazil this next year, has kept the market on the defensive.
Cotton prices have stayed under pressure for months due to a rebound in world production and China policy. So, without a major world weather disruption at this point, the odds of cotton seeing a significant up move in prices, is probably unlikely. The one area we need to watch is in Argentina, where a potential return of wet weather later this month, could set back the cotton crop some.
Disclosure: I have no positions in any stocks mentioned, and no plans to initiate any positions within the next 72 hours. I wrote this article myself, and it expresses my own opinions. I am not receiving compensation for it (other than from Seeking Alpha). I have no business relationship with any company whose stock is mentioned in this article.