With Wednesday's fall, US markets are close to 2-month lows, back down to levels we saw before the announcement of QE3. Earnings season was not great, with a number of high profile names reporting some ugly quarters. There are plenty of names that have come down a bit, and today, I'll cover five names you might want to consider taking a look at. All but one of these names I am describing will be long term plays, but I'm throwing one short-term gamble in for those that want to speculate a little. A few of these names have not reported quarterly earnings yet, so investors might want to think about that before buying, maybe even one short candidate. I'll give some earnings information where possible.
Apple (NASDAQ:AAPL):
Apple was trading below $563 on Tuesday, meaning it has lost 20% of its value since the 52-week high above $705. Yes, I did say Apple has lost more than 20%. A lot of the decline had to do with such a huge run up over the past year, but there was a bunch of uncertainty over the iPad mini and what that would do to margins. Apple reported a mixed quarter, and a number of analysts took down their forecasts right before the report after a Tim Cook speech hinted that iPad sales would be light. They were, but Apple just introduced a new version and a mini. The recent fall has also pushed up the dividend yield to 1.88%, and this quarter, Apple started buying back some shares to partially cover the dilution caused by executive and other such options.
Now, if a 20% fall, 1.88% dividend yield, and 2 (or even 3) of the hottest products on the planet aren't enough to get you to buy, consider that the average analyst price target implies 36% upside from here. When Apple reports earnings in January, most expect it to be one of, if not the, best quarterly earnings report in corporate history.
But one other thing to consider, and it is for those that love to look at the charts. In late 2011, Apple hit a 52-week high of $424.81 right before it reported earnings. A pre-iPhone launch slowdown in sales hit the stock, which dropped to a period low of $363.32 in late November. That fall was 14.5%. We've seen a similar fall this year, only a few percent larger, but it seems rather similar. Here are two charts, both taken from the interactive chart page on Yahoo! Finance. The first one is from early September to early December in 2011.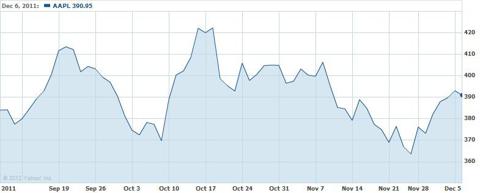 So let's fast forward to 2012. Apple hit the high about a month earlier in the year, so if it hits the low about a month earlier this year, well, we are there now! In mid December last year, Apple started its historic run.

If you like to look at the charts, you might find some similarities. But you'll also find similarities in the causes of the decline. Apple missed because product sales were light, but huge product launches were coming. Also, Apple this year couldn't get enough iPhones out, but they said that in the current Q1, they will use faster shipping methods to get products to consumers. While that might increase their costs a little, it will also increase the sales. If Apple follows a similar pattern to last year, now might be a great time to enter before the rally.
Lululemon (NASDAQ:LULU):
The athletic apparel maker rallied strongly after the company reported a decent second quarter and gave guidance that was above expectations. At that time, the stock rallied almost to $80 a share, and was in the high $70s just a few weeks ago. We've now seen the stock fall more than 10% in recent weeks. At this point, the average analyst price target is over $80 per share, implying about 15% upside.
Lululemon is always criticized for its high valuation. The stock currently trades for 31 times forward (January 2014) earnings, which I don't think is much for a few reasons. First, revenue growth is expected to be 36.2% this year and 23.5% next year. You won't find many retailers growing this fast. Earnings are also expected to rise at 44.4% and 23.1% next year. But the second reason is that the company generally provides very conservative guidance, so analyst estimates right now are most likely too low. If the company ends up doing roughly $2.50 in earnings next year (current expectations call for $2.24), the forward P/E right now would be just 28 times. I think that's a bargain. By the way, the balance sheet is incredible, and they have plenty of financial flexibility. You may even see this company buy back stock at some point.
Molycorp (MCP):
There are always those that want to gamble, so here is my pure speculative play. Molycorp will report earnings after the bell on Thursday, and the trade around Molycorp earnings has not been good in recent quarters, as seen below. The week after row includes performance on the day after earnings.

Now I'm not recommending that all investors should look at this name, but those wishing to gamble a bit probably should. It will move after earnings, the obvious question is which way. Is this the quarter Molycorp finally bounces after earnings? Well, Molycorp just broke its 52-week low on Wednesday, so maybe you do see some bounce. 61% of the float was short as of mid-October, so if the company announces any good news, a short squeeze is definitely possible. I'm not going to personally recommend one direction or another, that's up to you. But this is a name definitely worth looking at for a speculative earnings play, either long or short.
For the quarter, Molycorp is expected to see revenues increase by 71.4% over the prior year period. However, earnings are projected to fall from a profit of 67 cents a year ago to a 7 cent loss this year. Molycorp has added a lot of debt to expand, especially in regards to the Neo deal. That has pushed up interest costs, which hurts. But the main reason Molycorp's stock has not done so well is that the growth forecast keeps coming down. About 14 months ago, analysts were expecting about $4 in earnings this year for Molycorp. Right now, they are expecting just an 8 cent profit. A bad third or fourth quarter, and Molycorp could actually lose money on a full year basis.
Baidu (NASDAQ:BIDU):
The Chinese search giant has fallen in recent weeks after quarterly earnings guidance was a little light. However, we've seen Baidu give low guidance before, which is why the company is usually able to beat analyst estimates for the quarter. That's what just happened, with them beating revenue estimates by $2 million and earnings estimates by 8 cents per share in the most recent quarter.
Baidu is now trading just a few dollars above $100, which has been a recent level of support for the name. But at the current price of $103.67, Baidu is trading at just 17 times forward earnings. In 2013, Baidu is expected to grow revenues by 35.9% and earnings by 27%. That's after an expected 53.8% rise in 2012 revenues and 57% rise in 2012 earnings. 17 times forward earnings doesn't seem like much when US internet giant Google (NASDAQ:GOOG) is trading at 14.5 times forward earnings. As a comparison, Google is expected to grow 2013 revenues at just 24.9% and earnings at 16.5%. So basically, you are getting about 50% more revenue and earnings growth for a premium of just 17%. That seems like a deal to me.
Analysts tend to agree, with the stock currently rated a buy with a $141 average price target. That implies about 37% upside from here.
Philip Morris (NYSE:PM):
The cigarette company dropped after disappointing third quarter results, and I recommended using that pullback as a chance to enter the name. At that time, Philip Morris was above $88, and we've lost another $1.50 since then, despite Tuesday's slight rally.
As I've described in the past, Philip Morris is an investor favorite. The dividend yield is now 3.93%, and the company is buying back $1.5 billion in stock each quarter. That helps to pad any falls, and helps the stock rebound, because the company buys those shares on the cheap. At the same time, analyst price targets have risen slightly, with the average and median price targets now at $95.23 and $96.00, respectively. With the stock at $87.39 currently, that implies 10% or more of upside, and you get a nice dividend.
I stated that Philip Morris was a short at $94, something long-term investors criticized me for. I can understand that viewpoint, but Philip Morris had a history of pulling back. It has done that, and more so than the average pullback of about $5.50 that I've described in past articles. We're now down nearly $8 from the all-time high, and that is a good opportunity to get in, or accumulate. If for no other reason, you are now getting an extra 30 basis points per year on the dividend than you were at the 52-week high. 30 basis points per year is equal to the yield currently on 2-year US Treasuries, and that's just the increase in the yield. Philip Morris' actual yield is roughly one full percentage point higher than a 30 year US Treasury bond. Philip Morris remains my top value pick currently, and that viewpoint increases as we come down further.
Disclosure: I have no positions in any stocks mentioned, but may initiate a long position in AAPL, MCP, BIDU, LULU, PM over the next 72 hours. I wrote this article myself, and it expresses my own opinions. I am not receiving compensation for it (other than from Seeking Alpha). I have no business relationship with any company whose stock is mentioned in this article.
Additional disclosure: Author may also initiate a position in AAPL, MCP, PM, BIDU, LULU over the next 72 hours. Investors are always reminded that before making any investment, you should do your own proper due diligence on any name directly or indirectly mentioned in this article. Investors should also consider seeking advice from a broker or financial adviser before making any investment decisions. Any material in this article should be considered general information, and not relied on as a formal investment recommendation.