Apple (NASDAQ:AAPL) may now be looking into whether it can replace Intel (NASDAQ:INTC) powered processors in its MacBook and iMac personal computers with ARM Holdings (NASDAQ:ARMH) chip technology, and rumors of the potential future transition are beginning to swirl. Apple already uses ARM technology to power its iPhone and iPad products.
Apple has been using Intel chips in its Macs since 2005. Such a transition would be very bad news for Intel, and pretty good news for ARM and its long-term investors. ARM appreciated substantially between 2009 and 2012, growing about sevenfold from its bottom, thanks to its continued adoption by mobile device manufacturers. After a relatively poor performance through the first half of 2012, it has again started to appreciate in the second half of 2012. See a recent performance chart for ARMH shares:
Click to enlarge image.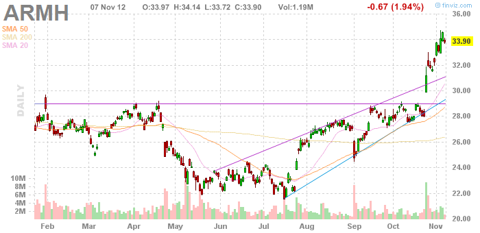 Apple recently announced some management changes, and included in those changes was the announcement that Bob Mansfield will run chip research through the company's new Technologies division. In Apple's statement announcing this and other management changes, the company noted that its semiconductor teams have "ambitious plans for the future." Such plans would likely include the amalgamating of iOS with Mac OS X.
Current versions of ARM chips are low-powered compared to the Intel chips that now reside in Mac models, but they have the potential to grow in power over time. In many ways, as the differences between mobile devices and personal computers approach one another, a single standard for both would appear inevitable. It is also entirely possible that Intel technology will begin to encroach on ARM's mobile dominance. Moreover, if either such move were to occur, it would likely not happen in the near term.
ARM's low-powered chips already generate considerably less heat than traditional computer processors and are designed for touchscreens, so they only need to grow in power. Another advantage of low-heat chips is that they usually do not necessitate a fan, while most traditional computer processors would. Such a cooling fan ads size, weight, and noise to a device. It also drains electricity, causing a decrease in battery life.
The benefits of removing the fan, heat, and power needs of the machine has also allowed Apple to design ever thinner and smaller devices without sacrificing performance, and often increasing it. While the highest-powered personal computers would still appear years away from a transition to lower-powered chips, the company's MacBook Air line might more easily convert over to ARM technology. Apple's Air laptops are its lowest-power computers and are marketed to users who do not need high-powered functionality, those who instead desire greater portability and battery life.
The main question regarding which standard will encroach on the other could be the issue of consumer preference for mobility vs. power. Many of Apple's current Mac computers, including its iMac and MacBook Pro models, are high-powered machines for designed for users performing processor-heavy activities such as video editing. Nonetheless, most users do not end up doing video editing or computer programming, instead mostly using their computers for low-power functions like email and web browsing, making these computers substantially overpowered for their needs. These consumers may simply be better off choosing lower-powered and lower-priced Air models, but many consumers delight in knowing their device is the most powerful available model despite their actual usage.
One large difference between Intel and ARM chips is that Intel makes its own chips, while ARM licenses out its chip designs and technology to other manufacturers such as Qualcomm Inc. (NASDAQ:QCOM) and even Apple itself. As a result of ARM's licensing strategy, a growing number of manufacturers will be researching the advancement of it. In the past, Apple has acquired chip companies and already created ARM-based designs, so the potential there for the company to again innovate ARM technology tailored to its needs. Apple then contracts other manufacturers to produce its designs.
There are some benefits that could be seen for Apple by moving to a single chip-set standard across its products. The move would likely allow it to streamline production and also do more of it in-house, rather than relying on an outside vendor for one of the costliest computer components. Moreover, as mobile devices grow in popularity and use, it will be necessary for their functionality to increase and approach current personal computer capabilities, and eventually surpass them.
When Apple switched to Intel chips in 2005 it was because they not only ran faster than the PowerPC chips that Apple was using, designed by Motorola and IBM (NYSE:IBM), but also because they generated less heat. Intel's lower-heat atom chips were a popular choice for netbooks, but were deemed underpowered for integration into the greater personal computing market. Furthermore, atom chips were not designed for touchscreen interfaces.
Intel's newer chips, such as its Clover Trail product, are low-heat and designed for touch-screens, but are somewhat late to the party. Their integration into Microsoft's (NASDAQ:MSFT) Windows 8 products may be the first real test for Intel in the mobile device market. Other issues are still uncertain. For example, many mobile applications and/or features in iOS, such as its Siri voice-command tool, cannot be ported over to Intel-based Macs.
Last year, Intel spent nearly $11 billion on new plants and equipment about $8.4 billion on research and development. Intel's ability to spend such sums on chip development makes it a formidable opponent that should not be too quickly counted out. Few other companies have the potential to spend so much on R&D costs as well as plant building, although Apple is clearly one company with the cash on hand to do what it likes. Similarly, Samsung spends billions on such costs each year and manufactures the ARM chips that Apple designed for its mobile devices.
Disclosure: I am long INTC. I wrote this article myself, and it expresses my own opinions. I am not receiving compensation for it (other than from Seeking Alpha). I have no business relationship with any company whose stock is mentioned in this article.