Endologix (NASDAQ:ELGX) is a true medical technology success story. Its principal product, an aortic stent graft for the endovascular treatment of abdominal aortic aneurysms, was first commercialized in Europe in 1999 and in the United States in late 2004.
According to Seeking Alpha's latest Endologix's earnings call transcript, the product, which has been gaining share from competitors since its launch, could realize global revenue of $105 million in 2012.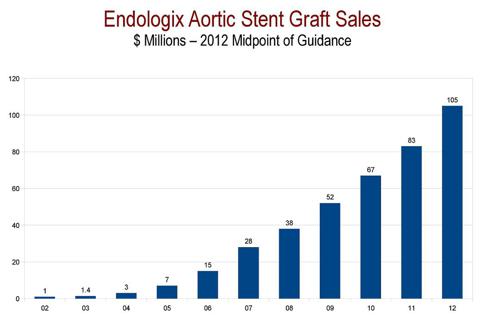 Investors have been watching Endologix's rise with admiration and have rewarded the company handsomely with a valuation of over $800 million, close to eight times sales.
However, the aortic intervention market, which the company competes in, is tough, highly concentrated and have seen many causalities in the past.
Larger companies than Endologix have exited the market, some without even being able to divest their assets.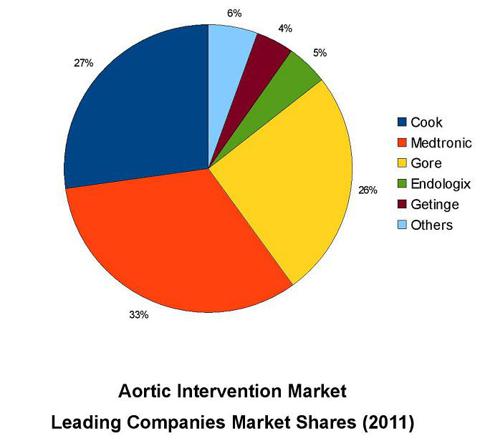 The top three competitors, Medtronic (NYSE:MDT), Cook and Gore control over 85% of the market while Endologix manages a 5% share.
Iterative improvement is the name of the game, with all companies in the space launching next generation products every couple of years. So the chances of Endologix attaining its declared goal of leadership in the space are rather slim.
Having a valuation of close to eight times sales for a medical device company that owns only 5% of the market in which it competes, and has yet to turn a profit, is rather excessive; unless, of course, this company is valued for acquisition rather than for cash flow.
Very few large global medical device companies, the ones that can afford to buy Endologix, have any interest in the space. We can picture Swedish Getinge (GETI-B), which acquired Boston Scientific's (NYSE:BSX) aortic surgical graft business back in 2007, developing an interest in the aortic endovascular graft space.
Alternatively, Endologix can use its pricey shares to acquire one of the many struggling startups in the space. Endologix has already done just that in 2010 when it acquired Nellix in a cash neutral transaction.
Of the aortic endograft startups that come to mind as eligible candidates for an Endologix embrace, Aptus Endosystems, Cardiatis and TriVascular pass the grade.
Of the three, TriVascular has the lowest profile abdominal aortic stent graft on the market. However, Cardiatis has access to a disruptive technology that can change the whole playing field.
If I am allowed to make a bet, I would put my chips on Cardiatis.
Disclosure: I have no positions in any stocks mentioned, and no plans to initiate any positions within the next 72 hours. I wrote this article myself, and it expresses my own opinions. I am not receiving compensation for it (other than from Seeking Alpha). I have no business relationship with any company whose stock is mentioned in this article.