As the Eastern seaboard begins the slow and costly process of rebuilding from the ravages of Superstorm Sandy, it seems appropriate to examine a prominent property and casualty insurer to see if the company is up to the task. The task is considerable, as estimates of the damage range from $7 billion to as high as $20 billion. We will also examine Sandy's near-term impact on earnings and the longer-term outlook for investors, as well as compare it to a close competitor.
We begin with The Allstate Corporation (NYSE:ALL), which had its Q3 2012 earnings call on Nov. 1. CEO Thomas J. Wilson devoted a significant block of time to the subject of the storm. As he explained, Allstate's work over the last five years has let the company more prepared for a large-scale storm like Sandy. Wilson praised his company's pre-planning and risk-management handling. The CEO assured investors that hurricane deductibles wouldn't decrease margins significantly and that the company was well prepared for the claims coming as a result of Sandy. As Reuters reported, Allstate numbers still look healthy moving forward (I'll get to that shortly) and Wilson summed things up by stating that Sandy losses "will not be meaningful in terms of our stability."
Allstate has a market cap of about $19 billion and trades at around $39 per share. The trailing 12 months price/earnings ratio is 7.46, and the price/earnings growth ratio is an enviable 0.56. The good times continue to roll with a price/book ratio of 0.97 and a decent return on equity of 13.47%. Quarterly year-over-year revenue growth disappoints at -1.40%, but that is effectively countered by quarterly year-over-year earnings growth of an astounding 338.20%. Allstate's financial strength shines through with a debt/equity ratio of 29.07, which overshadows the less-than-optimal current ratio of 0.53. Allstate also rewards shareholders with a respectable dividend, yielding 2.2%.
Allstate has all the earmarks of a value stock, and the fact that on a price/book basis the stock is undervalued about 8% bears this out. Many investors would find it counterintuitive to invest in a company that is most certainly going to be liable for millions in claims. However, this is what insurance companies do. Frankly, I would recommend Allstate on any pullback and I am confident there will be a pullback because most investors will perceive Sandy as a drain on Allstate's resources. This may seem somewhat contrarian, but I believe it is a logical investment strategy. The chart below suggests the pullback has already begun.
Click to enlarge image.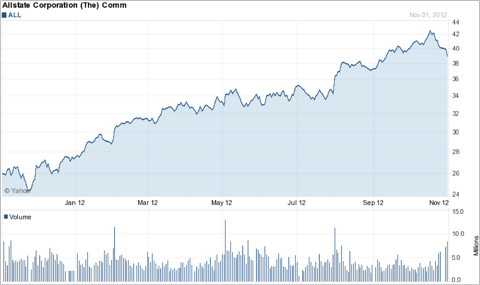 It is important to recognize that Allstate made some strategic adjustments since last year's Hurricane Irene dealt property and casualty insurers significant losses. Wilson has acknowledged scaling back sales in Florida, purchasing reinsurance and raising premiums for homeowner's insurance. Hurricane Irene and other catastrophe claims cost the company about $3.8 billion last year.
If we shift our focus to The Travelers Companies (NYSE:TRV), we see a larger enterprise. Travelers boasts a market cap of around $27 billion and trades at about $70 per share. The 12 months trailing price/earnings is less attractive than Allstate's at 10.03, as is the price/earnings growth ratio of 0.78. Price/book also favors Allstate, but at 1.04, Travelers has no need to bow its head. Travelers falls well short of Allstate with a return on equity of 10.91, which is an 8% advantage for Allstate.
Quarterly year-over-year revenue growth was unimpressive for both companies, but the edge goes to Travelers with 1.60%. Quarterly year-over-year earnings growth, however, is all Allstate, with Travelers' 159.50% at less than one-half Allstate's result. Debt equity and current ratios for Travelers are reported at 24.51 and 0.38, respectively -- both very similar to rival Allstate and, in fairness, Travelers is also undervalued on a price/book basis by 7%, 100 basis points below Allstate. Travelers has a nice dividend yielding 2.5%, slightly higher than Allstate's 2.2%. Payout ratios are too similar to be a game changer, with Allstate at 21% and Travelers at 25%.
Travelers had a stellar earnings call as well, reporting earnings of $2.22 per share, blowing away the consensus estimate of $1.61 per share and for many of the same reasons that Allstate had such a great quarter. In my view, an investor would do well taking a long position in either Allstate or Travelers, especially if you acquire that position on a pullback. I favor Allstate, however, because its fundamentals are slightly better and I am impressed with the actions Allstate has taken to mitigate its risk. I also believe that Allstate's acquisition of Esurance will generate significant organic growth. That said, I believe a good entry point would be at around $34. It may fall below that, but I can't recommend that you try to catch a falling knife.
Disclosure: I have no positions in any stocks mentioned, and no plans to initiate any positions within the next 72 hours.
Business relationship disclosure: This article was prepared for Freedonia Freelance by one of our analysts.