By now everyone knows that President Obama has won a second term. And if you don't yet realize the impact, take a look at the market. The Dow Jones Industrial Average closed down 2.04%, S&P down 2.15%, and Nasdaq down 2.25%. In addition, all three indices have fallen below significant levels: a) Dow below 13,000 b) S&P below 1400 and c) Nasdaq is below 3000. So, what's an investor to do? Here are a few suggestions.
Dividend Stocks: The first and obvious ploy is the good old "safety first" approach. Of course, no stock is exempt from these sell-offs, but a blessing in disguise is that some stocks are suddenly available at lower prices and higher yields. Philip Morris (NYSE:PM), for example, is mighty close to the 4% yield point. AT&T (NYSE:T) is back well above the 5% yield point, as it is down more than 3% today. With all due respect, whether Mr. Obama or Mr. Romney had become the president, AT&T will continue paying out its juicy dividends.
Furthermore, AT&T has just announced a tiny dividend increase, to 45 cents a share from 44 cents a share. Even if the company increases dividends by a cent or two each year, the yield on original capital is bound to go up for long-term investors. That is why it is wise to pick up dividend growth stocks at a lower price whenever there is a chance like this.
(click images to enlarge)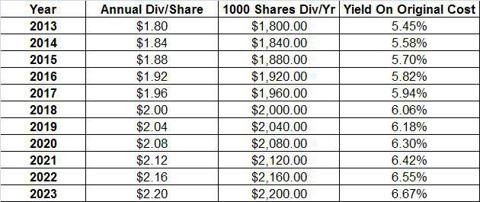 In our opinion, the whole issue about extra taxes on dividends is overblown. Not buying stocks on worries about higher taxes on gains/dividends is like not going to work because "Uncle Sam" takes a higher percentage from your paycheck.
Bear Funds: Bear funds like Direxion Daily Small Cap Bear 3X Shares (NYSEARCA:TZA) trade in the opposite direction. That is, if the general mood in the market is bullish, these funds go down. On the contrary, on days like today, TZA rockets up. It closed up nearly 7% today.
October 2011 was a low point for the market, and TZA peaked back then, as highlighted in the chart below. But there are a few points to keep in mind when playing these bear funds:
They go up or down real fast and furious, so you must have quick hands to play these well.
Do not over-allocate funds to these, as they can break your returns as quickly as they make them. In other words, hedge, but do not over-hedge.

(Source: Yahoo Finance)
Growth At Reasonable Price Stocks (GARP): I know, I know. It kind of gets tiring to hear everyone talking about how undervalued Apple (NASDAQ:AAPL) is. But the stock is at at PE of 12.68 right now. If you have been following the stock for the past few years, you know that is the level from which it usually starts bouncing furiously. The chart below shows that Apple has not traded below a PE of 12 too many times in the past five years (actually just once, according to data on Ycharts.com). Sure, the current PE is a bit above 12, but we are closer to a bottom than a top.

(Source: Ycharts.com)
A few more tidbits on Apple's PE and cash:
Apple currently holds $127 per share in cash (and equivalents), according to this piece from well known Apple analyst Robert Paul Leitao. At today's low of $555, the cash represents a whopping 23% of the stock price. At the time of Mr. Leitao's article, the cash/share ratio was at its third highest level since 2010. But thanks to today's sell-off, the current cash/share ratio of 23 is now the highest since 2010. In short, terribly undervalued.

(Source)
The trailing PE drops below 10 if we back out the cash.
According to Yahoo Finance, the 2013 EPS estimate for Apple is $50.13. That gives you a forward PE of 11 as of this writing.
And backing out the cash, we get a depressingly low forward PE of 8. We rest our case for Apple.
Even if you do not believe in such trends, the fundamentals of stocks like Apple and Baidu (NASDAQ:BIDU) are too glaring to ignore after the recent sell-offs. Baidu is trading at about $100 per share, with a historically (past five years) low PE of 23. The chart below confirms it. The five-year average PE of 65 highlighted below is probably well out of Baidu's reach anymore, but a company that is expected to grow at close to 40%/year over the next five years is trading at about half its growth potential. Click here to read more about the overreaction to Baidu's recent earnings report.

(Source: Ycharts.com)
Both of these stocks were having a tough time already, and the post-election sell-off is making them look even cheaper. Take a look at the company-specific metrics shown below, and you will most likely find a compelling argument to buy these stocks. Sure, the macro factors could push down the market entirely, but when things rebound, you will want to be in these companies. Remember, there is huge difference between a broken company and a broken stock. These two companies are certainly not broken, and you can find many more bargains like these in today's bloodshed.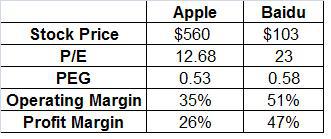 (Source: Yahoo Finance)
Short Coal: Mr. Obama's re-election means the clean energy future still remains on the horizon. Obviously, this is bad news for the coal industry. Though shorting is never an easy game and is not for everyone, coal companies like Arch Coal (ACI) are going to have a tough time ahead. Sure enough, ACI for example, closed down 12.8% today. Another coal player, James River Coal Company (JRCC) lost about 30% of its value today, though this terrible earnings report had a part to play as well.
It is well known that coal companies produce a ton of carbon dioxide, and the President is keen on setting a limit on the amount that each plant can emit. Even if the coal companies try a work-around to reduce the pollution, it is going to be a time-consuming and expensive process. In a nutshell, keeping in mind the well-publicized clean energy campaign from the President, this industry is seriously not the place to invest for the long term right now.
Conclusion: So, there you have a few quick suggestions on how to play the market, at least over the next few months until the post-election dust settles. No size fits all, and similarly, no single strategy works for everyone. Pick and choose the ones you want and have the aptitude for. As for us, we are looking at picking up some dividend and growth stocks on sale, while hedging about 10% of the portfolio with the bear funds.
Disclosure: I am long AAPL, PM, T, TZA. I wrote this article myself, and it expresses my own opinions. I am not receiving compensation for it (other than from Seeking Alpha). I have no business relationship with any company whose stock is mentioned in this article.