Goldman Sachs (NYSE:GS) beat analyst estimates with third quarter profits of $1.5 billion, but investors remain wary of the investment bank's future outlook. Even with decreased investment volumes Goldman Sachs was able to report earnings per share of $2.85, compared to earnings of $1.78 last quarter and a loss of $.84 in the third quarter of 2011. Revenues have increased in recent quarters but have been partly offset by similarly large expenses.
Goldman Sachs received higher than expected profits resulting from its mortgage lending and capital underwriting departments performing well. Record low borrowing costs in the market encouraged capital financing during the third quarter, creating $655 million in revenues for the bank's underwriting department, a record high. This is more than double its underwriting revenue from the comparable quarter of last year, and is by far the industry leader. Total revenue from investing and lending was $1.8 billion; up from a loss of $2.4 billion last year because of tighter credit spreads and increased equity markets.
Expenses associated with these operations and others for the bank have surged in the third quarter to total $6.1 billion, 40% higher than last year. This has come with a sense of anger from some shareholders as compensation expenses more than doubled for the period, even though the number of employees decreased. Rising costs have contributed to the steady decrease in the company's return on equity since the recession. The graph below shows how the bank compares with competitor JP Morgan (NYSE:JPM) and the industry average.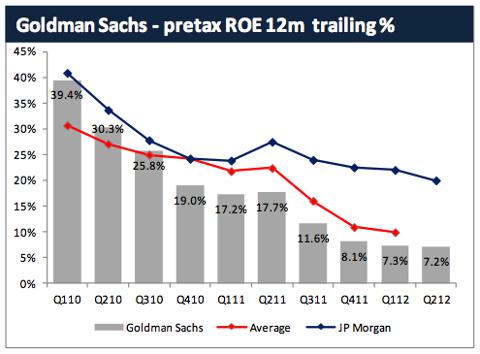 Source: (William-Wright.com)
Net revenues from the equities segment of its Client Service division increased to $1.96 billion, up 50% from last year. The sustainability of such an increase is unlikely as demand in trade volumes will decrease with shifts to capital markets. Huge billion dollar profits from investment banking may be a thing of the past. Banks are facing tough government regulations post financial crisis thanks to the Dodd-Frank Law that will limit their risk taking ability, costing them valuable earnings potential. Goldman held $170 billion of global core excess liquidity during the period, most of which is needed to comply with new capital and liquidity requirements. Due to decreases in activity, the bank cut 1,600 jobs, 5% of their work force. The nationwide trend away from excessive risk taking will limit Goldman's profit making potential from investments in the future. Even with higher than expected third quarter earnings, the bank's stock price declined following the report.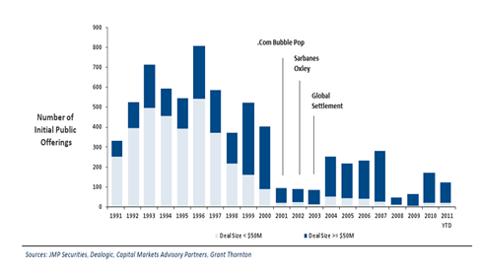 Goldman Sachs ranked first during the periods among investment banks in underwriting stock offerings and mergers. The bank has been able to keep operations in these two sectors performing strong since the crisis. As the Federal Reserve pumps billions of dollars into the economy for QE3, Goldman Sachs will benefit directly. Though interest margin profits will decrease as interest rates will remain at rock bottom throughout 2015, banks will increase their debt underwriting during this period.
A deal announced during the third quarter to sell Goldman Sachs Administration Services (GSAS) to State Street Corporation (NYSE:STT) for $550 million was closed on October 15th. GSAS is a global service provider to hedge funds. Though Chief Financial Officer David Viniar said the sale would have an immaterial effect on future earnings, it displays the shift away from back-office operations that have come under recent scrutiny. Hedge fund functions have cost the bank millions of dollars in legal fees over the last few years as many areas were accused of fraudulent investing leading up to the crisis. This shows the recent trend of investment banking as demand is shifting away from risky securities.
Though profits may not be at levels some are accustomed to, Goldman is looking to slowly reward its shareholders. Dividends increased to $.50 per share for the quarter, up from $.47 a quarter ago. Goldman also repurchased 11.8 million shares of its common stock, for a total cost of $1.25 billion.
Earnings from the third quarter showed that Goldman Sachs has recovered from the financial crisis, but on a different set of tracks. The tale of investment banking may be from a past chapter. Huge profits from excessive risk taking have become rare, forcing this bank to recreate the foundation it once relied upon.
Disclosure: I have no positions in any stocks mentioned, and no plans to initiate any positions within the next 72 hours. I wrote this article myself, and it expresses my own opinions. I am not receiving compensation for it (other than from Seeking Alpha). I have no business relationship with any company whose stock is mentioned in this article.
Additional disclosure: This article was written by an analyst at Saibus Research. Saibus Research has not received compensation directly or indirectly for expressing the recommendation in this article. We have no business relationship with any company whose stock is mentioned in this article. Under no circumstances must this report be considered an offer to buy, sell, subscribe for or trade securities or other instruments.