We first heard of Pitney Bowes Inc. (NYSE:PBI) in the 1990s because it was well-known for its postage meters and other corporate and business mailing solutions. Pitney Bowes was also a solid performing company to invest in at the time as it received a 4 star performance rating and a "thumbs up" rating to its Dividend Reinvestment Plan in Charles Carlson's book Buying Stocks Without a Broker in 1996. PBI was also included in Gene Walden's 100 Best Stocks to Own in America in 1997 and 1999. We were recently attracted to Pitney Bowes because of its high 11% (as of August) dividend yield and its software solutions and enterprise services businesses. We liked that PBI had been paying a dividend since 1934 and has boosted it since 1982. We were shocked at the deterioration in PBI's stock price since 2007 as the firm was free cash flow positive and still boosting its dividend. However, we took a pass when we saw that the software business only accounted for 8% of its revenue and all of its revenue streams saw year-over-year declines in Q2 2012. Although PBI reported positive net income and free cash flows, the company's adjusted EPS missed consensus expectations by $.02 and its revenue missed by $60M (4.6%).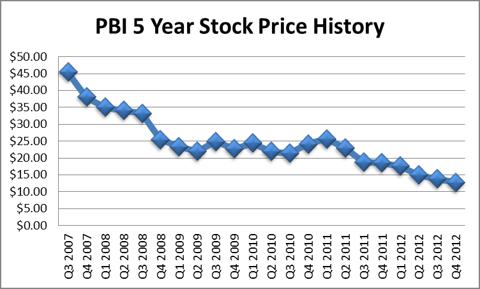 Source: Morningstar Direct
Pitney Bowes has delivered 30 years of dividend increases but we are not as optimistic about it reaching its 31st year in 2013 and even less optimistic about it reaching its 32nd year in 2014. PBI's first dividend increase was in 1983 and it increased its per share dividend every year at rates exceeding 10% which resulted in its annualized split adjusted dividend climbing from $.10/share in 1982 to $1.14/share in 2000 and represented a compounded annual growth rate of 14.4%. The good news is that Pitney Bowes has increased its dividend every year since then in spite of its inconsistent financial performance. The bad news is that its cumulative dividend increase was only 31.6% over the last 12 years and this represents a compounded annual growth rate of 2.315% during this time period. But what investors should also take note of is that PBI's annual dividend increase only exceeded 2% from 2006-2009. PBI increased its annual per share dividend by $.02 in each year from 2001-2005 and 2010-present.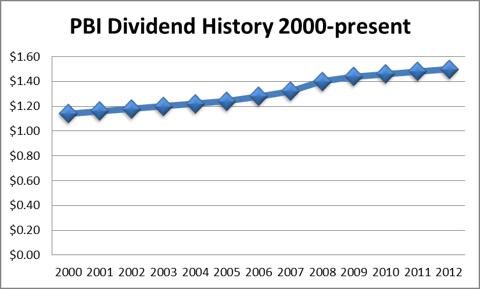 Source: Pitney Bowes Investor Relations
Another thing investors need to take into account with Pitney Bowes is that its core business of postage mailing equipment and services is in a secular downtrend due to the stagnant economy coupled with the rise of electronic and digital alternatives. The reason why we believe that the stagnant US and to a lesser extent the global economy has played a factor in the secular downtrend facing Pitney Bowes is because the financial crisis and the weak recovery has forced businesses to find ways to reduce costs and that the lower-cost digital solutions have made traditional post-mail related products and services somewhat obsolete. In its Q3 2012 Earnings Call, PBI's management had discussed how economic pressures have forced its business customers to cut costs and this has trickled-down to Pitney Bowes and will require it to find ways to cut costs and consolidate its operations. The company announced that it will be exiting a portion of its International Mail Services operation that focuses on the shipment of traditional mail and catalogs. PBI's management expects the exit will be completed in Q4 2012 and will take a charge in the quarter to reflect an impairment of goodwill, intangible and long-lived assets.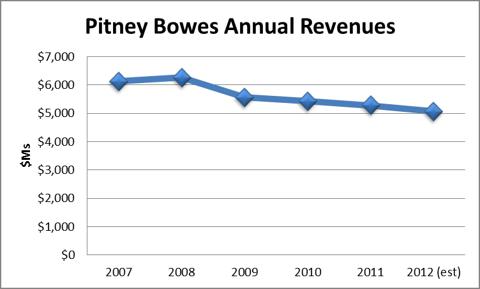 Source: Morningstar Direct
Of Pitney Bowes's $7.27B in balance sheet assets, $2.3B (31.66%) relates to goodwill ($2.127B) and acquisition related intangible assets ($176M). This has increased nearly fourfold since 2001 when it embarked on a series of acquisitions to maintain its growth and profitability. This amount will see a decline in Q4 as PBI will be exiting a portion of its International Mail Services operation. PBI's goodwill and intangible assets are 18.5X PBI's book value and 90% of its market capitalization. PBI will also take a $40M-$60M restructuring charge involving organizational and management consolidations in the hopes of realizing $45M-$55M in future savings. The majority of this charge will be cash-based due to severance payments. Barclays Analyst Hale Holden brought up an interesting point at the Q3 2012 Conference Call about how PBI had already hired Booz & Company to come in and help it with a recently concluded 3 year restructuring program and now it is engaged in another restructuring program.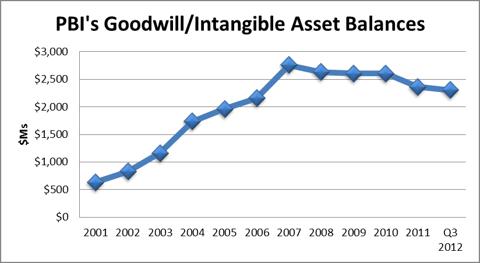 Source: Morningstar Direct
In conclusion, although we may increase coverage of Pitney Bowes, we are going to take a skeptical eye with regards to its dividend. Even though its revenues and profits were stagnating from 2007-2011, it still generated a healthy level of free cash flows to cover its dividend and it scaled back its share repurchase program from $400M in 2007 to $100M in 2010 and 2011 and $0 in 2012. Considering that PBI has an ongoing series of debt maturities from 2012 to 2019, we believe that it was beneficial for the firm to find ways to conserve its cash even though its financing receivables offset a majority of its interest-bearing debt. We believe that the risks facing PBI outweigh the potential rewards from investing in the company. Even though Pitney Bowes has cut its capital expenditures by 40% since 2007, its free cash flows have remained stagnant due to declining revenue and operating cash flows. Even though Pitney Bowes has 2-1 dividend coverage right now based on its adjusted free cash flows, it does not guarantee that management won't cut the dividend in order to shore up its credit rating in the wake of negative credit rating actions taken by Fitch, Moody's and S&P.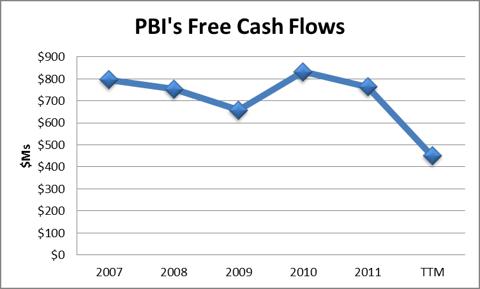 Source: Morningstar Direct
Disclosure: I have no positions in any stocks mentioned, and no plans to initiate any positions within the next 72 hours. I wrote this article myself, and it expresses my own opinions. I am not receiving compensation for it (other than from Seeking Alpha). I have no business relationship with any company whose stock is mentioned in this article.
Additional disclosure: This article was written by an analyst at Saibus Research. Saibus Research has not received compensation directly or indirectly for expressing the recommendation in this article. We have no business relationship with any company whose stock is mentioned in this article. Under no circumstances must this report be considered an offer to buy, sell, subscribe for or trade securities or other instruments.