In investing and in life, lessons learned from making mistakes are the ones that are the easiest to remember. Once we make a mistake, we don't want to repeat it. Unfortunately, learning lessons this way can be very painful and very expensive.
Therefore, I've always tried to read what established and successful investors have to say about their process. By reading what the investing masters have to say, I learn both what makes them successful and learn from mistakes that they have previously made.
One of the most important concepts I've learned came from hedge Fund manager Monish Pabrai. Pabrai introduced me to the idea of likening investing to flipping a coin. Pabrai suggests we should look for investments which, like a coin flip, have two outcomes.
Outcome Number One is Heads - If the coin comes up heads, your investment result should be that you make a big return on your investment.
Outcome Number Two is Tails - If the coin comes up tails, your investment results should be that you don't lose much.
Heads you win big, tails you don't lose much.
According to Pabrai, investors should sit on their cash until opportunities with minimal downside and reasonable upside present themselves.
This involves protecting your downside by investing in companies that have tangible assets that support their valuations, or a reliable core business that has very predictable cash flows.
But I'm not always a disciplined rock, and I have a separate little account that I keep that I use to invest in widely diversified groups of high-risk, high-reward scenarios. In this account, I'm looking for opportunities that could go up 10 times in value, but also have a real chance of going to zero.
The thinking being that a few really big winners will more than make up for the occasional zero.
Joining The Gold Rush
There is no place like the resource sector to try and find home run investments. One day, an exploration company has nothing but some high risk prospects and some cash to explore with. The next day, with one discovery, the same company can be worth hundreds of millions of dollars.
Of course, for every little resource company that turns into a home run, there are many more that turn into heartbreak. It is important to know the risks involved when investing in this sector.
Valor Gold (VGLD.OB) is an exploration stage gold and minerals company seeking out potentially significant exploration and development targets in the North Central Nevada. Valor currently has two gold projects located within the Red Rock and North Battle Mountain mineral prospects. The North Battle Mountain and Red Rock Mineral Prospects consist of a total of 432 unpatented lode mining claims.
(click image to enlarge)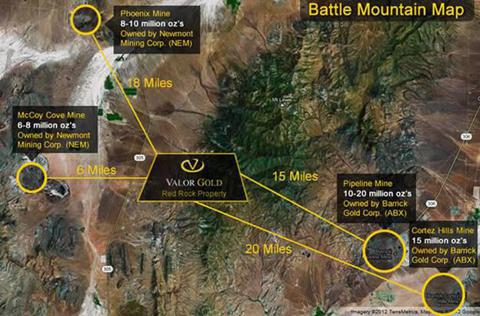 Red Rock Prospect
The Red Rock property is located at the intersections of three major gold trends:
The Battle Mountain Eureka Gold Trend, a prolific gold belt containing at least 50 million known ounces of gold.
The Rabbit Creek Gold Trend, a gold belt containing at least 40 million known ounces of gold.
The Caetano Caldera Trend, a major crustal break that helped localize approximately 30+ million known ounces of gold.
Two historic drill holes located in the eastern part of the property intersect lower plate Roberts Mountains Formation (the host rock for many Carlin-type gold deposits) at a depth of 439 m (1,440 ft) and 445 m (1,460 ft). The principal potential of the Red Rock property is for a large Carlin-type gold deposit hosted in lower plate carbonate lithologies in or adjacent to favorable structural zones.
North Battle Mountain Prospect
The North Battle Mountain Mineral Prospect is located in Lander County, Nevada, along the Northern Nevada Rift just north of the town of Battle Mountain, which is a gold belt containing at least 8 million known ounces of gold.
The property consists of 72 unpatented lode mining claims and encompasses approximately 1,520 acres. The North Battle Mountain Mineral Prospect can be accessed from Battle Mountain by a paved county road for about 5.5 miles to the North Battle Mountain rail siding, and then by a graded gravel road from which an unimproved dirt road leads east to the north-central part of the property.
My Home Run Watchlist
Valor is a company with some cash, some prospects and some big dreams. It doesn't have much else in terms of assets.
What Valor also doesn't have are many eyeballs on it. That can create an advantage for someone who is watching it. Someone like me.
What I am doing with Valor and other companies like it is putting their ticker symbols on my watchlist and signing up for company updates so that I can keep tabs on these companies. Should Valor or a company like it find something interesting in their exploration efforts, I may very well get the news before the market figures out what has happened.
Investing this way will also take some of the risk out of the equation, as I won't invest until the company has something of tangible value.
Disclosure: I have no positions in any stocks mentioned, and no plans to initiate any positions within the next 72 hours. I wrote this article myself, and it expresses my own opinions. I am not receiving compensation for it (other than from Seeking Alpha). I have no business relationship with any company whose stock is mentioned in this article.