Stocks To Trade
Today, we are looking at an earnings trade in Cisco (NASDAQ:CSCO), longs in Phillips 66 (NYSE:PSX) and PulteGroup (NYSE:PHM), and shorts in United Parcel (NYSE:UPS) and Goldman Sachs (NYSE:GS).
For an earnings trade, we are looking at CSCO today. We recommended a CSCO Nov17 18/17 bull put spread one month ago that would be worth 28% if CSCO could hold 18. As we head into earnings next week, we wanted to check in on that position and adjust for how to play the upcoming report. First, that bull put spread has not worked very well, as CSCO broke key support over the past month. Today's weakness took it even lower. Heading into earnings, though, what can we expect? The company is expected to report an EPS growth that is fairly flat along with sub-5% revenue growth. Earnings have not been strong for companies with European exposure, and we believe the best way to make back some money lost in the bull put spread is to place an iron condor on Cisco. The company has not broken 20 since its May earnings, and it has not broken 15 to the downside. The stock would have to make a significant jump on earnings to break those levels, and we can make 8% back doing the 20/21 bear call spread with the 15/14 bull put spread.
Trade: CSCO, Dec22, 15/14 and 20/21 Iron Condor
Max Gain: 8%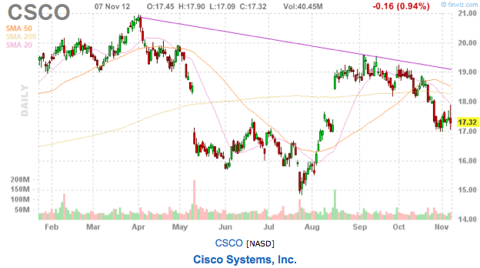 For longs, we like the looks of Phillips 66 and PulteGroup. PSX has looked good since being spun off from Conoco-Phillips (NYSE:COP). The company reported very solid earnings at the end of October, killing expectations by around 50% on EPS and a solid capacity utilization rate of 92%. The stock has rallied around 10% since that news despite market fear and weakness, but we do not see the stock as being done. The stock is still in a solid acquisition phase, and demand is strong since it's still new to the market. The stock broke key resistance at 47.50, and is now consolidating below 50. We believe the stock still has a lot of potential with a 6.5 future PE, and should be bought on a break of 50.50.
Additionally, we like PHM and added it to our Options Portfolio today. The company was one of our top picks for Obama for re-election as we talked about in our 10 Picks For The Election article. The stock has a lot going for it. First, it had very solid earnings in late October that helped pushed the stock higher. It has also been very strong in recent weak market days. Finally, Obama's reelection is very bullish for homebuilders and housing. Obama has an active approach to the market that continues to bring in demand for homes and help inflate demand (even if it's fake). That scenario has helped put a bottom in the market, and these companies are not showing any signs of slowing down.
Equity Trade: PSX, Long
Breakout Point: 50.50
Options Trade: PHM, Dec22, 15/13 Bull Put Spread
Max Gain: 14%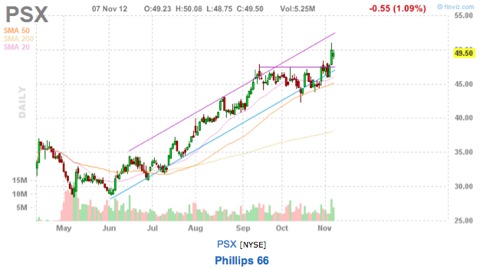 For shorts, we like the looks of UPS and Goldman. UPS has not looked good since its Q3 earnings commented on some weakness moving forward for the company. Despite a move into seasonal strength in the holiday season, we believe UPS is not a buy until the stock can show some strength. It has not been able to get any positive momentum going since that report, and has held under 74.50 resistance since. We believe the stock is a great short on breaks of 71.80, and if it does break 71, the stock loses all technical support lines. With the market weakness, UPS is a bellwether that will suffer from overall economic/market general weakness. Further, if the situation in Europe grows even worse, UPS would be highly affected.
GS needed a Romney win. The prospects for a GS explosion were there, as we highlighted in our election article. The company would have benefited from a removal of Dodd-Frank, capital gains tax destruction, and on those, would have been ready to explode higher. Now, the stock has shown us a top at 125, and we like the company for a bear call spread. With the fiscal cliff pending, Europe weak, and financials' hopes crushed, there is not a lot to get excited about in the sector. We like GS for a bear call spread.
Stock Trade: UPS, Short
Breakout point: 71.80
Options Trade: GS, Dec22, 130/135 Bear Call Spread
Max Gain: 12%
Tomorrow's Outlook
Today was rough. The combination of fear of the fiscal cliff, Europe, and the market's hope of Romney being elected hurt today. The market did hold around the 13,000 level on the Dow Jones, and we have not seen a lot of follow through on weakness or strength over the past month on big days like this. What we need now is for Greece to pass its austerity measures. That news would alleviate markets for sure, and it would allow for us to definitely see some reversal of today's weakness. Progress on the fiscal cliff will help, and the market may have priced in at least some of the weakness from that situation for now. Tomorrow, we get Initial Jobless Claims as well as Trade Balance. Both will be closely watched. The market needs some fear relief to stop the red, but it might not happen until at least next week.
Our Moves/Holdings:
We had a solid day in the market, as we closed down half our Fastenal (NASDAQ:FAST) short for a 1.5% gain, as well as half of our Visa (NYSE:V) long, CSX (NYSE:CSX) short for a 1.75% gain. We also were able to get out of a Tenaris (NYSE:TS) short from our Goldman Trades for a 2.3% gain. However, we were stopped out on Target (NYSE:TGT) for a small loss, but we took a hefty loss on a Chipotle (NYSE:CMG) reverse iron condor. We added a short in UPS and a bull put spread in PHM.
We have the following positions:
In our Short-Term Equity Portfolio, we are long Visa. We are short UPS, Fastenal and CSX .
In our Options Portfolio, we are long PulteGroup, Whirlpool (NYSE:WHR), Capital One Financial (NYSE:COF), Intuitive Surgical (NASDAQ:ISRG), Discover (NYSE:DFS) and Starbucks (NASDAQ:SBUX). We are short SPDR S&P 500 (NYSEARCA:SPY) and Baidu (NASDAQ:BIDU).
In our Earnings Alpha Portfolio, we are long Discover Financial and Michael Kors (NYSE:KORS). We are short SPDR S&P and Salesforce.com (NYSE:CRM).
In our Goldman Sachs Up/Down Paper Portfolio, we are long CSX.
Charts courtesy of finviz.com.
Disclosure: I have no positions in any stocks mentioned, and no plans to initiate any positions within the next 72 hours.
Business relationship disclosure: The Oxen Group is a team of analysts. This article was written by David Ristau, one of our writers. We did not receive compensation for this article (other than from Seeking Alpha), and we have no business relationship with any company whose stock is mentioned in this article.